FP3: Bottas bags Portimao practice hat-trick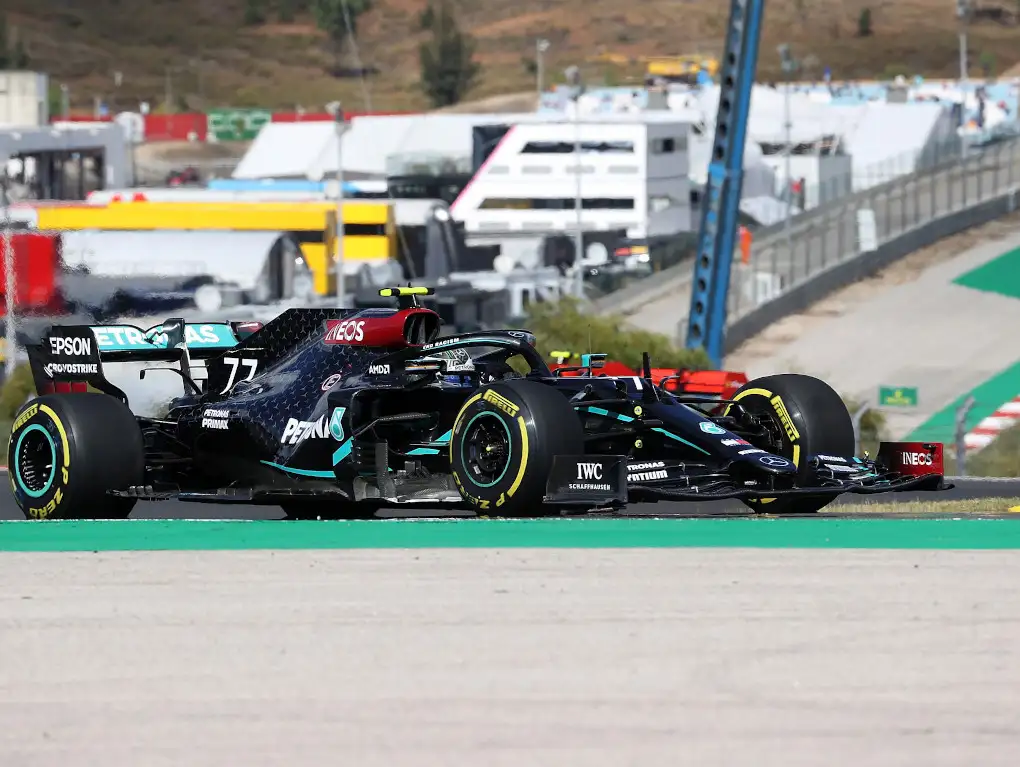 Valtteri Bottas was again the man for practice as he set the pace in FP3 for the Portuguese GP; track limits and drain covers caught out drivers.
Another practice of slipping and sliding was the forecast as the drivers took to the Algarve circuit for what promised to be another intriguing session as the teams fine-tuned their set-ups ahead of qualifying and Sunday's race.
That had been hampered on Friday as two red flags, Pierre Gasly's fiery AlphaTauri and Max Verstappen and Lance Stroll's argy-bargy, meant the usual long runs were curtailed.
Gasly had a new chassis and a new engine for Saturday after Friday's were damaged in the fire. Nicholas Latifi was also handed a new chassis as Williams put different parts on the car. DAS was also back on the Mercedes following Friday's trials of running without it, which saw Lewis Hamilton especially struggling to get heat into his tyres.
10 minutes into the hour-long session Valtteri Bottas posted the first lap time, a 1:17.8 on the soft tyres, up on his P1 time from second practice. Lewis Hamilton slotted into second, 0.028s down. Hamilton dropped his pace to a 1:16.9, Bottas closed the gap but stayed second as he made a small mistake, while Daniel Ricciardo, on the medium tyres, was 1.9s down.
Despite the easing of the track limits, Carlos Sainz was the first to still test – and exceed – Turn 1, losing his lap time in the process. And he wasn't the only one.
Lap number seven was even faster for Hamilton, a 1:16.6 with Gasly and his new chassis and engine up to second, also on the soft tyres, just over a tenth down. Bottas' hot lap was ruined by the spinning Ferrari of Charles Leclerc at Turn 14. Leclerc was up to third.
We've been here before…

Charles Leclerc spins off at Turn 14 #PortugueseGP 🇵🇹 #F1 pic.twitter.com/7jZe0cTDuW

— Formula 1 (@F1) October 24, 2020
Get your hands on the official Ferrari 2020 collection via the Formula 1 store
Max Verstappen, on the medium tyres, led the way at the halfway stage as he laid down a 1:16… nope, his lap time was deleted and he returned to third place with a 1:17.2 before moving up to second with a 1:16.8.
His team-mate Alex Albon, who is determined to hold onto his Red Bull race seat for 2021, also had his time deleted for Turn 1 limits. He stayed P4. George Russell, P14 at the time, joined the drama list as he had a double lock up and flat-spotted his tyres.
Bottas hit the front, still on the soft tyres, the P1 time down to a 1:16.6, 0.026s up on Hamilton. The Brit tried to reply only to get it wrong and run off the track at Turn 8 and into the gravel.
Lewis checking out one of the Algarve's many beaches. pic.twitter.com/YQDuX1wGEu

— Grand Prix Diary (@GrandPrixDiary) October 24, 2020
Get your hands on the official Mercedes 2020 collection via the Formula 1 store
The final 15 minutes saw the drivers put in their qualifying simulations with Ricciardo reporting that his DRS wasn't working. He ventured back into the pits.
Danny Ric is reporting DRS issues over the radio 😣#PortugueseGP 🇵🇹 #F1 pic.twitter.com/6aIA0foUGH

— Formula 1 (@F1) October 24, 2020
Albon was another complaining as he struggled to get heat into his soft Pirellis. Leclerc, though, had an even stranger complaint: "What is happening? Why am I hearing the radio of the others? Why am I hearing Hamilton on the radio?"
There was a late red flag with 40 seconds to go for debris on the track. It was a piece of loose drain cover with the another broke piece sticking up in the air after Sebastian Vettel drove over it. The session was not restarted.
Bottas finished the session fastest of all with a 1:16.654, 0.026s ahead of Hamilton, with Verstappen a further 0.132s off the pace.
Gasly was fourth ahead of Albon, Leclerc, and Sainz with Sergio Perez, Lando Norris and Esteban Ocon completing the top ten.
Times
1 Valtteri Bottas Mercedes 1:16.654
2 Lewis Hamilton Mercedes 0.026s
3 Max Verstappen Red Bull 0.158s
4 Pierre Gasly AlphaTauri 0.276s
5 Alex Albon Red Bull 0.463s
6 Charles Leclerc Ferrari 0.575s
7 Carlos Sainz McLaren 0.584s
8 Sergio Perez Racing Point 0.643s
9 Lando Norris McLaren 0.824s
10 Esteban Ocon Renault 1.012s
11 Sebastian Vettel Ferrari 1.031s
12 Daniil Kvyat AlphaTauri 1.066s
13 Kimi Raikkonen Alfa Romeo Racing 1.268s
14 Daniel Ricciardo Renault 1.281s
15 George Russell Williams 1.378s
16 Lance Stroll Racing Point 1.446s
17 Antonio Giovinazzi Alfa Romeo Racing 1.547s
18 Kevin Magnussen Haas 1.633s
19 Nicholas Latifi Williams 1.743s
20 Romain Grosjean Haas 1.800s
Follow all the action from the Portuguese Grand Prix with the PlanetF1 live centre