FP3: Verstappen edges out 'unbelievable' Hamilton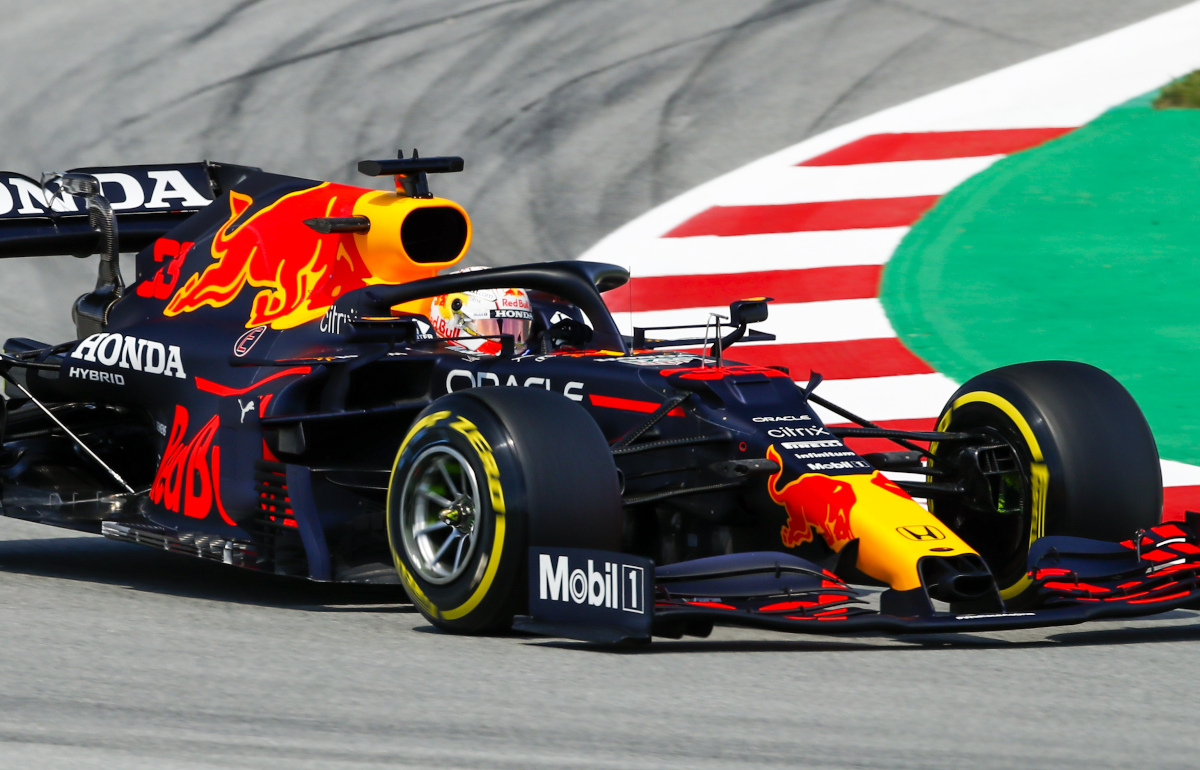 Max Verstappen removed the sandbags and hit the front in FP3, with Red Bull driver calling Lewis Hamilton "unbelievable" – not for a good reason.
The light went green for final practice but it took five minutes before Spain's Fernando Alonso decided to break the silence. The Alpine driver clocked a 1:21.020 as the session's first time.
Green light for #FP3 and Fernando heads out for a solo run. It's his home track after all. It's nice to have a bit of time to himself with @Circuitcat_eng 😉#SpanishGP pic.twitter.com/YMM2WmOHCr

— Alpine F1 Team (@AlpineF1Team) May 8, 2021
10 minutes later he was down in third place as Sergio Perez hit the front with a 1:20.388, Daniel Ricciardo up second. They were the only three times on the board.
Ferrari joined the party on the soft tyres with Charles Leclerc hitting the front, Carlos Sainz P4 with the two Alfa Romeos, also on the red Pirellis, second and third.
Ricciardo brought out the yellows as he got it wrong at Turn 13 and went off the track.
Valtteri Bottas, Max Verstappen and Lewis Hamilton were the last three drivers to make their mark, the Mercedes team-mates on the softs, Verstappen on the mediums.
Bottas P1, Verstappen P2 and then Hamilton went P1 with a 1:18.304, 0.119s up on his team-mate. Hamilton upped his pace to a 1:18.117.
Verstappen was not happy with Hamilton for getting in his way at the exit of Turn 10. "Is it him again behind? Unbelievable this guy in the last sector."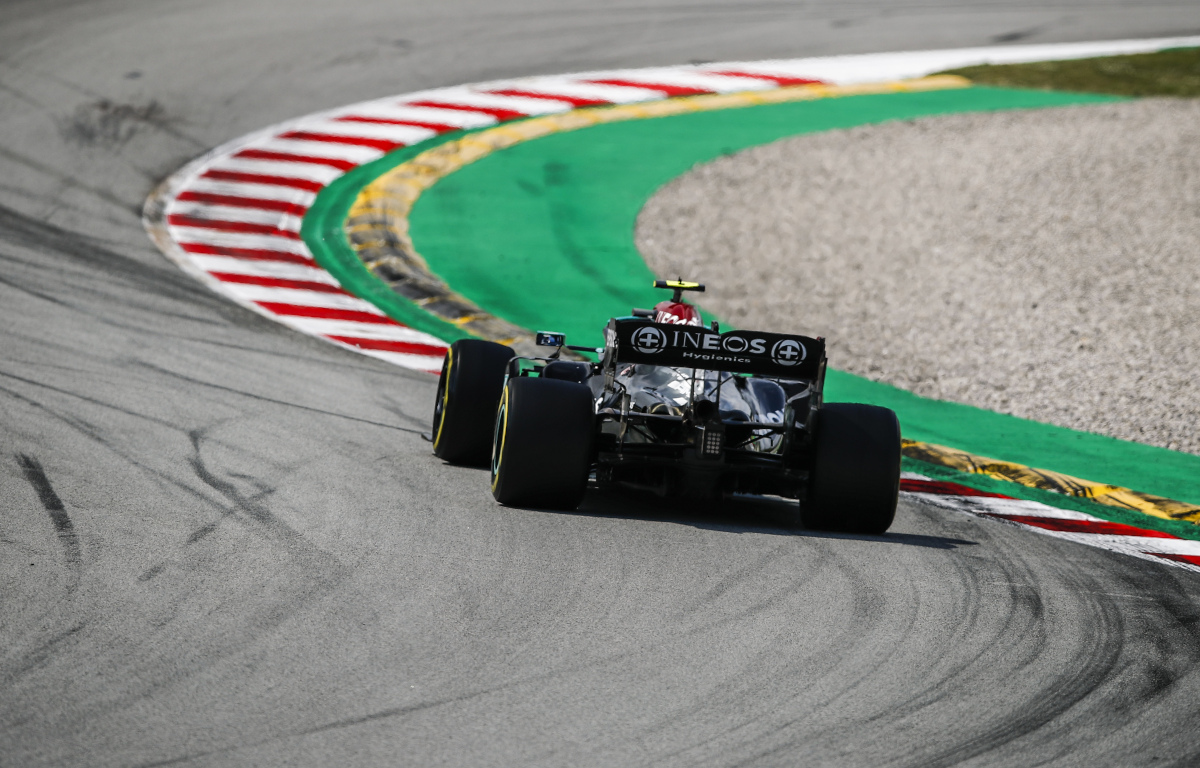 AlphaTauri rookie Yuki Tsunoda wasn't a happy driver, complaining about late radio messages. AT's response: "Calm down Yuki."
Raikkonen, having jumped up to seventh, returned to the pits with a deflating right rear tyre, a big cut in the rubber.
Kimi gets struck down with a rear right tyre puncture

Luckily the @alfaromeoracing driver makes it back into the pit lane 🙌#SpanishGP 🇪🇸 #F1 pic.twitter.com/VCj0HjJ5JL

— Formula 1 (@F1) May 8, 2021
While he made his way back to the garage, Lando Norris was spinning into the gravel at Turn 10 after losing the rear of his McLaren.
Red Bull returned to the action having swapped their mediums for soft tyres. Verstappen went on a flier but did make a small mistake, crossing the line with a 1:17.835.
That put him 0.235s up on Hamilton with Leclerc third fastest, a further 0.24s down. Sainz was fourth ahead of Bottas and Norris.
Pierre Gasly, Ricciardo, Raikkonen and Perez completed the top ten.
At the bottom of the timesheet was the two Haas drivers with Mick Schumacher once again having an advantage over Nikita Mazepin.
Times
1 Max Verstappen Red Bull 1:17.835 11 laps soft tyres
2 Lewis Hamilton Mercedes 0.235s 14 laps soft tyres
3 Charles Leclerc Ferrari 0.473s 17 laps soft tyres
4 Carlos Sainz Ferrari 0.575s 18 laps soft tyres
5 Valtteri Bottas Mercedes 0.588s 15 laps soft tyres
6 Lando Norris McLaren 0.659s 14 laps soft tyres
7 Pierre Gasly AlphaTauri 0.700s 17 laps soft tyres
8 Daniel Ricciardo McLaren 0.747s 21 laps soft tyres
9 Kimi Raikkonen Alfa Romeo Racing 0.762s 17 laps soft tyres
10 Sergio Perez Red Bull 0.771s 16 laps soft tyres
11 Fernando Alonso Alpine 0.827s 18 laps soft tyres
12 Yuki Tsunoda AlphaTauri 0.838s 21 laps soft tyres
13 Esteban Ocon Alpine 0.865s 15 laps soft tyres
14 Lance Stroll Aston Martin 1.042s 18 laps soft tyres
15 George Russell Williams 1.170s 16 laps soft tyres
16 Antonio Giovinazzi Alfa Romeo Racing 1.379s 18 laps soft tyres
17 Sebastian Vettel Aston Martin 1.528s 18 laps soft tyres
18 Nicholas Latifi Williams 1.557s 16 laps soft tyres
19 Mick Schumacher Haas 2.164s 17 laps soft tyres
20 Nikita Mazepin Haas 2.402s 15 laps soft tyres
Follow us on Twitter @Planet_F1 and like our Facebook page.