Gasly 'not far away' from Verstappen/Leclerc
AlphaTauri boss Franz Tost believes Pierre Gasly is a future star of Formula 1 alongside the likes of Max Verstappen and Charles Leclerc.
The Frenchman's promotion to Red Bull clearly came too soon, but ever since being sent back to Toro Rosso, now AlphaTauri over the 2019 summer break, Gasly has put his name back in the conversation of Formula 1's brightest prospects.
He would score his first podium finish with P2 at 2019 the Brazilian Grand Prix, before holding off the McLaren of Carlos Sainz to pick up the first win of his F1 career at the 2020 Italian Grand Prix.
Unsurprisingly that victory prompted talk about Red Bull's decision to demote Gasly and whether in hindsight it was the wrong choice.
But Tost thinks Gasly is a star of the future regardless and is "not far away" from the likes of Verstappen and Leclerc who are widely regarded as future World Champions.
"He has the potential to be a champion," Todt told 'AvD Motorsport Magazine' on Sport1, as quoted by Motorsport-total.com.
"I expect Pierre to be one of the great future stars if he develops like that."
Todt name dropped Verstappen and Leclerc as World-Champion material later down the road, but added that "Pierre is not far away."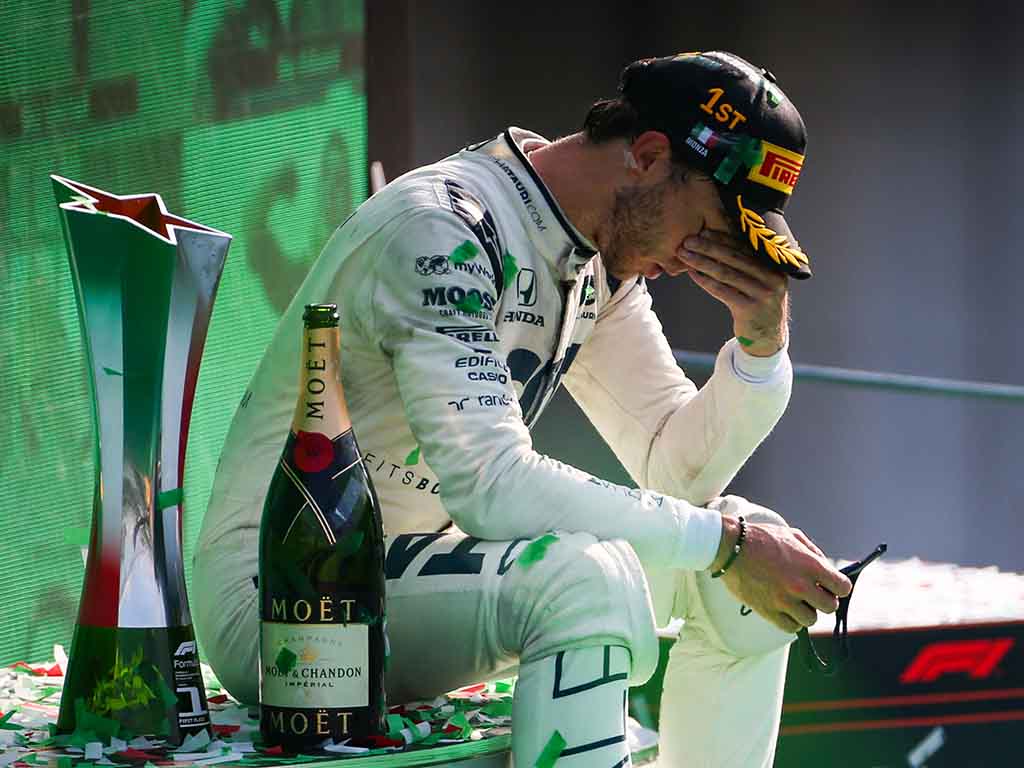 Get your hands on the official AlphaTauri 2020 collection via the Formula 1 store
Ex-F1 driver Jenson Button said Gasly deserved his victory at Monza, even though a Safety Car, red flags, and a 10-second stop-go penalty for race leader at the time Lewis Hamilton did work in Gasly's favour.
Red Bull have insisted though that Gasly isn't in contention for a second chance, and Button said he had spoken to Horner and it was clear that Gasly won't drive a Red Bull again.
However, he doesn't think Gasly would want to anyway.
"Pierre might have got a bit lucky, but he needed to get a bit lucky because he's not in the best car. But he deserved it, he had to deal with a lot of pressure from Carlos [Sainz] in the closing stages," Button told G-Q Magazine.
"He's been through a lot in his short F1 career. When he was at Red Bull, we all thought: "He's going to get there, he's quick, it'll happen." But it just got worse and worse. Then he got replaced, but he was immediately back at Toro Rosso.
"This year he's always been on the pace in the [renamed] AlphaTauri. It's difficult for him now, though. I said to Christian [Horner], 'maybe you should give that boy a chance'. He's not going to be in a Red Bull again, and he probably doesn't want to be."
Verstappen is very much the number one driver at Red Bull, but getting a competitive team-mate through the Red Bull driver programme to support him has been a real headache for the team since Daniel Ricciardo left at the end of the 2018 season.
Gasly had to move away from Red Bull to find his best form again, while his replacement Alex Albon is only now starting to find his way in the RB16, though a sizeable gap to Verstappen still exists in terms of one-lap pace.
Asked if the Red Bull driver programme is flawed? Button said: "They have lots of great drivers. It's Max [Verstappen's] team, the car is set up around him, and from what I understand he likes a really pointy car.
"And that doesn't really work with this generation of F1 car, you can't drift them – if they go they snap and you're in the wall."
Follow us on Twitter @Planet_F1 and like our Facebook page.