Fred Vasseur questioned about Charles Leclerc's mounting crash tally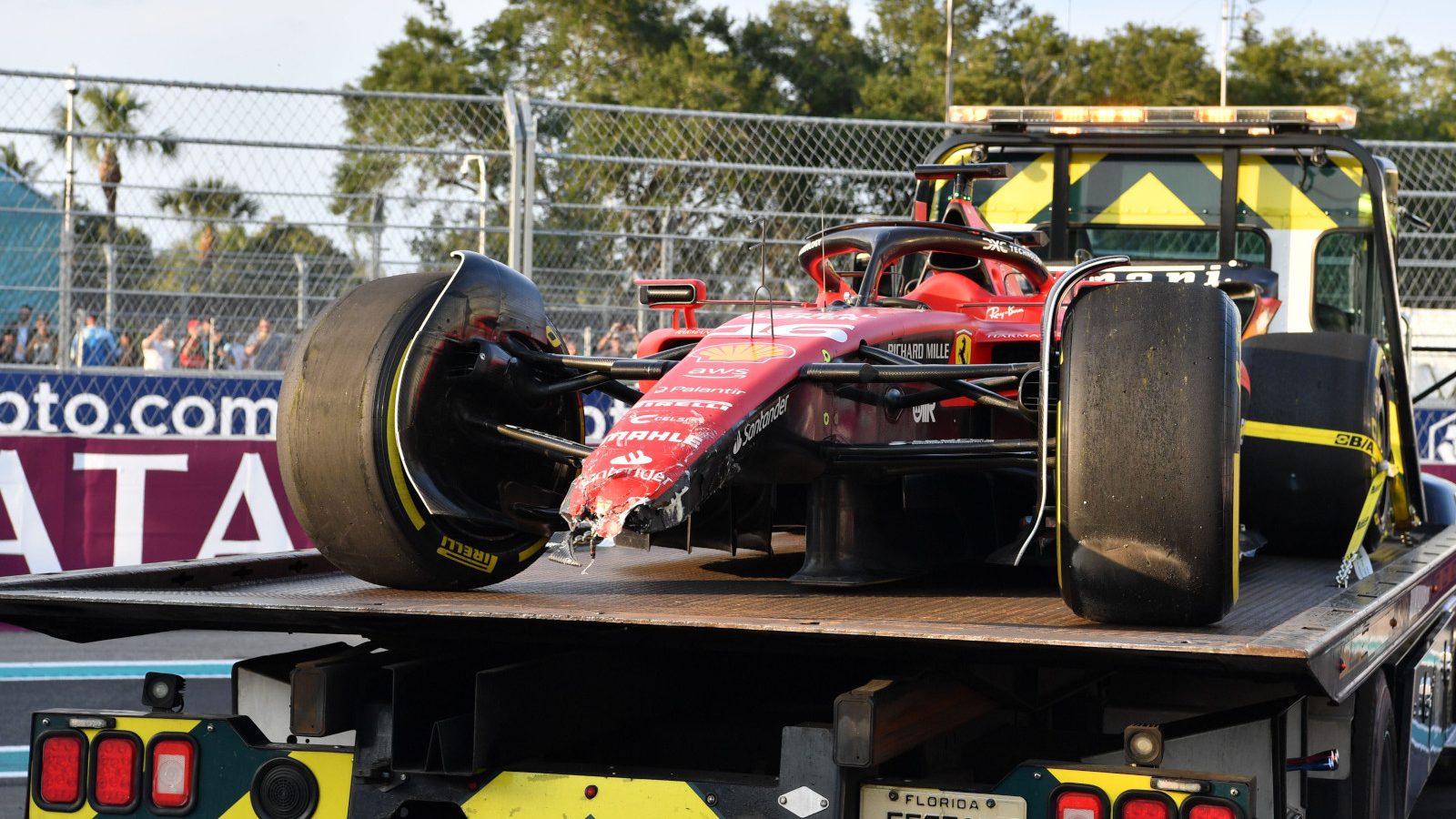 With his repair bill growing by the week, in Miami by the day, Fred Vasseur accepts Charles Leclerc has to "push to get ahead" given the pace of his Ferrari.
Crashing out of the Australian Grand Prix, Leclerc involved in a first lap incident with Lance Stroll, the Monégasque driver added to his crash damage bill in Baku and again in Miami.
He binned his SF-23 in the final minutes of Baku's sprint shootout while in Miami he broke his front suspension in a practice crash and then went onto damage the rear of the car in qualifying, both incidents taking place at Turn 7.
It had former F1 driver Martin Brundle asking Vasseur if Leclerc's mistakes are something he has to 'tolerate because it's Charles and his speed or is it too much'.
"Well depends on the circumstances," the Ferrari team boss replied to the Sky Sports commentator.
"If you're speaking about the crash in Baku, I think it was the right time to push and perhaps he over pushed. He was in pole with the first lap and knew that everybody would do a second lap and that he had to push.
"It's not the same thing to crash in the last lap of Q3 in qualy in Baku and to crash in FP2, that's another story."
PlanetF1.com recommends
Winners and losers from 2023 Miami Grand Prix qualifying
F1 starting grid: What is the grid order for the Miami Grand Prix?
Leclerc was annoyed with himself for making a mistake at the same corner two days in a row.
"So two days, two mistakes, same corner," said the five-time grand prix winner. "This is not acceptable and, yeah, I'm always very harsh with myself and today was just not good."
Vasseur, though, was a lot more lenient on his driver.
"He was actually on pace for pole on the first set of tyres, then kissed the wall slightly and then maybe pushed too hard on the last lap.
"You can always blame the driver when he's pushing. But we are in a situation where we have to push to get ahead. We're not in the comfort zone, so I would always support him there."
He added: "I talked to Charles, for sure he is upset in this situation because he had the feeling that the pole was not far away. It is what it is. Now we have to do a reset to understand what we did wrong today and be ready for tomorrow."
Leclerc will line up seventh on the Miami Grand Prix grid with his team-mate Carlos Sainz P3.