Fred Vasseur's Ferrari arrival 'like someone threw a grenade at him'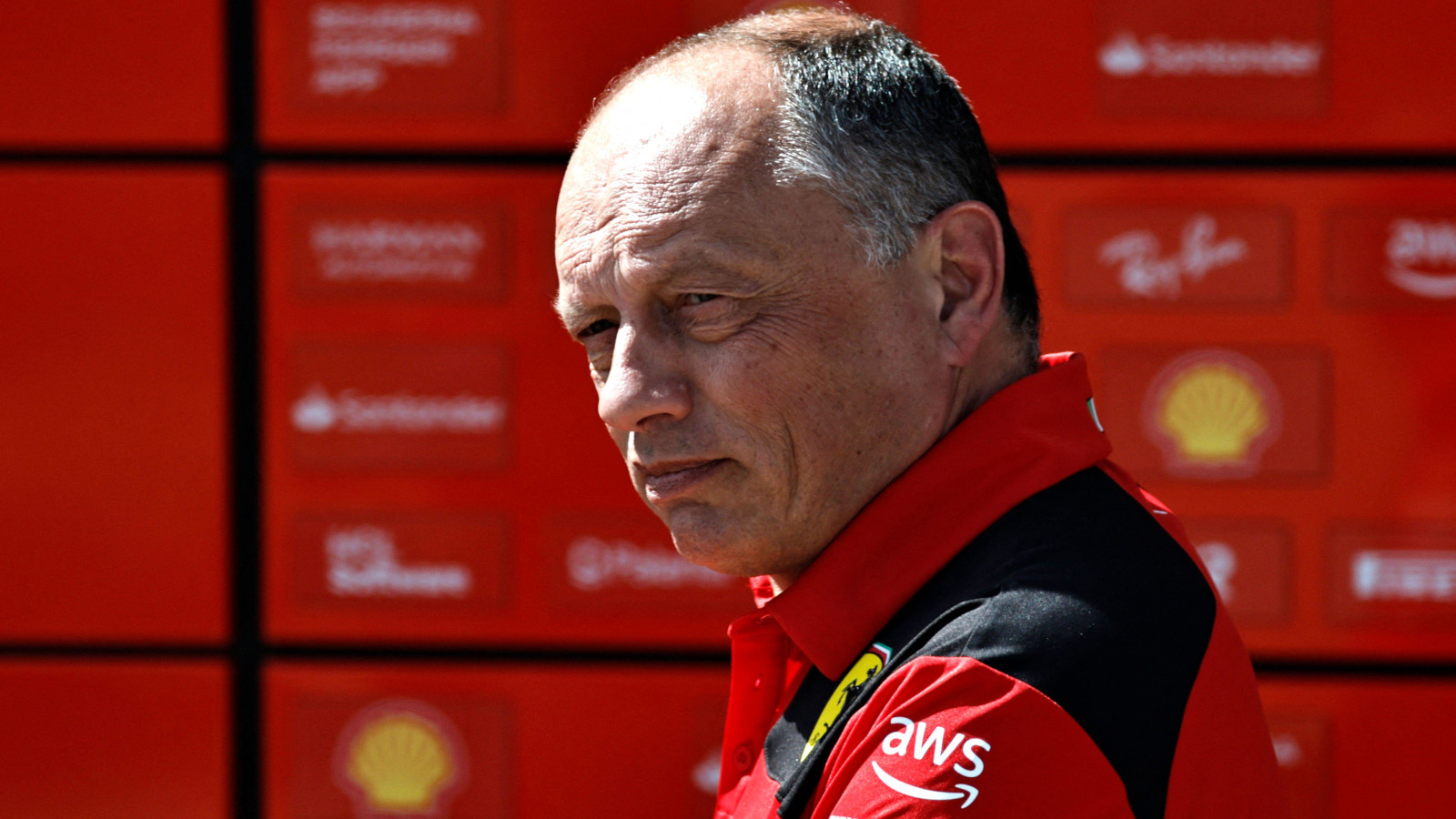 Ferrari's appointment of Fred Vasseur as their new team boss has resulted in a "baptism of fire" for the former Alfa Romeo leader.
Vasseur took over from the departing Mattia Binotto as the team boss of the Scuderia after Binotto opted to hand in his resignation following four years in charge, due to what had been a tumultuous year on track in which Ferrari began the new regulation cycle as the fastest team.
But a series of strategic mishaps and an increasingly difficult car meant Ferrari finished a distant second to Red Bull, with obvious signs of discontent in the Ferrari camp as a result.
With Binotto departing, Ferrari opted to hire Vasseur, who had been team boss at Alfa Romeo/Sauber for five years. He also had a brief stint as Renault team boss as his first F1 managerial role, while boasting plenty of experience as ART's founder and operator in junior categories.
Fred Vasseur 'quite philosophical' about his new Ferrari job
But Vasseur is facing a whole new challenge at Ferrari, with the weight of expectation on his shoulders far greater at the Scuderia as the team are struggling to get on terms with the likes of Red Bull, while fighting for supremacy in the runner-up spot with Mercedes and Aston Martin.
Reliability has been a concern, as has outright performance, and 1996 F1 World Champion Damon Hill said Vasseur likely wasn't expecting quite as much stress as he finds his feet as the team's new leader.
"It's a bit like someone threw a grenade at him, isn't it, when he arrived? And now he's trying to put the pin back in," Hill said on the Sky F1 podcast.
PlanetF1.com recommends
Mercedes already have a ready-made replacement for post-Lewis Hamilton era
'Problem' with Lewis Hamilton to Ferrari move identified by Bernie Ecclestone
"But everything's been a real baptism of fire for him, I think. But he's got the… what's the expression? It's his demeanour, and his character is such that I think he can see the funny side that, actually, he seems to be quite philosophical about it.
"He knows that it's impossible – it's an impossible job, and it's ridiculous to expect someone to arrive in a team and then instantly produce results."
Damon Hill: Fred Vasseur needs time to make his mark
Hill said that it's imperative Vasseur is given ample opportunity to settle in and make the changes he feels Ferrari needs in order to bring them back into winning ways.
"It's going to take time, and he's still settling in," Hill said.
"No doubt he'll make his effect known gradually over time. I think he's starting to show that so I don't think he's got anything to be concerned about.
"They've got to give him a good couple of seasons to be able to have any effect on the team – things cannot happen immediately. There are some things you can do, such as procedures, race procedures, which he's got so much experience of being on the pit wall.
"He's someone who can have an effect and say to the team 'Well, why do you do this that way?' but they do fantastic pit stops, Ferrari. So you've got some of the strategy and stuff is quite good. So they're not too weak in that department. Obviously, the Monaco experience was lamentable, and a few races like Silverstone, but he can calm the ship in that department very quickly.
"But changing methodologies, changing the way the of the practices in the factory and producing bits and bobs – that's harder to do, and takes a lot. They won't see the benefit of that for another year."