Race: Another win for Max, another DNF from P1 for Leclerc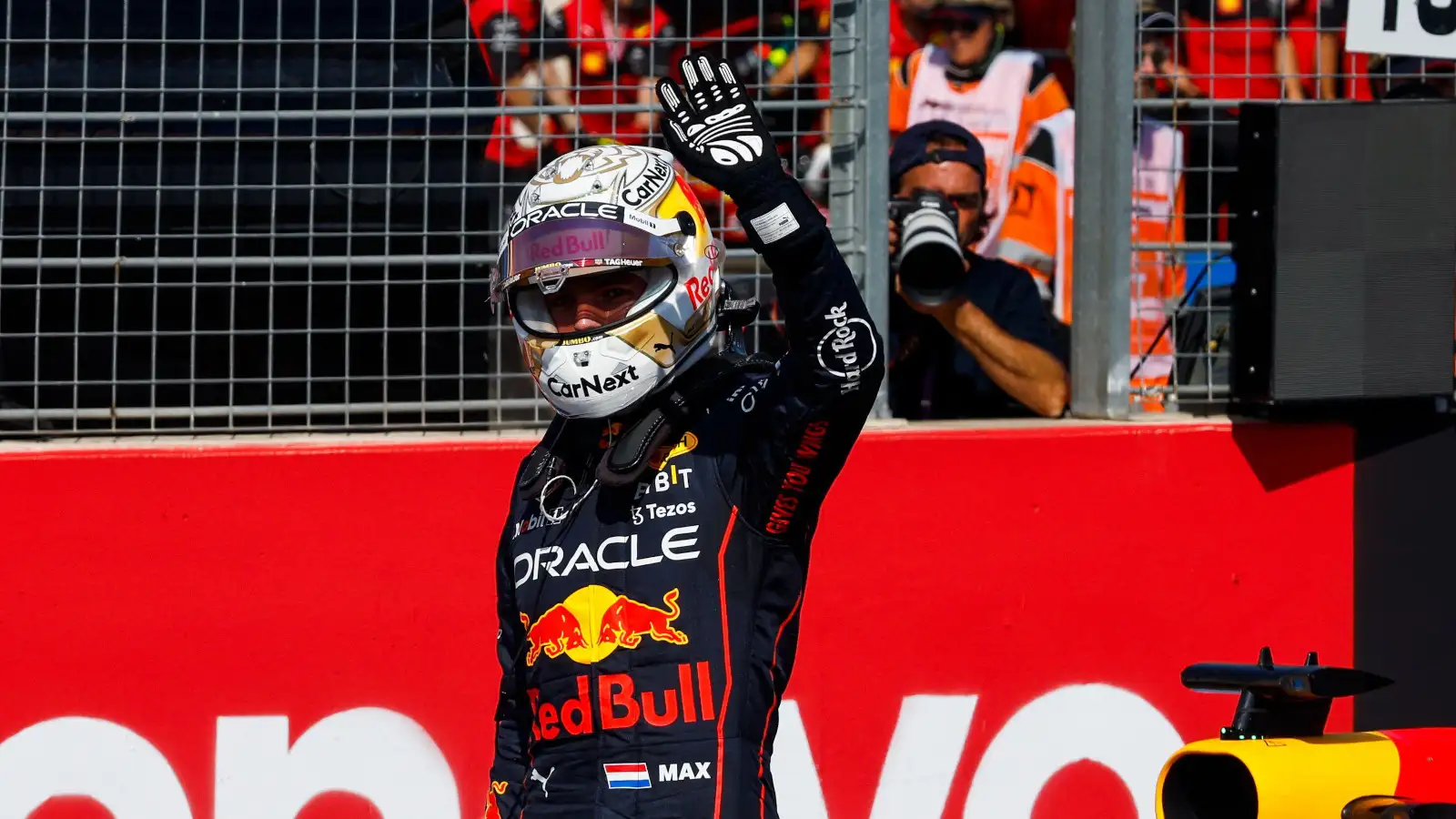 Max Verstappen was handed an easy road to victory lane at the French Grand Prix as Charles Leclerc crashed out of the lead, his third DNF from P1.
The Paul Ricard race was shaping up to be an intriguing game of cat and mouse between the championship rivals, Leclerc weathering the early storm as Verstappen ran without DRS range.
No sooner had the Ferrari driver dropped him, Verstappen pitting as a result, than Leclerc found himself nose first in the Turn 11 barrier, his race over.
With the entire field except Verstappen pitting behind the Safety Car, the reigning World Champion was back up into the lead and was never again troubled as he strolled to his seventh win of this season.
Lewis Hamilton and George Russell joined him the podium, the latter surviving late race drama with Sergio Perez to secure Mercedes' first double podium of this season.
MAX VERSTAPPEN WINS THE FRENCH GRAND PRIX! #FrenchGP #F1 pic.twitter.com/yNQc0PTwtY

— PlanetF1 (@Planet_F1) July 24, 2022
Charles Leclerc, with his new Ferrari clutch in play, made a perfect start as he hold onto P1 ahead of Max Verstappen and Lewis Hamilton, the Briton getting the jump on Sergio Perez. Further behind Esteban Ocon tangled with Yuki Tsunoda, the latter pitched into a spin while the local driver was handed a five-second penalty.
Carlos Sainz, having started down in 19th place with his engine penalties, was up to 14th by lap 5, Kevin Magnussen even higher in 12th.
With Ferrari's corner speed versus Red Bull's straight-line pace, Leclerc and Verstappen played a game of cat and mouse as whenever the Monégasque, also fighting rear-end instability, gained a tenth or two, Verstappen pulled it back. Gaining tenths, Verstappen forced Leclerc to use up his tyres but his too were taking a beating in the heat.
The race leaders easily dropped third place Hamilton, the Briton running ahead of Perez and Russell with Fernando Alonso some four seconds behind their battle. Magnussen and his team-mate Mick Schumacher were earlier stoppers, the only two to pit within the first ten laps.
While Leclerc was told he was on Plan B, the driver not overly enthused by it, Sainz was told he was "doing a good job". The driver, up to 11th, replied: "It doesn't feel that way, but okay." The Spaniard making up another position as he took the final points-paying position off Lance Stroll on lap 13.
LAP 13/53

Carlos Sainz is into the points! 💪

Sainz's 'Through The Field' challenge is going strong thus far! 🤩

P19 ➡️ P10 #FrenchGP #F1 pic.twitter.com/ycFxOU5fYW

— Formula 1 (@F1) July 24, 2022
At the front, Leclerc pulled out of DRS range of Verstappen and put two seconds between them. While it earlier looked as if it was a matter of time before Verstappen passed him, Leclerc weathered the storm… and then he crashed.
Two laps after Verstappen pitted for new hard tyres, Leclerc lost it at Turn 11 when he spun and crashed into the barrier nose first. Breathing heavily, he blamed his "throttle" before screaming into the radio. It was his third DNF from P1.
The Safety Car came out with the entire field except Verstappen pitting, the Red Bull driver back up into the lead and checking with Red Bull that his title rival was okay. Yuki Tsunoda retired on the same lap, parking his damaged AT03.
NO, LECLERC IS OUT!! pic.twitter.com/dLnGblnU6K

— WTF1 (@wtf1official) July 24, 2022
The racing resumed on lap 21, Verstappen ahead of Hamilton, Perez, George Russell, Alonso, Lando Norris, Sainz – make that Sainz, Alonso, Norris, Daniel Ricciardo, Ocon and Stroll.
Schumacher was the driver in trouble, the Haas pitched into a spin by Zhou Guanyu, the Alfa Romeo having to pit for a new front wing. Meanwhile Sainz's climb up the order was hit by news of a five-second time penalty for forcing Alex Albon to slam the brakes in the pit lane after an unsafe release.
The top ten ran as they were until Sainz made his next move, the Ferrari driver up to P4 as he overtook Russell. The only other close battle inside the top ten was Norris chasing down Alonso while the fight for 11th involved Albon, Sebastian Vettel, Valtteri Bottas, Magnussen and Pierre Gasly with the five drivers separated by three seconds.
Back at the front Hamilton began to make inroads into Verstappen only to go off the track at Turn 2, costing him time and seemingly ending his challenge. His team-mate Russell was having a bit of a better time, Mercedes informing him that Sainz's blistering tyres won't last the distance – even though he clearly still had pace, closing in on Perez.
Local driver Gasly received a big cheer from his mum as he overtook Magnussen and then moved up to P13 as Bottas pitted. Magnussen dropped another position as he lost ground to Schumacher and then he tangled with Nicholas Latifi, both off the track and the latter spinning. Magnussen, facing a penalty, retired the car with Latifi also parking his.
With 11 to go Sainz finally made a move on Perez, the two wheel to wheel before the Spaniard pulled ahead… and as he did so Ferrari told the Spaniard to "box". His reply: "Not now, not now!" Russell tried to take advantage but almost collected Perez, pushing the Red Bull off the track with Perez rejoining ahead of Russell. "He just turned into me," said Russell. As he continued to rage, Toto Wolff came over the radio to tell him to calm down and hunt down Perez.
LAP 42/53

RUSSELL AND PEREZ MAKE CONTACT! 😳

The two drivers continue with Perez in P3 and Russell in P4 #FrenchGP #F1 pic.twitter.com/cnIJWXUyuo

— Formula 1 (@F1) July 24, 2022
And then Sainz pitted! And also took his five-second penalty at the time. Sainz came out P9 on fresh mediums, but with a lot of work to do. He overtook Ocon and Ricciardo on his first lap out, Alonso with six to go, and that's where his progress ended. It was about when Zhou's entire race ended, the Alfa Romeo stopping on the side of the track and bringing out the VSC.
Russell seemingly did not get the message as it looked as if he tried to challenge Perez for position, the Briton getting very close and then backing off and then, as the VSC was lifted, he immediately attacked, taking all of 10m to pass Perez.
While Verstappen raced to a lonely win, his seventh of this season, ahead of Hamilton, Russell finished third ahead of Perez and Sainz. Alonso, Norris, Ocon, Ricciardo and Stroll completed the points.
Result
1 Max Verstappen Red Bull
2 Lewis Hamilton Mercedes 10.587s
3 George Russell Mercedes 16.495s
4 Sergio Perez Red Bull 17.310s
5 Carlos Sainz Ferrari 28.872s
6 Fernando Alonso Alpine 42.879s
7 Lando Norris McLaren 51.744s
8 Esteban Ocon Alpine 56.853s
9 Daniel Ricciardo McLaren 60.061s
10 Lance Stroll Aston Martin 61.714s
11 Sebastian Vettel Aston Martin 61.860s
12 Pierre Gasly AlphaTauri 65.193s
13 Alex Albon Williams 67.758s
14 Valtteri Bottas Alfa Romeo Racing 76.594s
15 Mick Schumacher Haas 79.601s
Did Not Finish
Zhou Guanyu Alfa Romeo technical
Nicholas Latifi Williams crash damage
Kevin Magnussen Haas crash damage
Yuki Tsunoda AlphaTauri damage
Charles Leclerc Ferrari crash