Full extent revealed of the injuries Le Mans winner raced through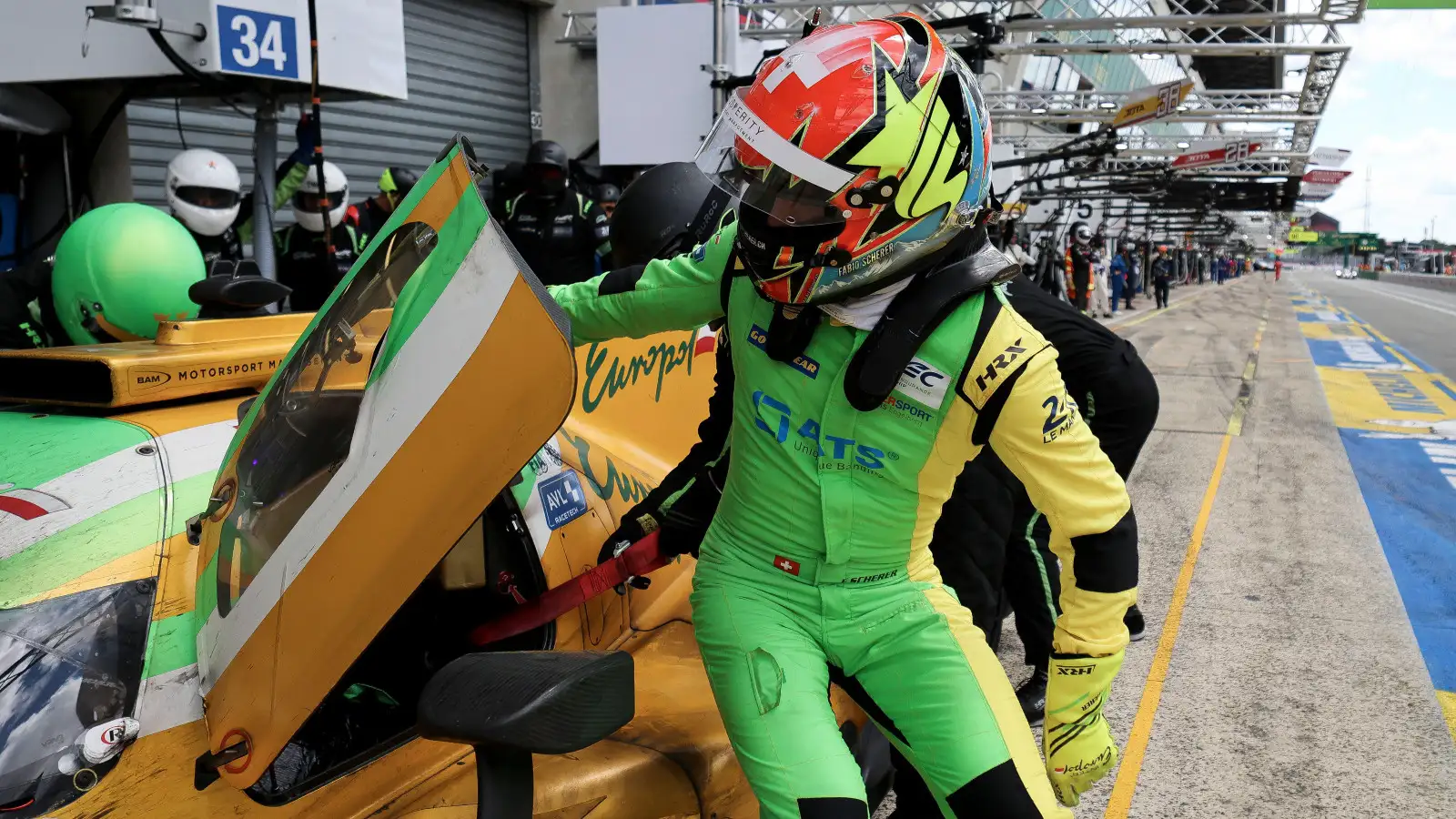 Fabio Scherer raced through the Le Mans 24 Hours with foot injuries after being run over by a car early on.
Scherer was part of the driver line-up to win the LMP2 category at last weekend's Le Mans 24 Hours, with the Swiss driver guiding Inter Europol Competition entry home to win ahead of Team WRT's #41 car by just 21 seconds after 24 hours of racing.
The win was enough to place the squad in 10th place overall, behind the leading Hypercar entries, with Ferrari's #51 driven by Antonio Giovinazzi, James Calado, and Alessandro Pier Guidi winning outright.
But it hadn't been a straightforward race for the Inter Europol Competition entry, who had to figure out the final hours without a working radio to communicate between driver and pitwall, while Scherer himself was driving on adrenaline as a result of a foot injury he picked up early on in the race after being struck by Corvette Racing's #33 Chevrolet Corvette C8.4 during a refueling stop early on.
An update from his team has now revealed the full extent of the injuries Scherer battled through during the race, taking to social media to say: "Foot News!
"Fabio has some ligament damage and an incomplete fracture to his mid-left foot. He has some pain and is on crutches at the moment. Fabio being Fabio, he will certainly be fighting fit and pumped up for the next one at Monza."
PlanetF1.com recommends
The day F1's Safety Car almost ran out of fuel while leading
Ferrari deny 'copying anyone' with their revised Spanish GP sidepods
Having successfully completed the race and pulling off the win, Scherer spoke afterward about how he thought his race was over before it had even properly begun.
"After 50 minutes, I thought that my race was over because it hurt a lot," said Scherer.
"But, somehow, with a lot of ice and a lot of treatment, I was able to race or, at least, that's when the adrenalin kicked in. After that, I was in the flow and it just worked. Now, I'm starting to feel my foot more and more but it doesn't matter because, to win Le Mans, I don't care if I can't walk out of here!"
Together with teammates Albert Costa and Jakub Smiechowski, Inter Europol Competition are a privateer team based in Poland, with their first win at LMP2 level coming at the world's most prestigious endurance race.
"It's unbelievable, it was so hard fighting to the very last second at the finish," he said.
"For a private team from Poland to win their first win now, it's amazing.
"It's been one year of hard work, because after last year we built up the team a bit differently and now we win it, so that's unbelievable."
Foot News➡️Fabio has some ligament damage and an incomplete fracture to his mid-left foot. He has some pain and is on crutches at the moment. Fabio being Fabio, he will certainly be fighting fit and pumped up for the next one at Monza❗️💪🤩#IEC #WEC #LEMANS24 #FootlooseFabio 💯 pic.twitter.com/8HJeUYJBdI

— Inter Europol Competition (@IE_Competition) June 13, 2023