Gasly: P2 in Brazil 'best day of my life'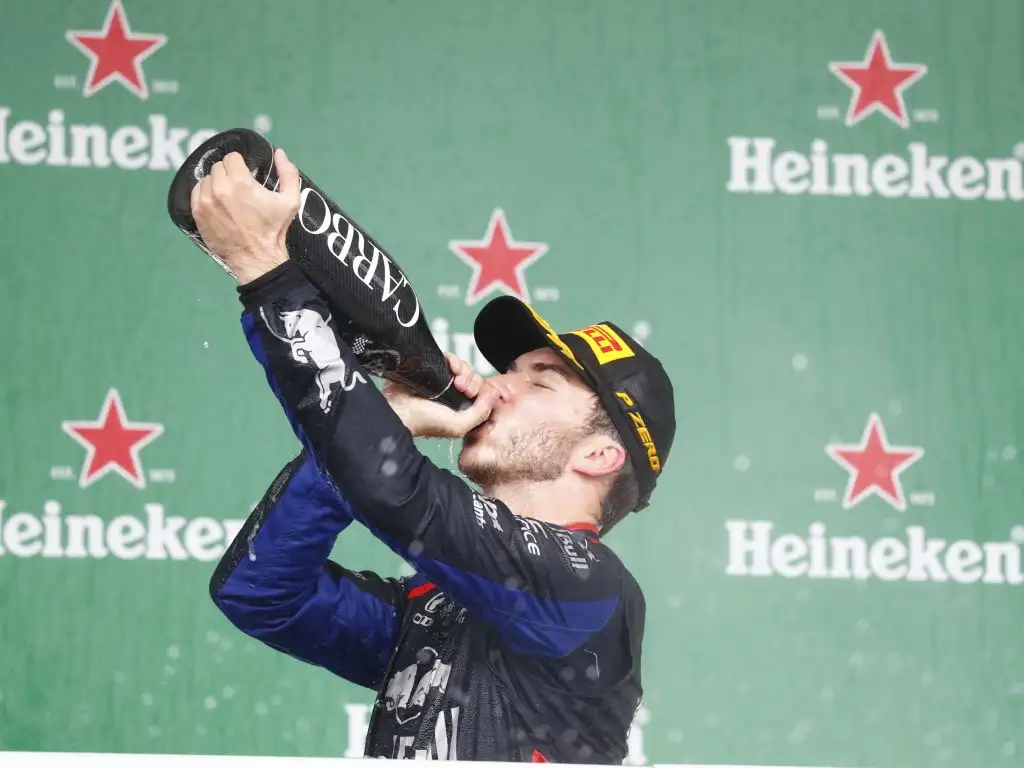 Pierre Gasly claimed a sensational P2 finish at the Brazilian Grand Prix, calling it the "best day of my life".
The race would all kick off in the closing stages with Valtteri Bottas' retirement prompting the first of two Safety Car appearances, before Charles Leclerc and Sebastian Vettel took each other out to further the drama.
Under the second SC Mercedes pitted Lewis Hamilton which dropped him behind Gasly into P4, though he quickly passed him after the restart.
Disaster soon struck though for the six-time World Champion when he collided with Alex Albon when fighting over P2, allowing Gasly to promote himself to second behind former Red Bull team-mate Max Verstappen.
In a sensational drag race to the line Gasly would reach the target 0.062s before the Mercedes man, and he understandably called his first podium in F1 the "best day of my life".
"It's just the best day of my life right now, so many emotions, I've been thinking of the people who supported my in my career and i just want to thank these guys," he told reporters.
"I'm thinking about all the people that helped me through my career, to put me in Formula 1 and help me, just all the people that supported me, and today with that result, I just want to thank all of these guys.
"I don't know when I crossed the line, I had so many things going through my mind, and so many emotions as well, and yeah, it's just incredible."
Relive the moment! 👏🙌 That was an outstanding drive @PierreGASLY

Soak it up! 🍾 🏆 #F1 #BrazilGP 🇧🇷 pic.twitter.com/NBCwVgZ0JH

— Toro Rosso (@ToroRosso) November 17, 2019
Honda showed the massive gains they have made in engine power by winning the straight drag race with Mercedes for Gasly, and the Frenchman was keen to praise the Japanese manufacturer who have now inspired Toro Rosso to two podiums in 2019.
"I must say a big thanks to Honda because without the progress they have made, without them, I would never have held the second place on the line. Big congrats and thanks to all the guys,"he said.
Gasly saw the Hamilton/Albon incident unfold ahead of him, and realised the situation was "looking really good" when they made contact.
"I think in the last lap, of course when I was P4, I saw Lewis had new tyres, and I knew he was going to try something. Then he tried, they collided, when I saw we could go through this and we were second, I was like OK this is looking really good," Gasly explained.
"I still had Lewis behind me until the last centimetre before the line. He was really trying and I could see his front wing. I really didn't want to let him past, because I wanted to hold onto that second position."
Follow us on Twitter @Planet_F1 and like our Facebook page.