Russell must avoid the 'missing list' at Mercedes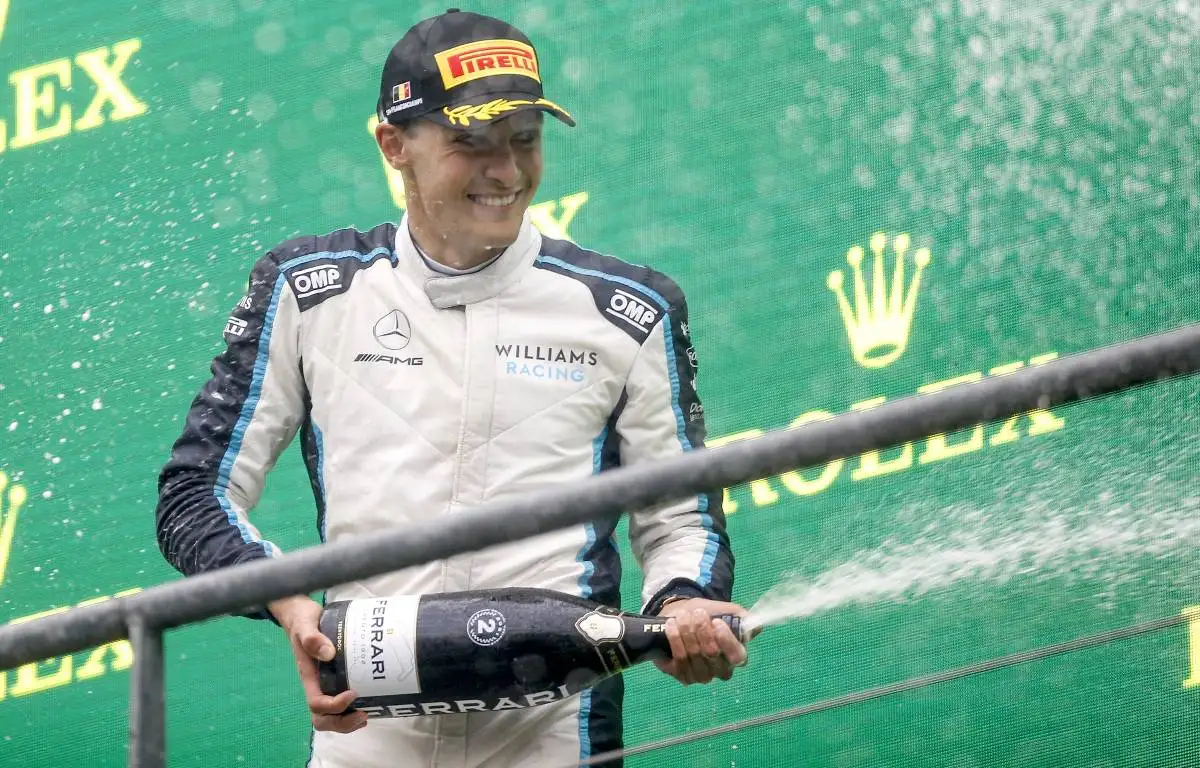 Martin Brundle thinks George Russell must not have inconspicuous races when he joins Mercedes next year.
Russell is taking the place of Valtteri Bottas, promoted after three years at Williams in which he has been honing his trade.
The Briton will arrive as a fresh challenger to his team-mate Lewis Hamilton, one who possesses the hunger and ambition to throw down the gauntlet right from the off.
But while Russell is likely to be particularly feisty in the first couple of races, what he must then avoid is retreating into his shell, according to Sky F1 broadcaster Brundle.
That is because at such a high-profile team as Mercedes, there simply is nowhere to hide if you are under-performing – just as Bottas has found with some of his more underwhelming displays.
And yet, looking back to this year's Emilia Romagna Grand Prix, where Russell got himself into a spot of bother by colliding with Bottas, Brundle believes all the qualities are in place for the 23-year-old to succeed.
"He's confident, and you need to be," Brundle told reporters about Russell, quoted by Motorsport.com.
"I don't know which other young driver would have coped with Imola, where you throw away, for the second consecutive year, Williams points and wipe out the works Mercedes you're hoping to get into en route with your accident, and then get out and blame that driver, and then get a lift home with Toto (Wolff) on his jet that night.
"So he's a confident lad. I think he's got a nice balance of confidence that stops just short of arrogance. And I think that's exactly where you need to be up against Lewis, who's comfortable, who knows Mercedes.
"He'll need to be good, he'll need a strong head. I think he'll do just fine. When you are in a second half of the grid team you can sparkle every so often and everyone talks about it, and then you go on the missing list and nobody notices.
"When you get in a car like that (Mercedes), as Valtteri's found out, you can't ever go on the missing list.
"Everyone notices how you are performing, so the spotlight will be fierce and you don't really know until you get in that spotlight whether you grow, it's a source of energy or whether you wither like a flower, and we'll have to wait and see what George does."
Brundle added: "I believe he's got the talent and confidence, so I don't fear for George.
"I think he's good enough and talented enough and confident enough to cope. But it won't be easy."
PlanetF1 Verdict
Russell must be confident in his Mercedes
Martin Brundle claims that George Russell must be confident in his Mercedes and not join the missing list.