Russell feared Q1 exit before grabbing P2 start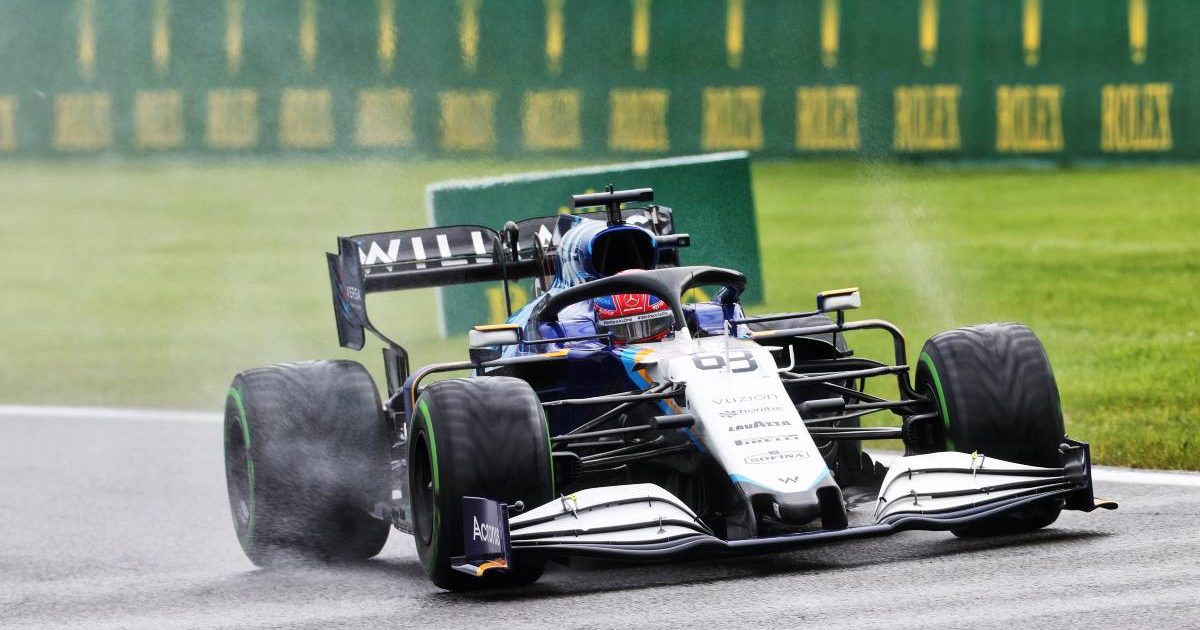 George Russell admitted his front-row start for the Belgian Grand Prix had exceeded his wildest expectations after a tough Friday at Spa-Francorchamps.
The Williams driver produced a brilliant qualifying performance in the rain to ensure he will start second alongside Max Verstappen, outpacing Lewis Hamilton.
The Briton had been only P14 and P17 in Friday's two free practice sessions, but lived up to his 'Mr Saturday' nickname when it mattered to secure easily his highest grid position for the team.
"I don't know what to say," was Russell's initial post-qualifying reaction. "I thought we'd have been doing a good job to get out of Q1 how we got on yesterday and now we're standing here on the front row.
"I think the guys did an amazing job. We were on the track always at the right time, the car was feeling great, I had so much confidence, so on to tomorrow now.
"I think I was in a fortunate position of having nothing to lose. We were in Q3, which was not a norm for us, and we just had to go for it. We saved the full maximum engine mode for the last lap and I'm absolutely buzzing.
"But obviously tomorrow is the important one and I've got to go out there and score some more points.
F1 TV Pro is half price for two months! In order to claim this fantastic discount, click the following link and use the promo code SPA50 at checkout!*
*Offer expires at 23:59 on Sunday, August 29. Offer only available on Pro. Customers will need to take out a monthly subscription and this offer can only be redeemed on web. Offer not available in NL, FR or NZ.
Yep, that really did just happen. pic.twitter.com/zWY0SDUNjQ

— Williams Racing (@WilliamsRacing) August 28, 2021
Interviewer Mark Webber pointed out to Russell that P2 can be a good place on the grid to start at Spa and that he may be able to challenge for the lead.
"That's the plan. If it's there for the taking we'll go for it," replied the 23-year-old, who also started second when he made his debut for Mercedes as the substitute for Hamilton at last year's Sakhir Grand Prix.
Russell's team boss, Jost Capito, came on the team radio at the end of qualifying and said: "Fantastic, George, awesome, the whole team did a fantastic job and you were outstanding. Thank you so much, you so much deserved that."
Capito added on Sky F1: "I can't believe it yet. I think we worked a lot on the strategy and how to do it and in Q3 we didn't have anything to lose, we could just win.
"Getting into Q3 is already a huge success for us and then if you can do a strategy that you say 'okay, you can put everything into one lap and you either get it or you don't', and with George knowing he can do it.
"This is incredible for his performance as well. We wanted to give George the confidence going out on the wet tyres and then he knew he could do it on the intermediates. It worked."