Russell has watched British GP crash '100 times'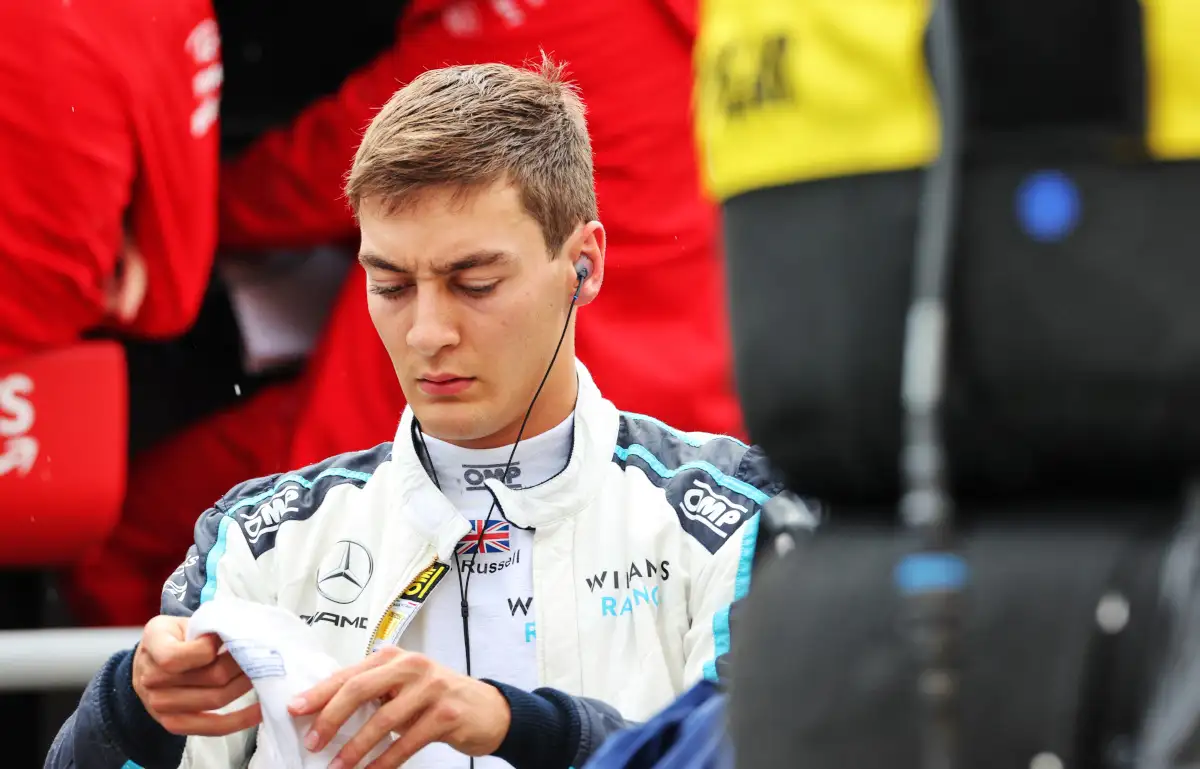 George Russell is adamant there was nothing "malicious about" Lewis Hamilton's actions at the British GP, and he'd know, he's watched it "100 times".
Hamilton and Max Verstappen turned an already fierce title fight into the stuff of legends when, after a few near misses earlier in the season, they clashed at the British Grand Prix.
Fighting for the lead on the opening lap, Hamilton tried to pass up the inside at Copse, got it horribly wrong and hit Verstappen's rear wheel.
That pitched the Red Bull driver into a high-speed crash, Verstappen slamming into the tyre wall with an impact that was recorded at 51G.
The ensuing war-of-words between Mercedes and Red Bull only inflamed the situation with fans pinning their colours to the mast.
But while Red Bull stood firm in their criticism of Hamilton's actions, even calling for a race ban before trying to review the penalty, Russell says his compatriot did nothing wrong.
TW: Hamilton and verstappen crash at copse #BritishGP #f1 glad he's okay 🙏 pic.twitter.com/Hu0LA9gSQP

— keith phillips (@nobbyphillips) July 18, 2021
Show your support for Williams with their latest official merchandise collection
"I watched the incident 100 times like everyone else," he told Auto Motor und Sport.
"For me it was a racing accident. There was nothing malicious about it. Lewis is one of the cleanest and fairest drivers around."
Part of the reason why the Williams driver spent so much time watching the Hamilton versus Verstappen crash is because he was reviewing his own grand prix.
Explaining that it is difficult for drivers to keep track of rivals' races while focusing on their own, he says he can miss out on some of the "clear things".
And knowing what was going on around him, it all part of learning.
"I always watch my videos, check the data, and look for highlights," he said. "Just to understand what was going on.
"When you run your own race, you don't know what is going to happen.
"When I drove around Copse, I didn't even see Max in the tyre wall. I didn't know that Sebastian had turned the corner before. I drove past him, saw the yellow flag, some dust in the air.
"When I checked the data afterwards, I noticed that it was Vettel who had turned up three positions in front of me. That was interesting.
"You are so focused on your job that you sometimes miss out on clear things."
While Russell failed to score at the British Grand Prix, he did bring home his first points with Williams in Hungary.
P8 on the day, he reckons those four points were a "greater achievement" than the points he scored last season when he made a one-off appearance for Mercedes at the Sakhir GP.