Russell given three-place grid drop for Sainz collision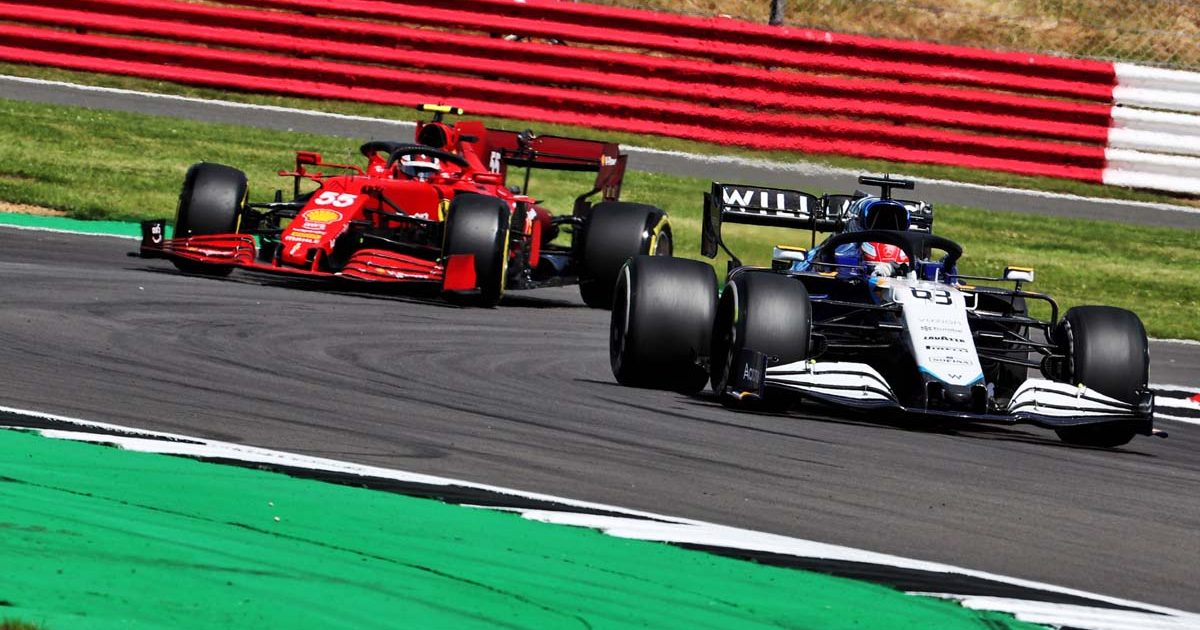 George Russell has been given a three-place grid penalty for Sunday's British Grand Prix after his first-lap contact with Carlos Sainz in sprint qualifying.
The Williams driver locked up and tagged the rear-left tyre of the Ferrari heading into Brooklands on the first lap, making Sainz divert his route through the corner and drop towards the back of the field.
While Sainz eventually recovered to take P11 for Sunday's grid, that will now be bumped up a place as Russell's penalty will see him drop outside the top 10, to P12 for the start of his home race.
Russell was adjudged to have been to blame for causing a collision with the Spaniard, but the race stewards said it was a different punishment to what they would usually administer for similar incidents.
"The Stewards note that breaches of the regulations of this sort in a race normally result in time penalties, which are scaled based on normal grand prix race lengths," read a statement from the FIA.
"Both because of the shorter length of sprint qualifying and because it is used to establish the grid for the race, the stewards feel grid position penalties, as imposed here, are more appropriate."
Fortune teller: George, you will finish P9 this season

George: Get in there!

Fortune teller: But you won't get any points for it

George: Oh#F1

— Planet F1 (@Planet_F1) July 17, 2021
You can follow all the action from the brand-new sprint race weekend via F1 TV Pro! Subscribe here for the ultimate F1 viewing experience.
F1 TV Access, meanwhile, is available in over 30 territories and the full list of eligible countries can be found here.
Sainz was also up before the stewards on suspicion of not rejoining the track safely after the incident, but no further action was taken as it was deemed there was "no conclusive evidence that [he] did not take sufficient action to avoid the situation".
The Spaniard was not best pleased after the incident either, but conceded mistakes are possible when competing in the early laps of a race and so did not harbour a grudge towards the Williams driver.
"I think it was a pretty obvious mistake by George there," Sainz told Sky F1 after sprint qualifying.
"I guess it's difficult for us in dirty air, you know, following each other. It's easy to do mistakes like he did, but obviously it cost me quite dearly today.
"Going from 10th, I think we were battling, to last and then having to come back to P11 and finishing behind him hurts because this time it's not my mistake.
"It's unfortunate, but yeah, let's see what happens."
Russell had reached Q3 for the second race running on Friday and after he had been eventually closed down and overtaken by Fernando Alonso in the Austrian Grand Prix, his wait for a point with Williams continued.
With this penalty in place, his job to finally break that duck has been made more difficult – but he still has a chance to make up for it in Sunday's race.
Follow us on Twitter @Planet_F1 and like our Facebook page