George Russell 'didn't receive same courtesy from Lewis Hamilton' in Lap 1 tussle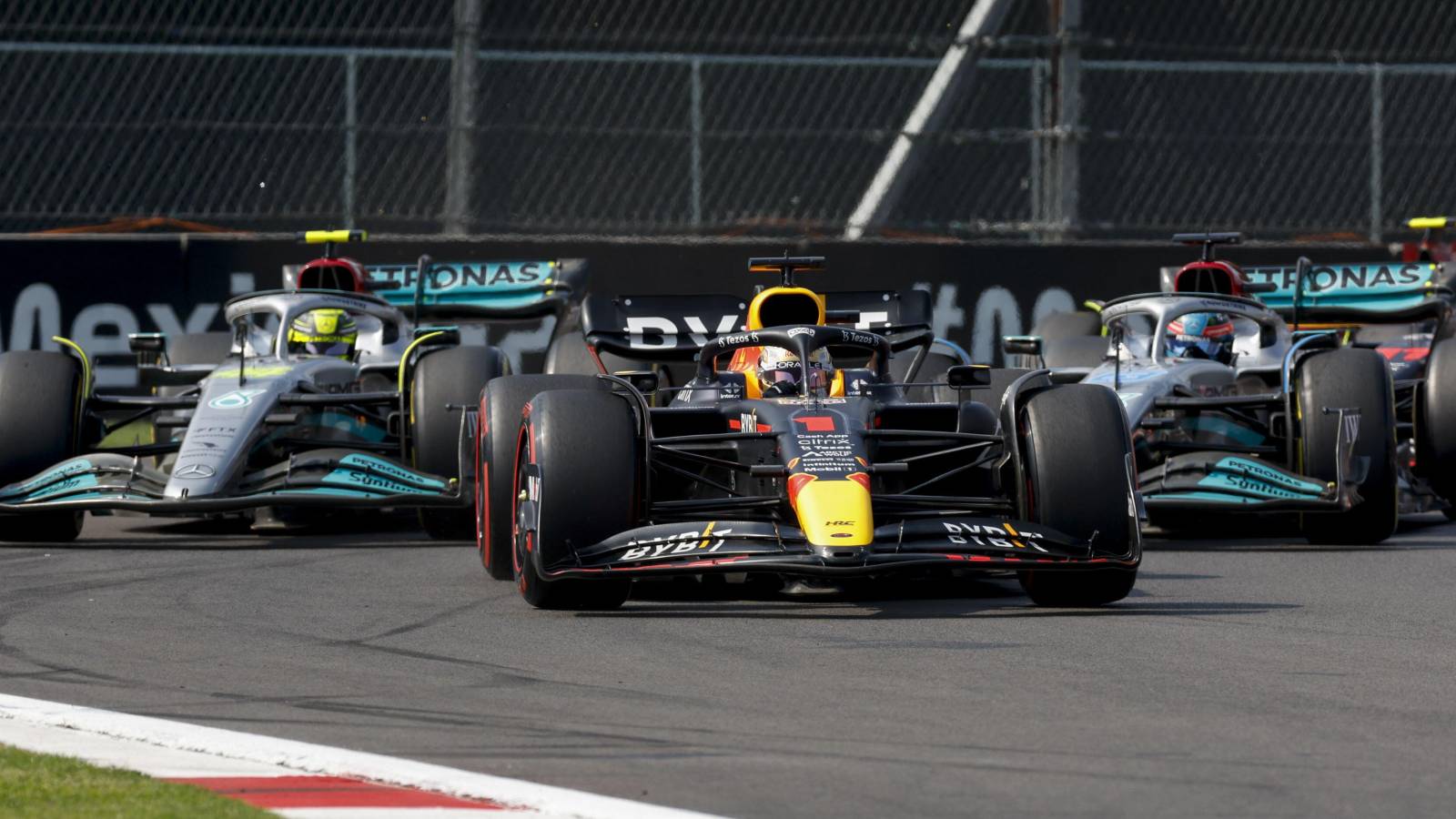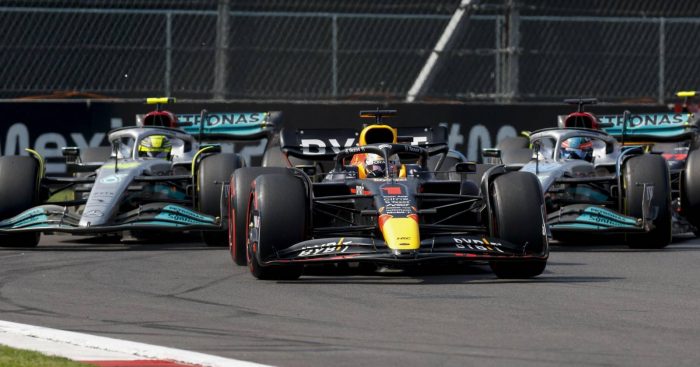 Ex-F1 racer turned pundit Martin Brundle says George Russell was very courteous in his opening-lap battle with Lewis Hamilton in Mexico, but the reverse was not true.
It was Max Verstappen's Red Bull on pole for the Mexico City Grand Prix, joined on the front row by Russell in the Mercedes, while Hamilton in the other Mercedes launched from P3, directly behind his 2021 title rival Verstappen.
The tow is an effective weapon at the Autódromo Hermanos Rodríguez such is the monster start-finish straight, but with the help of Red Bull's rapid pace in a straight line Verstappen saw off the Mercedes threat.
That left Russell and Hamilton to battle behind, Russell affording his team-mate room through Turns 1 and 2, only to end up pushed out wide through Turn 3 as Hamilton powered onto the back straight, while Russell was left dealing with the threat of Sergio Perez behind, who duly demoted Russell to P4, the position where he finished.
After the race, Russell said had it been anyone other than his team-mate, he would have run them off the track – although Brundle argues the same courtesy was not shown by Hamilton.
"Verstappen was very smart away from pole position in heading to the dusty but more easily defended right-hand side of the track," Brundle wrote in his column for Sky F1.
"This played nicely into the hands of second-placed qualifier George Russell, who gladly accepted the slipstream until he was obliged to move left and partly alongside.
"Having had a few skirmishes recently, not least seven days earlier in Austin, George was generous with space on the inside of Turn 1 for his team-mate Lewis Hamilton and again in Turn 2, but didn't receive the same courtesy swinging right through Turn 3 as he was squeezed wide and bounced over the kerb.
"The Ferrari boys were flying in side-by-side formation behind trying to scavenge some places, but in reality those first few corners decided the running order for the rest of the day – Verstappen, Hamilton, Perez, Russell, [Carlos] Sainz and [Charles] Leclerc. The 800-metre run to, and through, the first chicane defined the race."
Brundle feels it has now been a couple of years when the racing action in Mexico has not done justice to the great atmosphere.
The podium of Verstappen, Hamilton and Perez, in that order, was a repeat of the result in 2021 at that venue.
"There's a lot of hype and energy around the Mexican GP and there's always a festival atmosphere created by the fiercely partisan crowd willing Sergio Perez along," Brundle added.
"If you took away that, along with the 55,000-seat stadium area and dramatic podium, we have to concede the racing has not been especially good at this track of late.
"In fact, the top three finishers of Max Verstappen, Lewis Hamilton and Sergio Perez were identical to last year with very similar and unexciting gaps. To further underline that, Ferrari were once again a distant fifth and sixth, albeit with Sainz ahead of Leclerc this time.
"With the six fastest cars in the top six having disposed of Valtteri Bottas' impressively qualified Alfa Romeo early doors, it promised to be quite something – but major excitement sadly failed to materialise."
Read more: Lewis Hamilton reflects on 'awkward' Mexico Grand Prix after 'boos all day'