George Russell can see 'a different dynamic' with Lewis Hamilton, but no conflict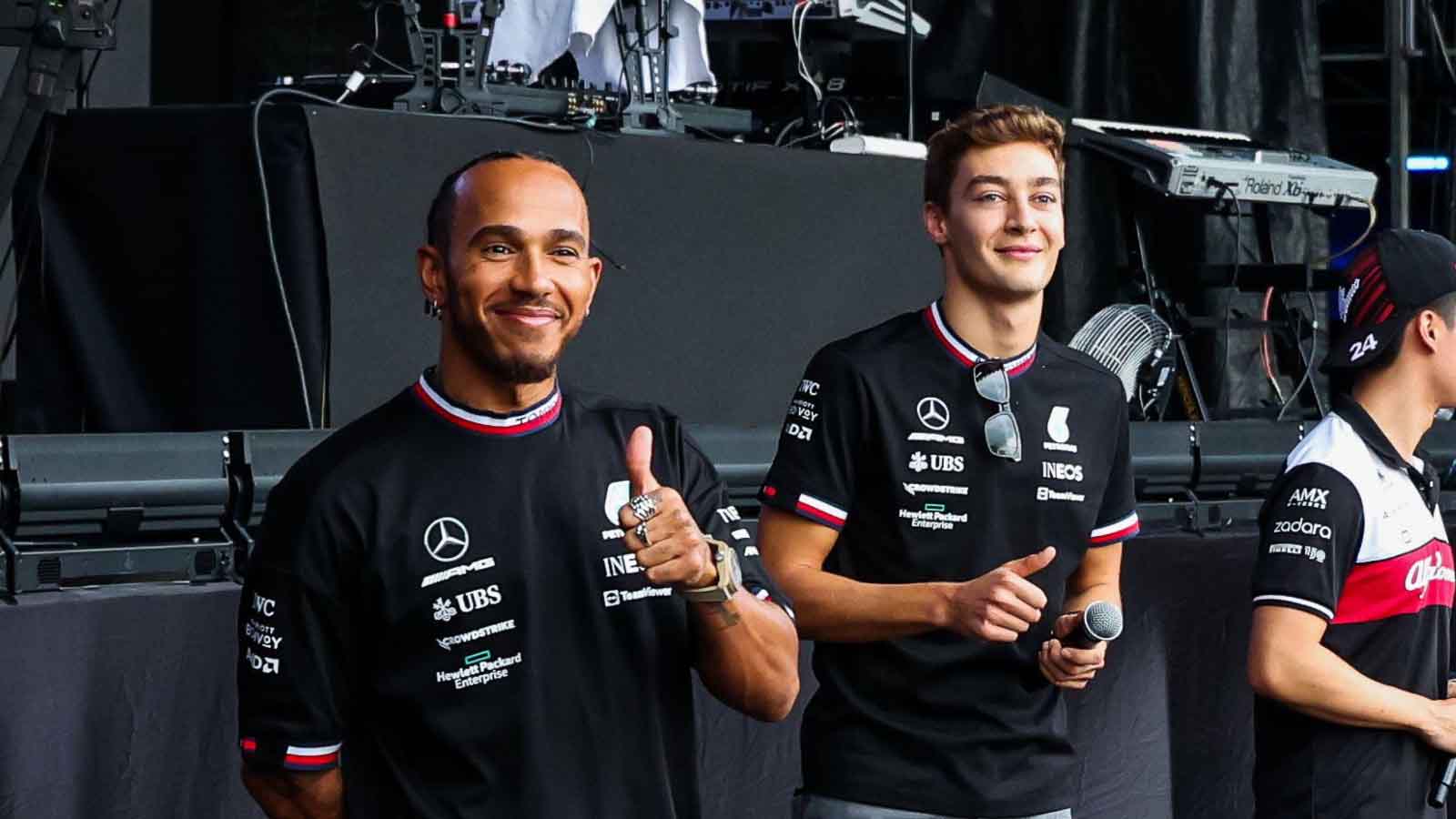 Conceding there will be a "different dynamic" next season if he's fighting Lewis Hamilton for race wins, George Russell still doesn't think there'll be conflict between the team-mates.
Russell joined Mercedes at the beginning of the 2022 season with fans and pundits eager to see the contender to the throne taking on his record-breaking team-mate for race wins and the World title.
Alas that never arrived, Mercedes under-performing W13 leaving the drivers to fight for podium finishes at best.
They did, however, have one late-season moment with Russell pushed wide by Hamilton on the opening lap of the Mexican Grand Prix, the former Williams driver saying: "Probably if it was anyone else but my team-mate, I would have just run them off the road."
There could have been a second in Brazil when the team-mates lined up first and second on the Sao Paulo Grand Prix grid, Mercedes' first front row lock-out of the championship, but pole-sitter Russell was quick off the line with Hamilton filing him behind him.
They were given permission to race for position late in the race but Russell kept Hamilton at bay to clinch Mercedes' only win of the season.
Next year the Brackley squad is hoping for better and while Russell concedes that could alter the dynamic between the team-mates, he doesn't believe there'll be any bitterness.
"If you are fighting for one-twos there will be a slightly different dynamic and that's only natural," he said as per Crash.net.
"But I think the thing we have going for us is the fact that we are at very different stages of our career. It kind of feels like we are in this together, really.
"If we get to next year and we've got a car that's capable of one-two finishes, we will have a huge amount of pride in thinking we have contributed together in helping the team achieve this. And then we go about our business.
"But we've got no reason to have conflict. We have got a good relationship. We need to give each other respect, and I think we gave each other respect in Mexico, as an example.
"We recognise the importance of that within the whole team. If our relationship starts to break up, it's going to have an impact on the team and ultimately it's going to go full circle and affect us as well.
"I think we can continue to build off this and if anything our relationship will probably get closer as time goes on."
Finishing fourth in the Drivers' standings to Hamilton's P6, Russell in his debut campaign as a Mercedes driver became only the third team-mate to have ever beaten Hamilton in Formula 1.
"For sure I'm pleased to one degree of how my personal performance has gone," he said.
"It's no secret that Lewis had a bit of a tricky run at the start of this season, so that gave me an opportunity to rack up probably some more points. But equally, it's been pretty even between the two of us and that's been good for me.
"When you are a racing driver, you want to be the fastest every single time you hit the track. And being even is also something that is a difficult pill to swallow, because we all believe in ourselves and you always believe you can get the best out of it.
"But when you've got someone such as Lewis alongside you, performing at such a [high] level, week-in, week-out, you are never ever going to be able to be quickest within your team every single week.
"The amount of points we've scored this year would have been enough to finish P3 in the championship last year. And considering that's with a car that's been over a second off the pace at times, I take a lot of pride in that."
It's all fun and games until the stakes are raised
Lewis Hamilton wants an eighth World title, George Russell wants a first, and both are now very well aware that just because they race for Mercedes it's by no means guaranteed.
With seven World titles in eight seasons, the team-mates lined up on the 2022 grid expecting to collect race wins and the title only to have their hopes dashed by a porpoising W13.
As the season progressed, the team made small steps forward, first to curb the bouncing and then to develop the car with Mercedes closing in on Ferrari and even Red Bull in the latter part of the season.
It's a promising sign for 2023 where the regulations will be largely the same barring a tweak to the floors, a tweak that is expected to assist Mercedes with their bouncing problem. And that could mean Hamilton and Russell find themselves at the sharp end of the grid next season.
If that happens both know it could be their one shot, their one opportunity to win a World title… the gloves will undoubtedly come off. But while it's unlikely to deteriorate into a Hamilton v Nico Rosberg rivalry, that one having taken years to build, it won't be quite as friendly as it is now.
It won't be conflict, Russell is right in saying that, but the handshakes and smiles and 'well done to my team-mate' will soon be more forced than friendly.
Read more: Lewis Hamilton won't 'hold breath' that racing with Max Verstappen will improve