Russell doubts Mercedes can take Copse flat out this year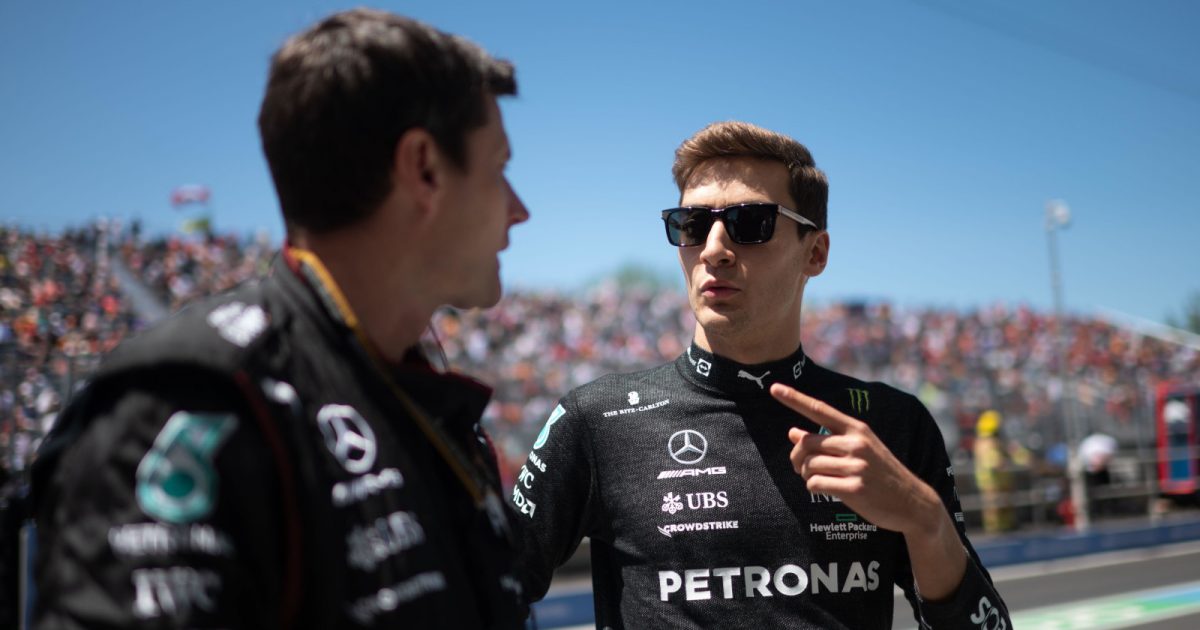 George Russell may have to lift as he goes through Copse this weekend, his Mercedes' porpoising problem ruining one of the highlights of racing at Silverstone.
It has been well documented how this season Mercedes have struggled with porpoising more than most, their W13's zero-pod design said to be compounding the issue.
While the car has bounced at every circuit, it has been worse at some, such as Monaco and Baku, and better at others, most notably Barcelona.
But even at the Spanish Grand Prix, Russell and team-mate Lewis Hamilton had issues through the circuit's two high-speed corners – Turn 3 and 9.
It has Russell wary about what lies in wait for him and his team-mate when they fly through Copse Corner at Silverstone this weekend.
"It all caught us by surprise when we went to Barcelona, and we weren't porpoising down the straight, but then we got to the corners, the two high speed corners – Turn 3 and Turn 9 – and were all bouncing through the corners," Russell told Motorsport.com.
"If you listen to our onboard during qualy or the Ferrari onboard, you hear them like 'crush, crush, crush' through the corner itself in Turn 3 and Turn 9.
"Now that was at 250km/h – Copse is 300km/h.
"So, it's not going to be easy to navigate. But I think there'll be a number of teams in the same boat."
Revenons dans le temps…😌

En 2019 Hamilton et Bottas nous ont donnés une jolie bataille pour la P1 🔥⚔️#F1 #SilverstoneGP #BritishGP pic.twitter.com/si8xwrqAus

— Mercedes-AMG F1 France🇨🇵 (@MercedesFRteam) June 26, 2022
Although the drivers often go flat-out through Copse, Russell added: "I'm pretty confident I won't be doing that this year, even though we've got a substantial amount more downforce at high-speed."
Mercedes will arrive at the Silverstone circuit with a raft of updates for the W13 in the hope of turning their podium-finisher into a race-winner.
"I think we've always known it's got a lot of potential," Russell said of the car.
"We're only really recognising now that the last three races have caught us by surprise, in the fact that they are very different to Barcelona, and they are all very similar.
"The three street circuits are all very bumpy and they all have slow speed corners. So, if you have a competitive car in slow speed corners and one that's really robust over the bumps and the kerbs, you're gonna be fast at all three of those events.
"Now, we're going to Silverstone, we're going to Austria, Paul Ricard, Budapest – they're more traditional circuits, as such. But the facts are, we are uncovering sort of different issues from our package at every track we go to.
"So, there's no guarantees that we're going to light the world on fire when we get there."
Torquing Point: Home drivers looking forward to the weekend
With the British Grand Prix this weekend, Henry and Sam discuss the feelings for the home drivers of Lewis Hamilton, George Russell, Lando Norris and Alex Albon.