Russell wants drivers and stewards 'on the same page'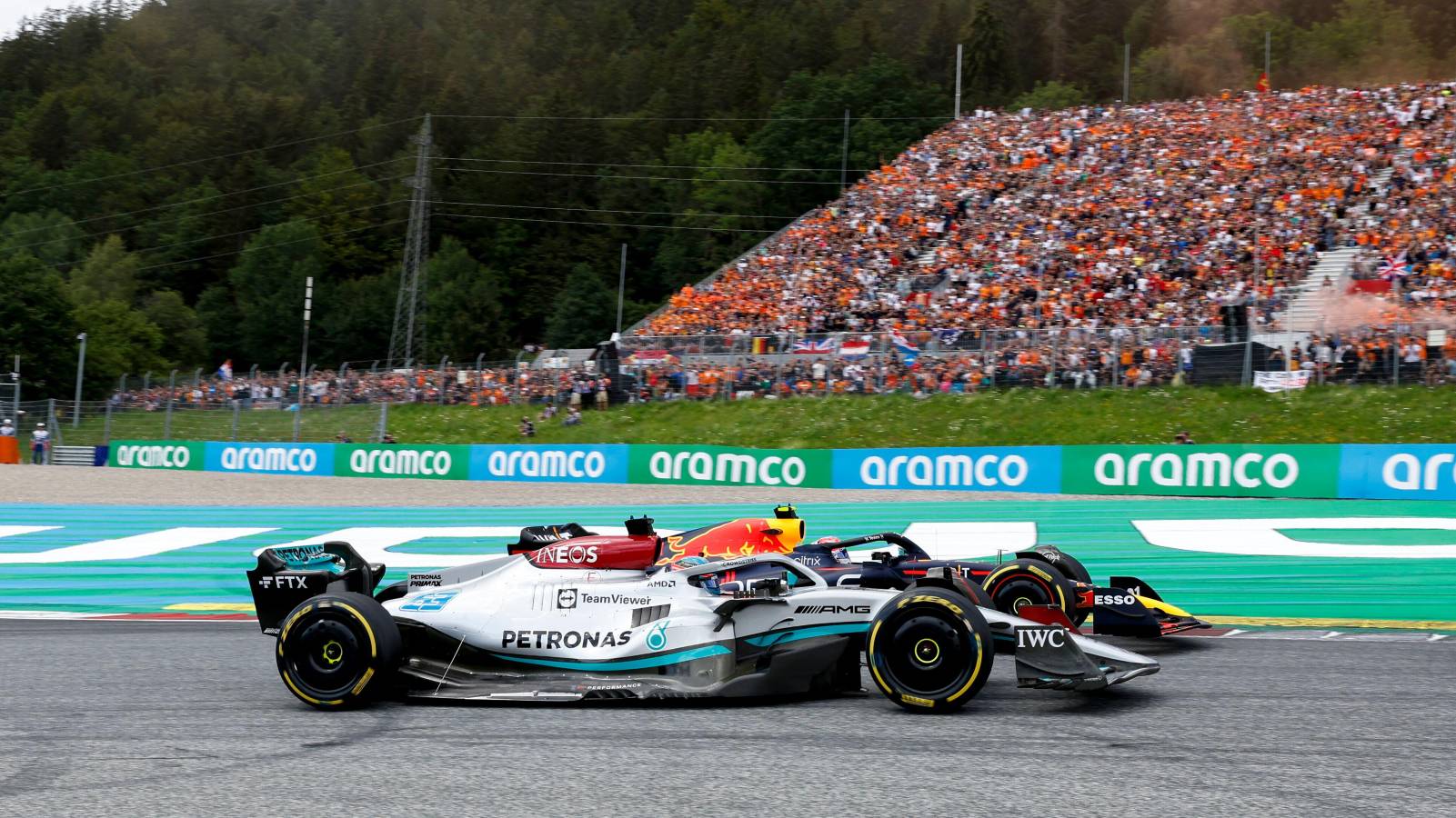 George Russell is not holding anything against the stewards following his Austrian Grand Prix penalty – despite urging greater "consistency" in decision-making.
The Mercedes driver suffered a setback to his hopes of a podium finish at the Red Bull Ring when he collided with Sergio Perez on the opening lap, sending the Mexican spinning into the gravel.
With the stewards adjudging he had been to blame, Russell entered the pits for a front-wing change and had to serve a five-second penalty before work could begin.
Whereas Perez's race had been ruined, eventually having to retire, the Briton fought his way back up through the field to finish a fine fourth, one place behind his team-mate, Lewis Hamilton.
Earlier that weekend, Russell had spoken of inconsistencies arising from F1 now having two different race directors on a rotational basis, and with the same stewards not always being present at back-to-back races to potentially explain any decisions previously made.
But the 24-year-old has chosen not to stick the boot in regarding the penalty he incurred for the incident with Perez.
P3 to P17 to P4. Great recovery but a shame to get the penalty plus the front wing change. Big thanks to the team for the continuous hard work. Let's keep pushing! 👊 pic.twitter.com/ndNVq4tQIK

— George Russell (@GeorgeRussell63) July 10, 2022
"Every single incident is different. The dynamics of every single incident are different," Russell told reporters.
"The fact was Checo (Perez) was on my outside and I needed to leave him space, but if he puts me in a position where I'm already at the limit of my car and someone turns in that has more grip, there's nowhere I can go.
"To the letter of the law, I was in the wrong and he was in the right, but from the second I braked I was on the limit of my car and there's nothing more I can do.
"He had clean air. Carlos [Sainz, Ferrari] was on the inside defending, that's what happens on the first lap and he has a lot of experience, he knows how this goes.
"But from the stewarding perspective, it's so difficult. We are all looking at consistency but we don't want penalties being dished out left, right and centre."
Russell added that although differences of opinion are inevitable between drivers and stewards, he thinks it is achievable to find some common ground.
"As I said, I'm not placing blame on anyone here," he continued. "We all want consistency between drivers, and the stewards want consistency.
"But not every single incident is the same and between us, we will all review a load of incidents and as drivers give our feedback on whether that should have been penalised or not.
"Hopefully, that gives the stewards a better indication of our feelings. We just all need to be on the same page."