George Russell calls on Formula 1 to have a grid penalty 'rethink'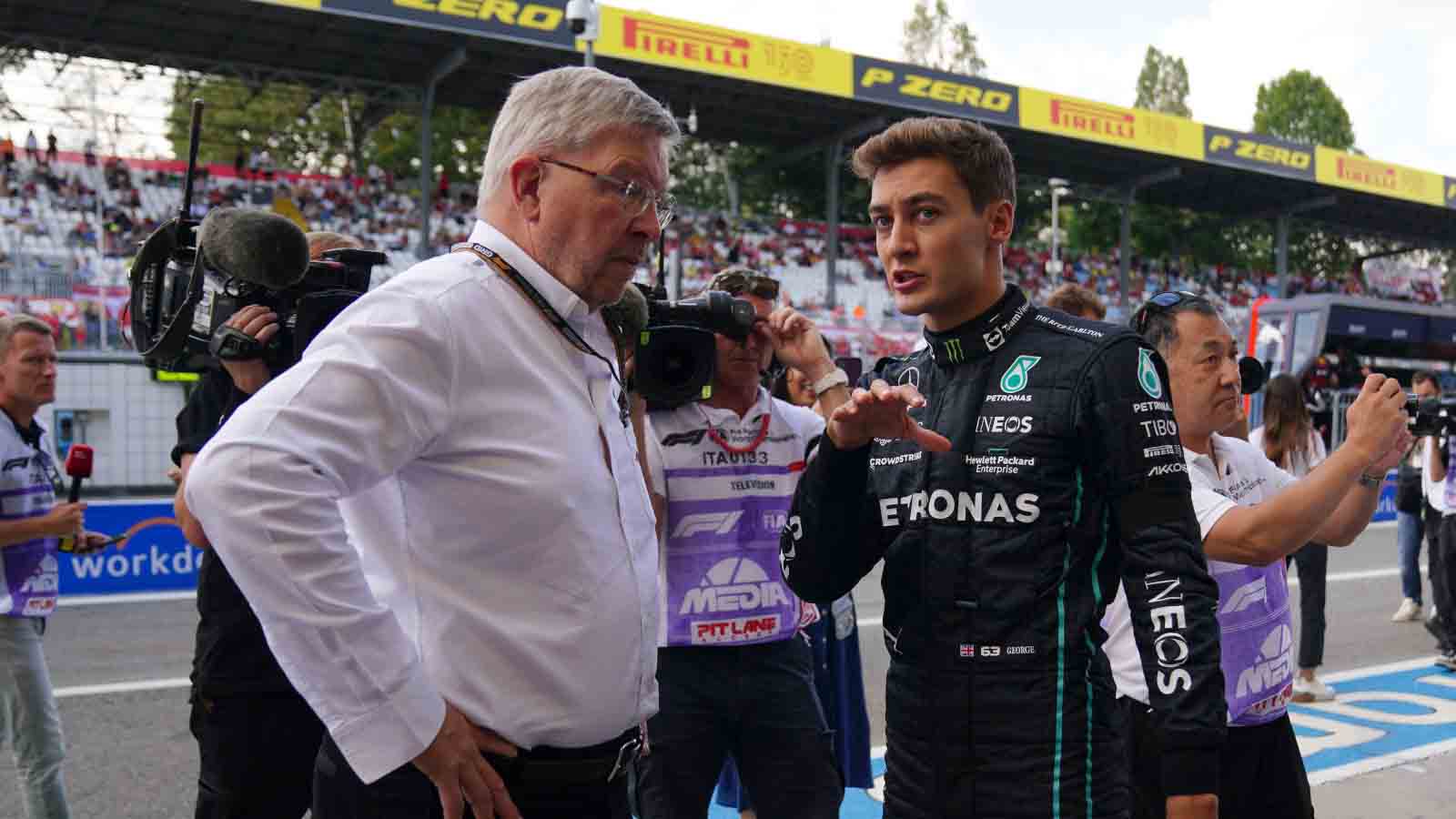 George Russell described the grid penalty system for power unit changes as a "double-edged sword", given the sustainability aspects involved in its introduction.
Formula 1 teams are now strictly limited on the number of power unit elements they are allowed to use per season, in an attempt from the sport to limit costs and increase teams' sustainability credentials by recycling engines from race to race, cutting down on the number of parts used.
But the teams have regularly overused parts this season, with seven drivers getting penalised at Spa and nine taking penalties in Italy, the teams believing the high-speed layouts offer overtaking opportunities which could help them make up the places they lose in race trim.
This has led to grids being significantly jumbled up at those events, with no driver starting the race in the slot in which they had qualified in Belgium.
While the idea behind the power unit limits is based on sustainability and costs, performance drop-offs and reliability issues have caused teams to act pre-emptively and introduce new components to take them through the season, particularly with the calendar expanding year on year.
"I mean, it's a double-edged sword," Russell told reporters when discussing the grid penalty system, quoted by MotorsportWeek.
"We're trying to be more sustainable in F1, cutting down the parts and engines we use across a season.
"With more and more races, we have three engines to take us through 23 races, running flat-out on a single engine.
"It's a huge amount. It's normal there are going to be failures along the way. I'm sure F1 will have a rethink along the way."
Russell will start the Italian Grand Prix from the front row on Sunday after being bumped up from sixth through the grid penalties accrued by others.
With the significant gap to Ferrari and Red Bull on show from Mercedes throughout qualifying, the Briton is surprised to see himself in that position heading into the race.
George Russell is not optimistic about the rest of the field being able to beat Max Verstappen on Sunday…#ItalianGP 🇮🇹 #F1https://t.co/RURY24Xf82

— PlanetF1 (@Planet_F1) September 10, 2022
He hopes to fight with Leclerc during the race though, even if Max Verstappen, whose penalty drops him down to P7 on the grid, is too far out of reach.
"We don't deserve to be starting P2 after today's performance," Russell said.
"It was again a frustrating session because we can't seem to get the car in that sweet spot.
"FP1 the car felt great, in FP2, FP3 substantially worse. In Q1, the car felt great, a few tenths off Ferrari.
"Q2 was worse, Q3 was worse. But ultimately that's been a theme this season. Lining up P2 we'll have a faster race car, probably not fast enough to battle with Max, potentially Charles."