Russell was predicted to have '17th-fastest car' at Spa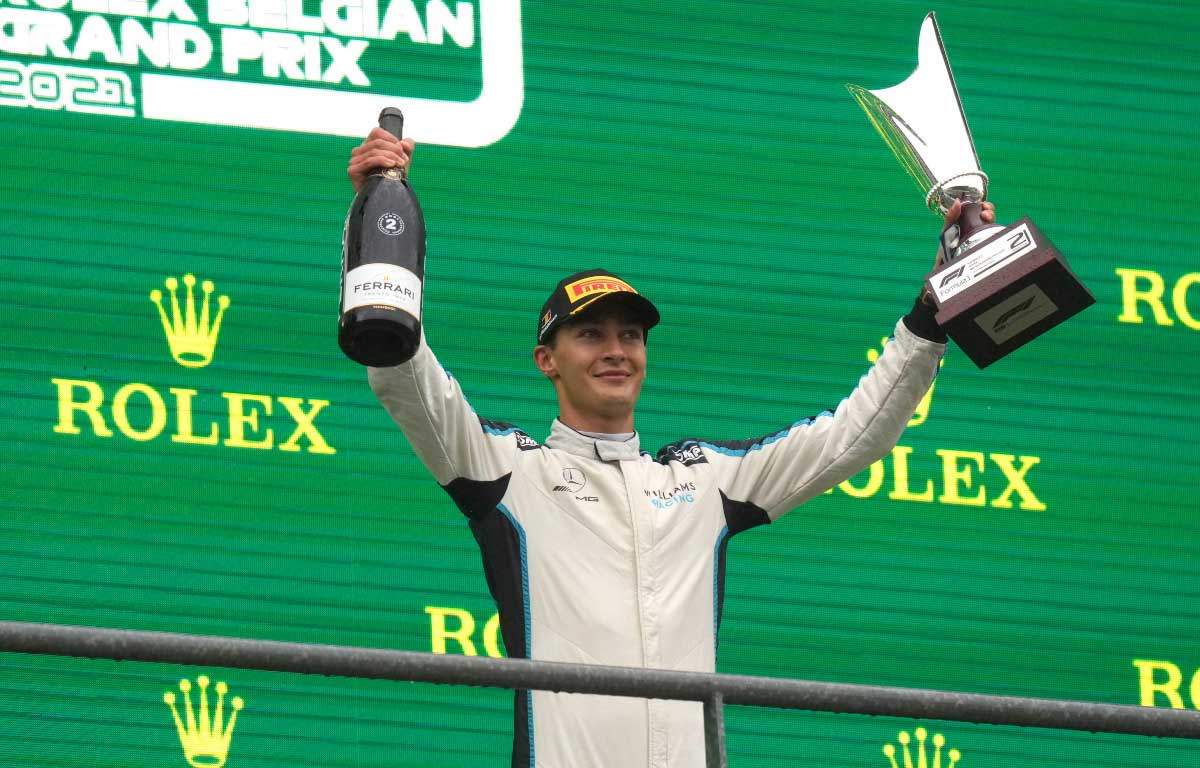 George Russell revealed that his Williams strategists had predicted his car would only be the 17th-fastest on the grid at Spa, putting extra emphasis on his qualifying performance.
Amid the non-event of the rained-off Belgian Grand Prix, Russell said he would 'take' his first F1 podium, albeit in strange circumstances.
The 'race' itself was limited to just a couple of laps behind the Safety Car, as fans waited for hours to see if full-speed running was possible at Spa – which led this race to be enshrined with the unwanted title as the shortest Formula 1 race in history (based on kilometres raced).
So half-points were awarded after enough laps were completed for a classification to be calculated, but the Williams driver was still understandably pleased to have earned his first official podium as a Formula 1 driver – albeit not as excited as he would have been by earning it in racing conditions.
"We'll take it, no matter what," Russell said to Sky Sports after the race. "We've got to remember that it was only [the] last race for our first points together with Williams, in our third season, and here we are standing on the podium at the Belgian Grand Prix.
"If you told me that at the start of the year, I'd have said 'no way'. Obviously if the race went ahead today, it would have been incredibly difficult to hold our position, as our strategists had us down as the 17th fastest car on the grid.
"So, to try and fight for the podium with the 17th fastest car on the grid would have been very, very difficult – but you've got to take it as it comes.
"I have to admit, it is quite a strange feeling because earning this podium without really doing any racing laps, I don't think I've ever had this in my whole career, let alone for a Formula 1 race.
"I guess I'm not quite as elated as I ordinarily would be, but going back to the garage, celebrating with the guys, trophy in hand, champagne in the other hand, I'm sure we'll all remember this for a long, long time."
Oh well, would you look at that? I'm on the podium…#BelgianGP 🇧🇪 #F1 pic.twitter.com/SrcX2AVcyy

— PlanetF1 (@Planet_F1) August 29, 2021
Show your support for Williams with their latest official merchandise collection
Drivers throughout the field complained of having no visibility while trundling around on track, which ultimately led to the race being called off.
McLaren's Daniel Ricciardo explained that, while being unable to see was a clear and obvious issue, the amount of standing water on track would most likely have taken the cars out of the drivers' control.
Russell also supported the decision taken by the FIA to stop the race as, while the conditions were still wet, the amount of spray coming off the cars would have made the race "impossible" to complete safely.
"You could just about see behind the Safety Car, doing, I guess I was probably doing 140mph," Russell told Sky Sports in the lengthy gap between Safety Car periods.
"But then when we get up to 200mph, that spray is going to be impossible. It was definitely the correct decision to stop."