'Not the way' Russell wanted his first podium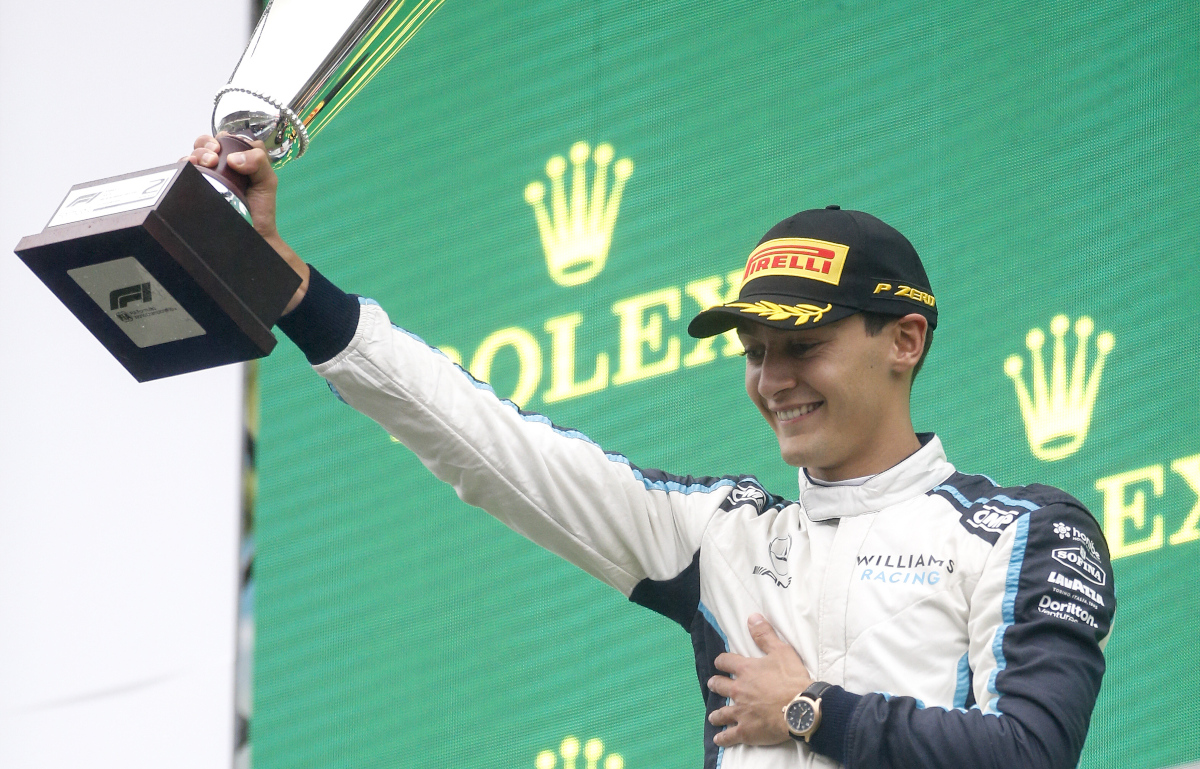 Although George Russell admits a two-lap non-race behind the Safety Car was "not the way" he wanted his first F1 podium, he'll take it.
Russell set up his maiden Formula 1 podium in Saturday's qualifying, putting his Williams up onto P2 on the Belgian Grand Prix grid.
The surprises kept coming.
With the rain bucketing down on Sunday, Formula 1 delayed the start of the grand prix for over two hours before sending the drivers out for a couple of laps behind the Safety Car.
That meant a result could be set with Russell finishing P2 on a day when no one was allowed to overtake, or race, or do anything but follow the car ahead while doing their best not to bin it.
Despite the strange circumstances, the Brit was nonetheless happy with first podium.
"Absolutely," he said when asked if it was still a very significant weekend. "Obviously not the way I'd have liked to have scored my first podium.
"A little bit of a strange feeling achieving it in this way but at the end of the day we've been rewarded for such a fantastic job yesterday [in qualifying]."
YES GUYS!!! THAT'S A PODIUM!!!

Doesn't matter how it comes, they all count and the team deserves this so much. Get in there @WilliamsRacing!!! 🙌 pic.twitter.com/0YG47piJug

— George Russell (@GeorgeRussell63) August 29, 2021
Show your support for Williams with their latest official merchandise collection
But even completing two laps behind the Safety Car wasn't easy with Russell one of the lucky ones when it came to spray as he only had the Safety Car and Max Verstappen ahead of him.
"Even I was, in second behind Max, anything over 200kph, I could not see a single thing," he said. "I may as well have been closing my eyes down the straight and was having to lift off the throttle.
"So, it wasn't safe at all to race. I think the FIA made the right decision."
He added: "As it starts to get dark and the rain increases slightly it was probably never really in a good state to drive. So, yeah, it's been a very long day for sure – but for the whole team it's a massive result.
"For us to be standing on this podium, didn't really matter how we achieved it, standing on this podium, is a huge result for us to… remembering we finished last in the Constructors' Championship three years in a row and here we are this weekend, qualifying on the front row and standing on the podium.
"I'm really proud to have achieved this with the team."
Russell's team-mate Nicholas Latifi also scored on a day when Williams was one of only two teams to get both cars into the points.
Doubling the team's points tally to 20, Williams are now 17 ahead of Alfa Romeo as they hold down eighth place.
Russell reckons P8 may now be secure.
"I believe the amount of points we scored in Hungary were probably enough to have secured that eighth in the Constructors'," he said, "but I believe it probably takes even more pressure off now, to go out, really put everything on the line, maybe try some more extreme things, see if we can learn anything more – because there's no reason why we can't score more points.
"And, looking forward already to next weekend and to Zandvoort. Amazing circuit. It's probably going to be difficult to race but I think the whole atmosphere there is going to be great."