George Russell: P6 grid slot 'very flattering result' for Mercedes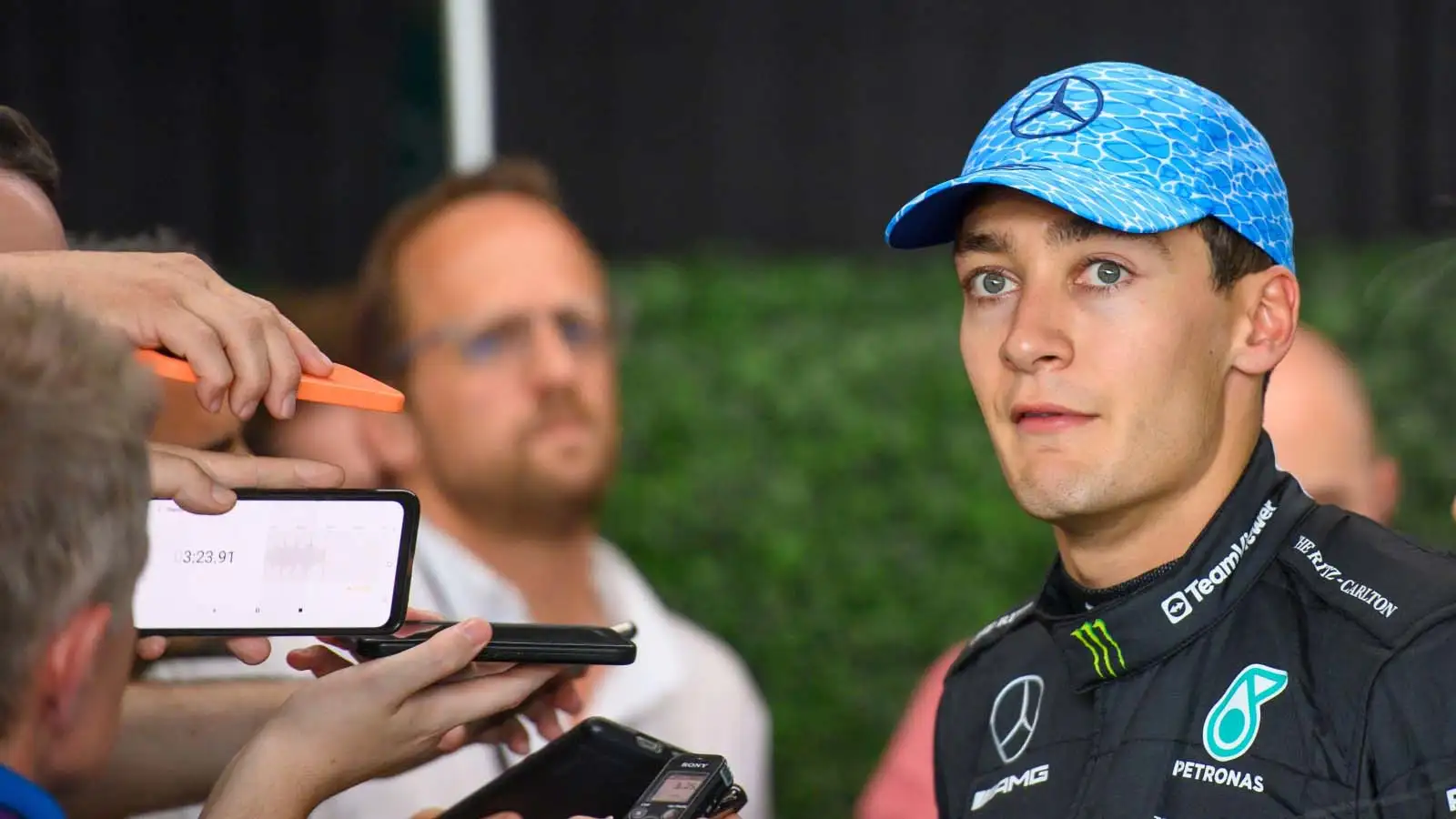 George Russell admitted his place on the third row for the Miami Grand Prix was a "very flattering result" for Mercedes, given the performance they showed in qualifying.
Russell made it through to the final part of qualifying on Saturday, while team-mate Lewis Hamilton missed out in Q2 and will line-up 13th on Sunday, admitting himself that getting into the top 10 was only a "50/50 chance" heading into the session.
Russell's first flying lap was good enough for P6 on the grid, but every driver's final effort was cut short after Charles Leclerc spun off into the barriers at high speed, bringing out the red flags and cutting the session short.
This cut short any opportunities for drivers to improve as the session drew to a close, with World Championship leader Max Verstappen set to start ninth after aborting his first push lap in Q3 after losing balance in the first sector.
Mercedes driver Russell acknowledged performance is "just not coming to us" at Mercedes currently, with the team not having brought any upgrades with them to Florida this weekend.
"I mean, I wouldn't necessarily say quite pleased," Russell admitted to Sky Sports F1 after the session.
"I'll take the result, of course, it's a very flattering result for the performance that we showed – a really decent lap in Q2 to just scrape through, just to get into Q3, and that's not where we should be.
"Everybody's working so hard to bring more performance to the car. It's definitely not for a lack of effort. It's just not coming to us at the moment.
"So lots to think about, a few questions that need answering. But tomorrow's a new day and we'll see what we can do."
PlanetF1.com recommends
Lewis Hamilton admits he only had '50/50 chance' of Q3 place in Miami
Qualifying: Sergio Perez stuns for pole as Charles Leclerc red flag ends Q3 early
"I definitely hope so," Russell added when asked if he will have a better car for race pace than qualifying speed.
"It's the theme of us that we generally have a better Sunday than we do on Saturday, obviously got the Haas and Alpine around us, hopefully we can we can get past them.
"Ferrari tend to struggle a bit more on Sunday, but we'll focus on tomorrow, but we [also] need to think about the bigger picture and how we're going to bring the fight to the guys at the top."
After Russell and Verstappen exchanged tense words following their tangle in Azerbaijan last weekend, the Red Bull driver will no doubt be looking to charge through the field come Sunday.
With that, Russell is going to look to defend his position regardless of who is behind him, with the Mercedes driver starting three places ahead of the two-time World Champion in Miami.
"Pretty quickly, I'm sure," he said when asked how soon Verstappen will end up in his wing mirrors during the race.
"Yeah, I don't know. It's difficult for everybody, it's as I said, everyone's working so hard to get up there.
"We'll try and put a bit of a fight with whoever's around us, but we'll see what we can do."