Russell's shunt didn't damage Wolff relationship
George Russell may have wrecked his Williams by tangling with Valtteri Bottas at Imola, but not his relationship with Toto Wolff.
As Williams' final hope for points in Imola after a first-lap crash for Nicholas Latifi, Russell was in pursuit of Bottas, but once he pulled the trigger on an overtake that battle took a sharp turn for the worse.
Russell would dip a wheel on the wet grass, causing him to slide into Bottas as the pair headed for a high-speed shunt into the gravel at Tamburello.
With Bottas' W12 wrecked, Mercedes boss Wolff was left far from happy and berated the team's protege Russell for the damage caused, suggesting it would cost Mercedes not only money, but also upgrades later in the season.
But, upon arriving in Portimao for the Portuguese Grand Prix Russell said his relationship with Wolff had not deteriorated at all.
"Our relationship has not been damaged at all since the incident," he told Sky F1.
"If anything, quite the opposite.
"As a racing driver I think the first rule is you should never crash with your team-mate, obviously right here I would not be in the position I am today without the support of Mercedes.
"They've had my back since day one and as a consequence, Lewis [Hamilton] and Valtteri are a team-mate of sorts for me, regardless of circumstances.
"We should not be coming together on track whether it's my fault, his fault or a racing incident. Emotions were high for all of us and I agree that we shouldn't have come together.
"Nevertheless, I don't go into any overtake planning to crash or to end my race. That was an audacious attempt, I got it perhaps wrong on that occasion because ultimately it ended my race, and the race of my team and we missed out on points."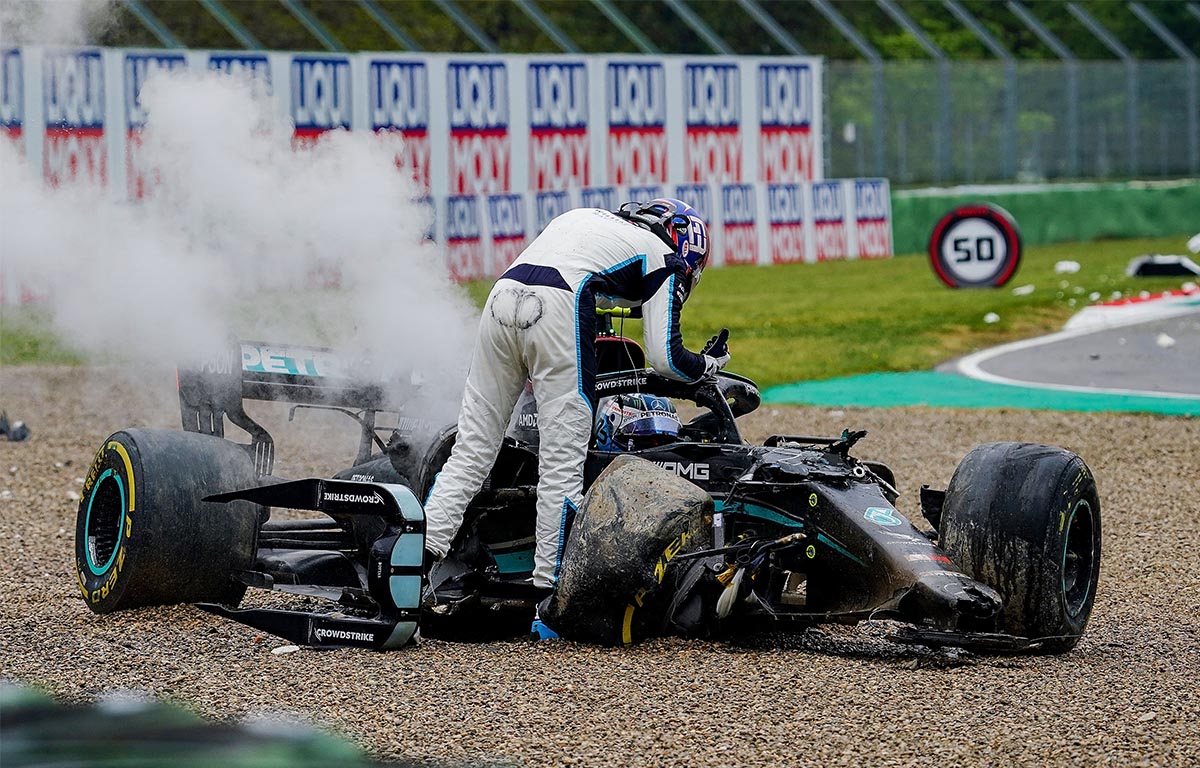 Check all the latest 2021 teamwear via the official Formula 1 store
Following the incident Russell and Bottas entered into a heated exchange, and in his early media reaction Russell revealed that he had asked Bottas if he was trying to "kill us both".
But, in hindsight Russell said this was a situation which he just needed to walk away from.
"I think the incident is one thing, it's part of racing and these things do happen, I think the actions I did afterwards were not my true self," he explained.
"I sort of went against my own instinct to walk away, and showed a bit of emotion which was probably a very poor judgement call in the heat of the moment, which led on to a few more things later that afternoon.
"That's why I felt it was necessary for me to put that [statement] out on Monday to apologise for my actions.
"Because I do want to lead by example, I do want to be a role model and those actions after the incident were not leading by example.
"That was a big lesson to me that you need to take a moment, walk away from a situation and look at it from all angles and look at it rationally. The impact was one thing but how you conduct yourself off track is a very different matter."
Follow us on Twitter @Planet_F1, like our Facebook page and join us on Instagram!