Russell concerned Haas 'had quite a pace advantage'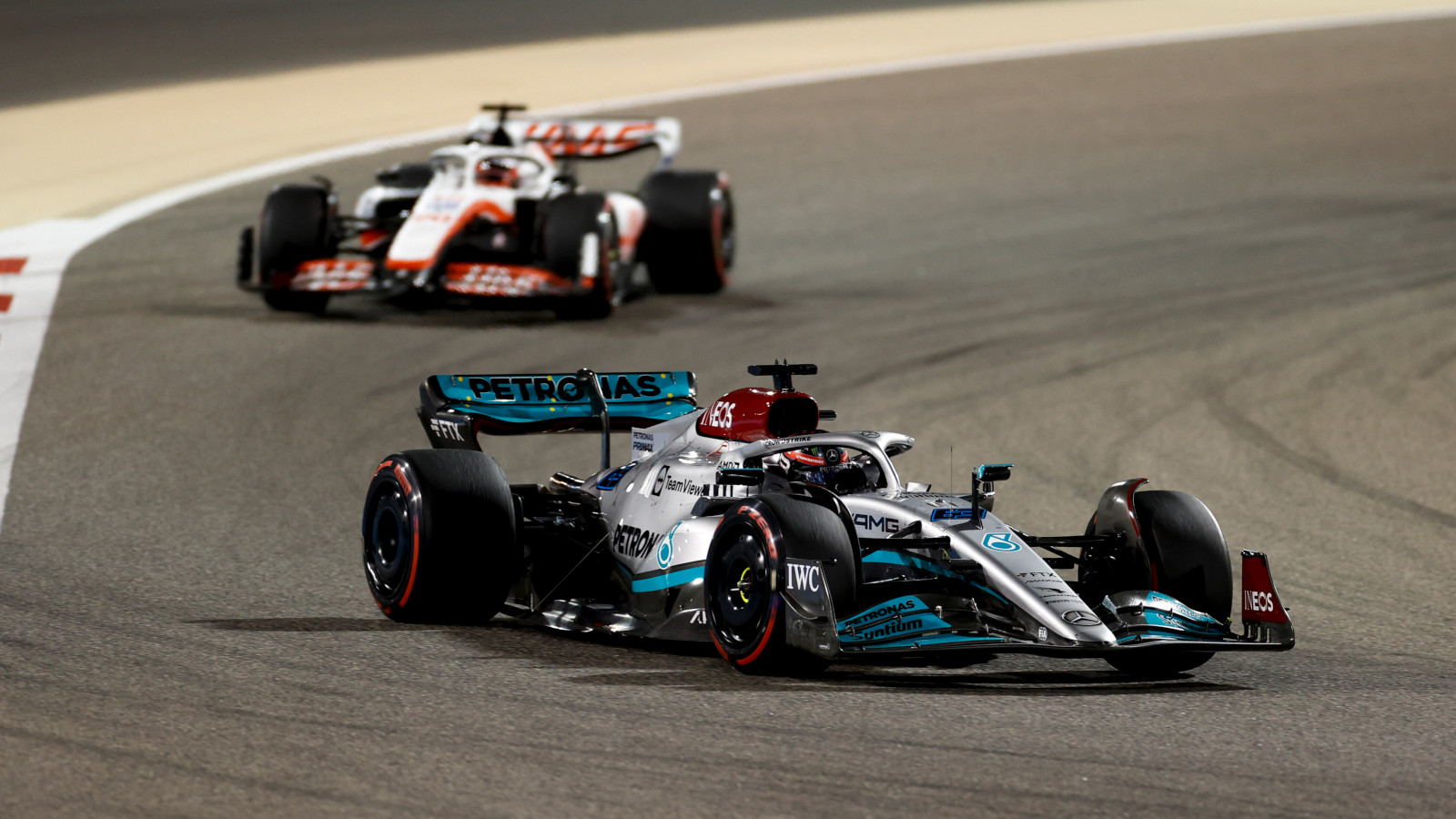 Bouncing his way through the Bahrain Grand Prix, George Russell went from P9 to P4 but only overtook one car – Kevin Magnussen's Haas.
And that was not an easy task, the Mercedes driver saying the Haas had "quite a pace advantage".
Russell lined up on the Sakhir grid in ninth place, the Briton fearing he would not be able to close in on the Ferraris and Red Bulls given his W13's 'porpoising' problems.
But when the chequered flag fell he was up to fourth place, both Mercedes drivers benefiting from Red Bull's late double retirement.
It was the first race with Formula 1's new ground-effect aerodynamics and Russell was asked for his thoughts on how the cars, designed to make following easier, had handled in the thick of a race.
He could not really say, for he only raced Magnussen.
"The only person I overtook was Kevin in the Haas and I think they had quite a pace advantage," he told F1 TV.
"I mean, it felt relatively good and easier to follow, but obviously the cars are much heavier and Bahrain is always a tricky race with the surface temperature."
To start your seven-day free trial of F1 TV Pro*, all you have to do is click this link and follow the instructions on screen. It's that simple!
*Available in select F1 TV Pro territories. Excludes previous free trial customers. T&Cs apply
Mercedes' pace in the W13 is being sorely hampered by extreme 'porpoising', the car's zero-pod design said to be compounding the situation.
Asked if he needed headache tablets after 57 laps of bouncing around the Sakhir circuit, the Briton admitted they would have been useful later when the adrenalin had worn off.
"The adrenalin is still running at the moment but probably later," he said.
"It's not very pleasant but you just get on with it because it's more annoying because you know it's compromising your lap time.
"But it's like riding a roller coaster, you get used to it."
Formula 1's next race, back to back with Bahrain, is the Saudi Arabian Grand Prix at the Jeddah street circuit.
Russell believes the nature of that track could help Mercedes a little, but he is not expecting to suddenly be racing the Ferraris or Red Bulls.
"We are optimistic it may suit us slightly better but we know where we are. Even if it does, it won't overturn that performance deficit to the cars ahead," he said.
"I think we will probably be in a lonely race for the first half of the year behind Ferrari and Red Bull and ahead of the midfield."
Mercedes strike lucky but concerns remain
Mercedes finished P3 and P4, but it doesn't mean their problems have gone away.