George Russell hails impact of Lewis Hamilton on expanding his skillset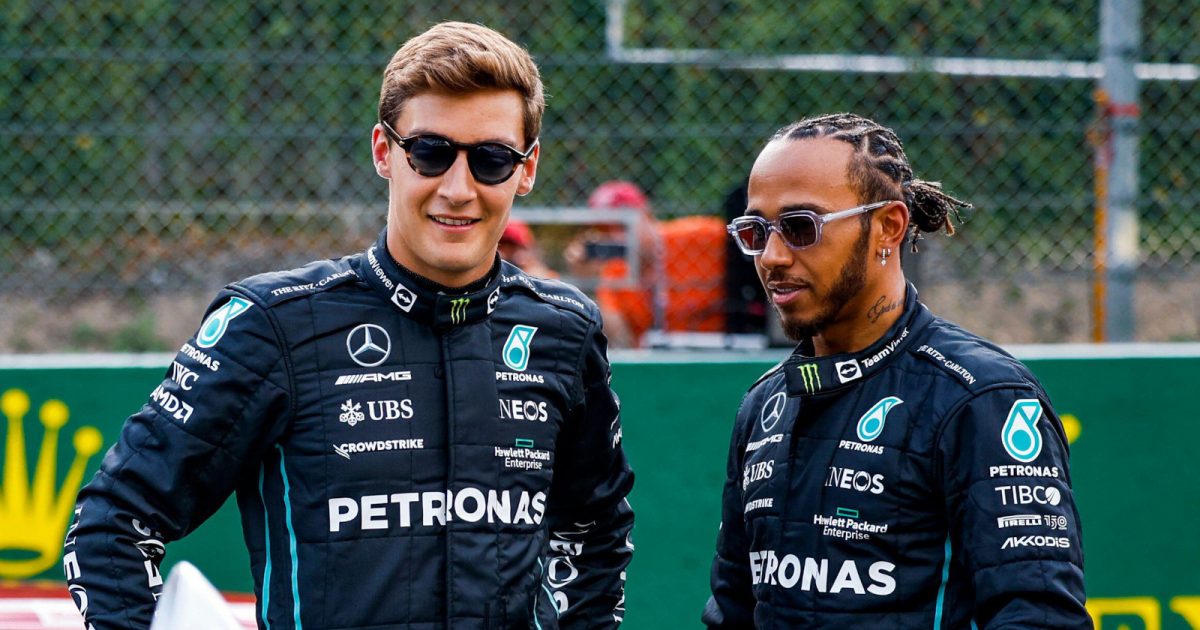 From Mr Saturday to Mr Consistency, George Russell believes learning from Lewis Hamilton has allowed him to "widen that envelope" of his driving skills.
A member of Mercedes' junior programme since early 2017, Russell had often had the opportunity to interact with Hamilton and watch how the seven-time World Champion works.
But when Mercedes promoted him into Formula 1 it was with Williams, although Russell still spent time testing for the Brackley squad and even raced for them at the 2020 Sakhir Grand Prix when he filled in for Hamilton after the Briton fell ill with Covid.
Stepping up to Mercedes after his three-year apprenticeship with Williams in which he earned the moniker Mr Saturday due to his stellar qualifying performances, Russell has now become Mr Consistency.

Finishing inside the top-five in all but one grand prix, Silverstone where he was caught up in the first lap crash, Russell sits P4 in the Drivers' Championship with 203 points.
Not only is he in the hunt for runner-up in the standings, just 16 points behind Charles Leclerc, but he's also beating his seven-time World Champion team-mate, up on Hamilton by 35 points.
Russell says he has Hamilton to thank for that as he is learning a great deal from the 37-year-old.
"Firstly, I feel so fortunate being team-mates with Lewis because it has given me such an opportunity to see his strengths and where I can learn from him and he is definitely very strong in certain areas," said Russell.
"He is always very strong in low-speed corners and under braking, he has always been very strong and it has been interesting to see his approach to certain issues and how he goes about it.
"There is no doubt that I have probably widened that envelope of my driving skills by being his team-mate.
"There is not really a way to measure whether you are a better driver or not, there are so many factors that go into it."
A feather in the cap but not yet a success story
Should Russell beat Hamilton in this year's championship it will be a noddy point for the former Williams driver, there's no doubt about that, but without a win on the board it will dull some of that shine.
There was a lot of debate ahead of his Mercedes arrival as to whether it was even possible, Hamilton having pretty much destroyed his former team-mate Valtteri Bottas during their five years together.
Pundits were divided, not only about whether Russell could do it, but what it meant with Jacques Villeneuve saying "he beats Lewis that's it as his career has been made."
Another former driver Karun Chandhok told Express Sport: "We're all kind of using that [beating Hamilton] as a way to judge where he's at, but it's a golden opportunity for him, right?
"If he can get close to Lewis or beat Lewis this year, he's made for life."
But, as Russell has already pointed out, if he beats Hamilton but can't beat the entire field, ie win a grand prix, that doesn't make 2022 a successful season.
And, as Hamilton has said, he spent the first half of this season as the one doing all the experiments while Russell found his feet at Mercedes.
In the last eight races it is in fact the seven-time champ who has scored the most points for Mercedes, but like Russell he too is searching for a race win.
Whoever takes that, that will be the deciding factor in who comes out top in 2022.