Broken headrest left George Russell fearing 'bad headache' after qualifying spin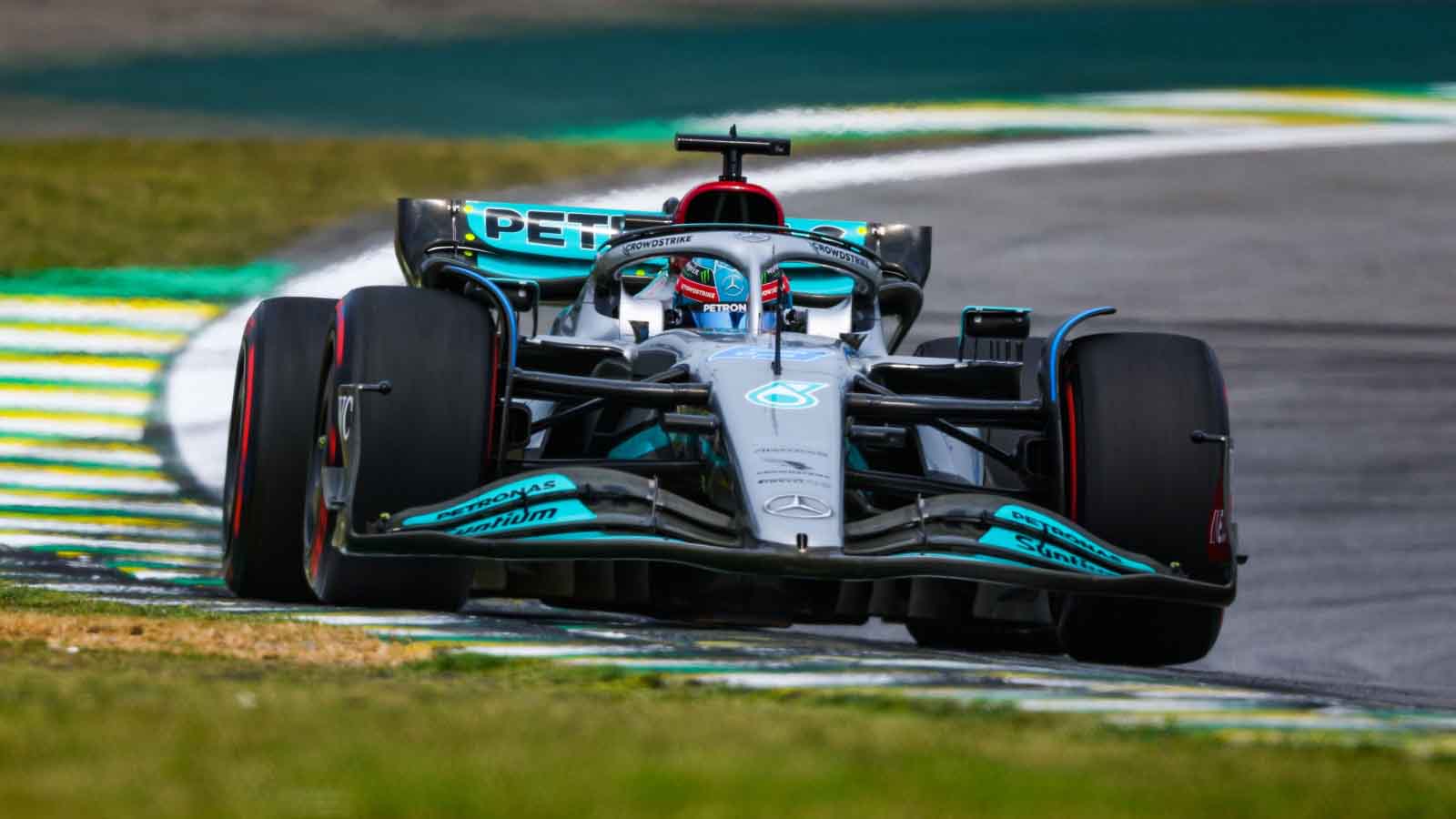 George Russell said a broken headrest left his head rattling around in the Mercedes cockpit when he suffered an off in qualifying for the Sao Paulo Grand Prix.
His run into the gravel in Q3 unwittingly helped Kevin Magnussen to earn his first ever pole position in Formula 1, with the Haas driver setting the quickest lap early on and, in worsening conditions, Russell's accident brought out the red flags as a result.
With the track surface becoming wetter, no driver was able to improve on their initial lap in the final part of qualifying, leading to jubilant scenes in the Haas garage.
While Russell will line up third for the sprint, he spoke of the happiness he felt at seeing a "crazy result" unfold.
When asked about his session in the TV pen after qualifying, Russell said: "I think probably more mixed emotions because we were obviously one of the last cars to go out in qualifying, and it was such a unique experience because as the lap progressed, the rain was just falling harder and harder and I got to the last corner and it was wetter than on the lap before, so you had to be really tentative.
"But massive congrats to Kevin and Haas. This is what Formula 1 and sport is about, to have some crazy results like this.
"But for us, P3 [is] a good place to start for the sprint."
Pressed about his thought processes as he became marooned in the gravel, he added: "What was going through my mind was getting a really bad headache – I've broken the headrest because my head was banging so much.
"It was a really unpleasant experience, and then I lost the rear and I booted it. I wanted to do a 360 [spin] and then dipped the rears in the gravel, so probably not the wisest choice I've ever made. But as it turned out, we knew that first lap was it all."
Russell's admission of guilt in his beaching being somewhat self-inflicted in Q3 will lead to a longer night for the mechanics on his side of the garage, but he thinks his W13 should be in good shape for Saturday and Sunday.
"There should be no damage," he confirmed. "I've always been tentative when it's being lifted onto the tow truck and there's a lot of gravel, so the guys will have to take the car to pieces tonight just to make sure we've got all the gravel out, but it should be okay."
Russell's Mercedes team-mate Lewis Hamilton will line up eighth for the sprint, with Max Verstappen set to join Magnussen on the front row.
Read more: Kevin Magnussen reacts to shock pole position: 'You're f***ing kidding me'