George Russell never feared crash with Valtteri Bottas cost him Mercedes seat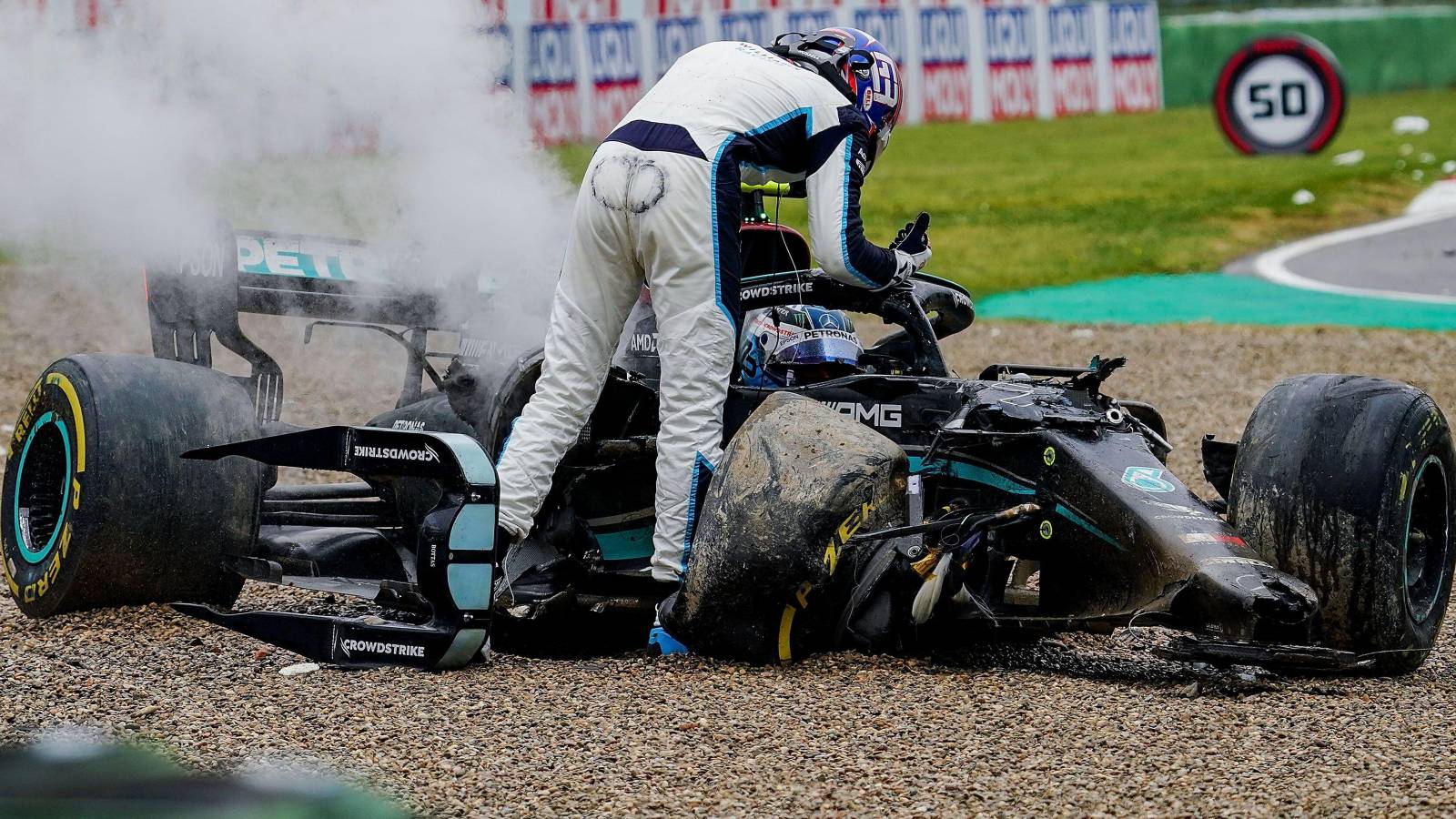 George Russell has said he never feared his high-profile crash with Valtteri Bottas at Imola would scupper his chances of securing a seat at Mercedes.
The Briton's first win, both with the team and in F1, at the 2022 Sao Paulo Grand Prix would have felt like a long time coming having waited years for his chance.
Russell joined Mercedes' junior driver programme in 2017 but spent the first three seasons of his F1 career at the Mercedes-powered Williams team.
The fortunes of the two teams could hardly have been more different with Mercedes dominating World Championships, while Williams were in a battle to stay afloat.
Russell used the opportunity to cut his teeth in Formula 1 but soon yearned for a move to the Mercedes top seat – but standing in his way was Bottas.
Rumours continued to grow about the future of the two until it became an open secret Mercedes were deciding between either Bottas and Russell to partner Lewis Hamilton.
That was bound to create tension between the two and that hit a high point in 2021 when the pair came together in a high-speed crash at Imola.
With Bottas languishing in P10, Russell had performed well to pull his Williams car up to P11 but, as the young Briton went for the overtake on a wet track, he slid onto the grass and careered into Bottas. The two then crashed hard into the wall and retired from the race.
Words and gestures were shared with both blaming the other, Russell getting out of his car to confront Bottas and the Finn replied with a solitary finger response.
Looking back, Russell claims it did not cross his mind that it was Bottas when he went for the move.
"The thing with Williams is I'd been there for two years and scored zero points," he told the High Performance Podcast.
"The team that finishes eighth, ninth, 10th in the Championship, they often don't score more than 10 points in a whole season. So if you ever get that one opportunity to score one or two points, that's huge for the team.
"Also, financially, if you could finish ninth, eighth in the Constructors' Championship, you're talking tens of millions of dollars in prize money extra.
"I'm in a race, I'm in 11th position and when you're in a car like that, you've got to put it all on the line. You won't score points if you're conservative, play Mr Consistent. It didn't even really cross my mind that it was Valtteri in a Mercedes.
"That was an opening to score points for myself, for my team, and I had to go for it. But it was at that moment I was spinning sideways through the grass at 200 miles an hour."
Russell admitted the way he had reacted to the crash was "messy" but said the potential prize money was on his mind.
"It was quite a scary moment because I'd never crashed at that speed before, doing 330 kilometres an hour," he said.
"DRS open on a wet patch, the car just spun. I'm going sideways down the track, carbon fibre flying everywhere. I can't see to my right because you're kind of locked in the cockpit. I don't know what I'm going to hit and I'm sort of bracing for impact.
"Your initial reaction, there's so much adrenalin. Firstly, I was furious with Valtteri, which was probably not the right thing to do because that was an opportunity I saw that had now just disappeared.
"It wasn't that I've just crashed into Valtteri or a Mercedes, it's the points we've lost and I thought he'd lost for us, and that was really also a lesson for me that you need to look at the overall picture from other people's view before taking a snap judgement.
"I was very hot-headed and went over and he was also hot-headed. Middle fingers were flying and the F and C words were thrown around. It was all a bit of a not very pleasant situation and that was also really good learning for me – you need to take a moment to think about it before snap judgements."
Russell also revealed he flew home from the race with Mercedes team boss Toto Wolff but was never worried he had scuppered his chances for a Silver Arrows seat.
"When it comes to Mercedes, I didn't really know what to think," Russell said.
"I was flying home with Toto [Wolff] that evening, it was always the case – so the one flight I take with him a year, it was that one.
"He was very upset with the situation and pretty angry also, because that was the very first year of this new financial cost cap that had been implemented and the damage that occurred, and that incident for Mercedes, was, I think, one and a half million dollars.
"So that's one and a half million dollars taken away from the sort of overall budget. So he was obviously very upset and frustrated about that. It was all just a messy, not good situation.
"No, to be honest [I did not think it would cost me the Mercedes seat] because my argument was I was in a position that was better than where the Williams should be and he was in a position worse than where Mercedes should be at the time. So I kind of naively and selfishly use that incident as almost an argument for me."
Read more: Conclusions from the F1 2022 season: Max Verstappen unstoppable, Ferrari's failure and more