George Russell on Mexico start: I'd have run anyone other than Lewis Hamilton off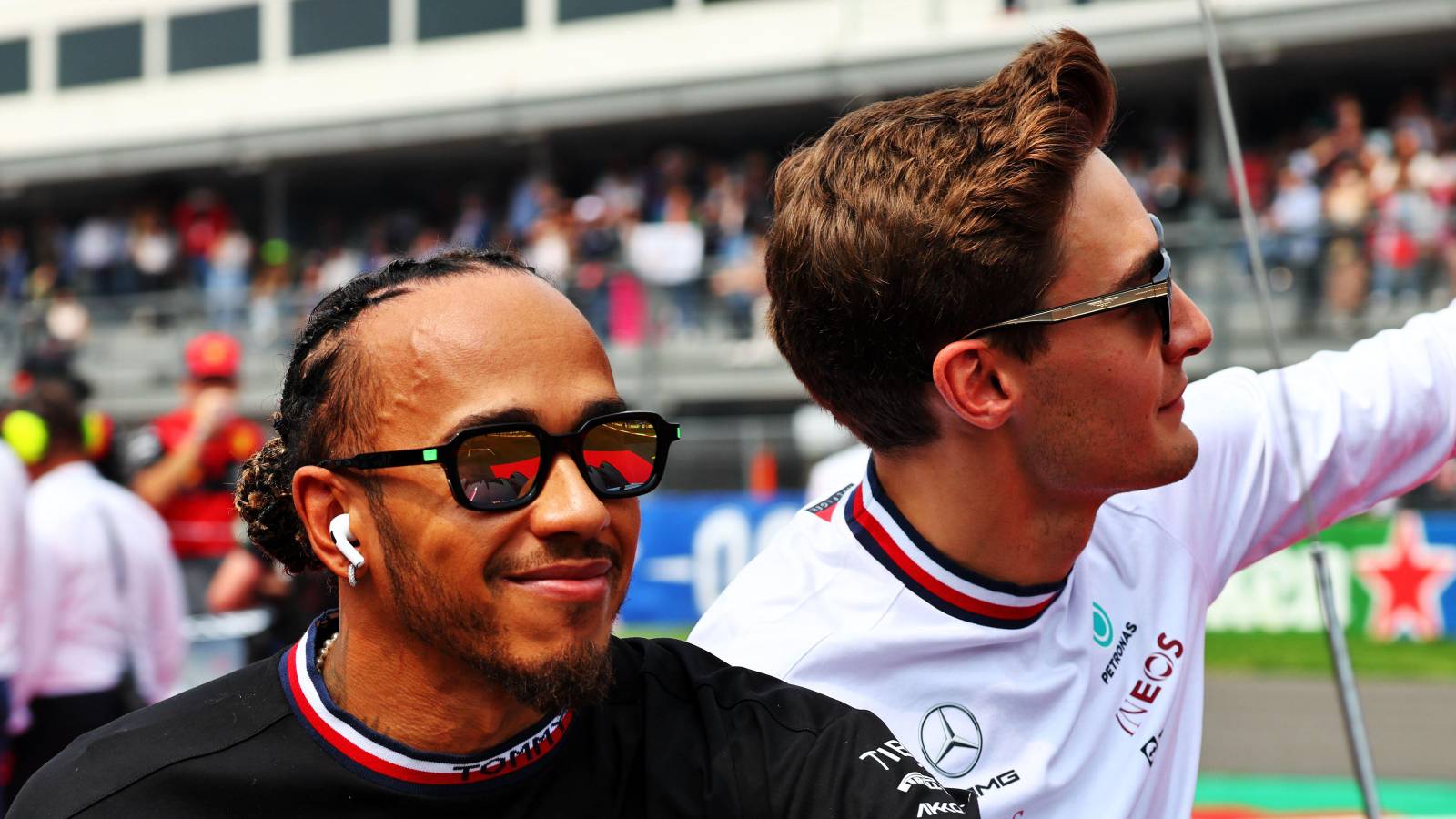 Lewis Hamilton was the only driver on the grid who could have pulled the move he did on George Russell at the start in Mexico.
Pole-sitter Max Verstappen made the perfect start, the straight-line speed of that Red Bull helping him survive the tow picked up by Russell behind.
Russell would then come under pressure from Mercedes team-mate Hamilton, who showed Russell the outside line out of Turn 3, completing the pass and leaving his team-mate vulnerable to Sergio Perez down the straight.
Perez would indeed demote Russell to P4, the position where he finished.
Because it was Hamilton pulling that move in the sister Mercedes, Russell played ball, but if it were anyone else, then Russell would have run them out of road.
Asked if there were any hard feelings over what happened with Hamilton, Russell replied: "No, I think the last probably four races for me have been pretty scrappy and going into Turn 1, I knew I wouldn't have been able to overtake Max on the outside.
"And then when I had Lewis there, you know probably if it was anyone else but my team-mate, I would have just run them off the road."
🏆 Saudi Arabia
🏆 Emilia Romagna
🏆 Miami
🏆 Spain
🏆 Azerbaijan
🏆 Canada
🏆 France
🏆 Hungary
🏆 Belgium
🏆 Netherlands
🏆 Italy
🏆 Japan
🏆 Austin
🏆 Mexico City

A simply lovely season for Max Verstappen, and there are still two races to go! #MexicoGP #F1 pic.twitter.com/ad2zjFsQEu

— PlanetF1 (@Planet_F1) October 30, 2022
Verstappen ultimately cruised to the race win as Mercedes were left ruing the choice to switch Hamilton and Russell onto the hard tyre for their final stint.
Russell admits that hindsight is a wonderful thing, though he was still thinking of what might have been after he had requested to go long on the medium tyre and then do a final stint on the softs, which Daniel Ricciardo used to devastating effect in the McLaren to finish P7.
Russell would finish on the softs, but only to clinch the fastest lap and bonus point which goes with it.
"I mean, it's so easy in hindsight and I think when we saw [Nicholas] Latifi putting the hard tyre on and going green, and then Lewis put the hard tyre on and was going green, we thought it was going to be the right thing to do," said Russell.
"But as soon as we went to probably the second lap, we realised that thing was not working. It would have been really intrigued to see what we could have done had we extended the medium and gone on to the soft, kind of like what Daniel did, had a really strong race. But hindsight is a wonderful thing."
Ultimately, Russell felt that Pirelli went a step too hard with their tyre range in Mexico, having gone with the C2, C3 and C4 compounds.
"At the beginning it was sort of management because I thought Checo was going to drop off and he did slightly, and I wanted to extend on that medium," Russell added.
"At the end, I was pushing as hard as I could, but it was like driving on ice out there. I think probably Pirelli brought one step too hard compound here. So you have a soft probably should have been the medium, the medium should have been the hard and we were kind of like on ultra-hards on the hard tyre."
Mercedes nonetheless were the second-fastest team in Mexico, and while Russell did feel that Red Bull could have been challenged with the correct strategy, it was nonetheless promising to see that they soundly had the beating of Ferrari, Carlos Sainz finishing a distant P5 and Charles Leclerc P6.
Looking ahead to the Sao Paulo Grand Prix, Russell doubts that Red Bull are there for the taking, though he does fancy Mercedes' chances of taking another shot at Ferrari.
Mercedes will go into that race 40 points behind Ferrari in the battle for P2 in the Constructors' Championship.
Asked out of the two remaining rounds, Brazil and Abu Dhabi, which he felt would more likely see Mercedes go for the win, Russell replied: "We've shown between these two race weekends [Austin and Mexico] there was quite a fluctuation in performance.
"I felt like we probably had the fastest car this weekend, and had we been on the same strategy as Red Bull, we probably could have fought with them. And obviously in Austin, we were a step behind.
"So probably Brazil, halfway between the two, realistically it is going to probably be quite difficult to finish ahead of Red Bull at any races this year, for Ferrari I think we definitely can beat."
Read more: Max Verstappen breaks silence on decision to boycott Sky Sports