Russell recalls first meeting with 'superhero' Hamilton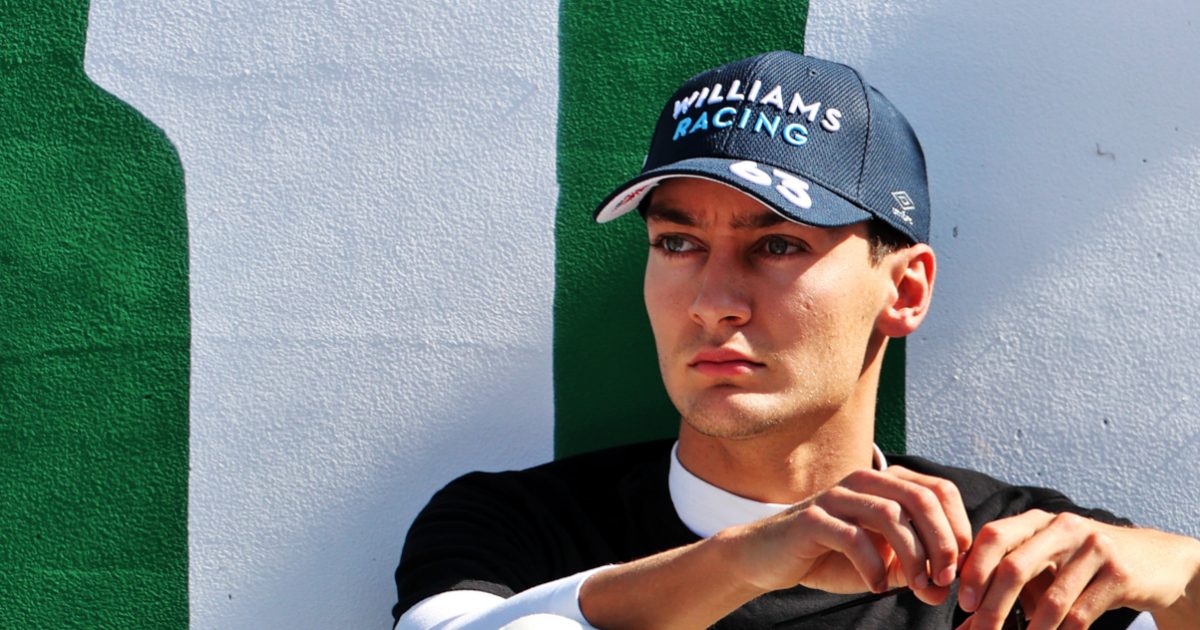 George Russell says the first time he met Lewis Hamilton it was like meeting a "superhero", and now he will be his F1 team-mate in 2022.
As an 11-year-old dreaming of racing in Formula 1, Russell met Hamilton at a kart track, eager to get the then-McLaren F1 driver's autograph.
"Lewis turned up to PFI [a kart track], I think it was at the Formula Kart Stars, I was racing in Comer Cadet at the time," Russell recalled to Autosport.
"It was like meeting a superhero. When you are a child of that age, especially a racing driver, and you meet a Formula 1 driver, you don't think these people are human. That was a really special moment for me.
"To be honest, I even remember it now. It's quite odd to remember a memory back from when you were 11 years old.
"So, in a way, it feels pretty surreal to be lining up alongside him next year.
"I guess when I did meet him, that was when I thought I want to be like him, I want to be a Formula 1 driver and I want to win World Championships."
Fast forward 12 years and Russell is now gearing up to be Hamilton's 2022 team-mate at Mercedes.
I want to take a moment to welcome @GeorgeRussell63 to the team. Through hard work he has rightly earned his spot. I look forward to seeing him grow as a driver with this great team and working with him to raise @MercedesAMGF1 higher. See you next year🙏🏾 pic.twitter.com/CRsgrilmUd

— Lewis Hamilton (@LewisHamilton) September 7, 2021
F1 TV are offering PlanetF1 readers 10% off both monthly and annual subscriptions! ! In order to claim this fantastic discount, click the following link and use the promo code PLANETF10 at checkout!*
*The offer ends at midnight on September 12 and excludes Netherlands
The Briton told ESPN he is well aware of the challenge that awaits him partnering one of F1's most successful drivers ever.
"I'm incredibly excited about going up against Lewis," he said. "But equally I'm under no illusions of how difficult it will be.
"Lewis, in my opinion, is the greatest driver of all time and to get the opportunity to go up against him is massive.
"To be honest, I will go in there with an open mind and try to learn from him, because at the end of the day he's a seven-time World Champion for a reason and it won't be easy."
He continued: "I think so many people think Lewis just turns up on a Friday morning, jumps in the car and does something exceptional. But he works so hard – he's one of the first and last out of the track every day, all the tiny little details to find that last millisecond.
"That really opened my eyes for the first time when I saw that for the first time, thinking 'blimey, this is probably the most talented driver ever and he's still pushing for more'.
"That's why I know the challenges that face me."
Pundits and rivals alike are already speculating about how the relationship between the two will pan out.
Max Verstappen reckons Russell will make life "very difficult" for Hamilton, while his former team-mate Nico Rosberg says "Lewis can only lose actually" in their battle.
"I think our relationship is good, to be honest," Russell said. "We haven't really had any real dealings over these past few years, but we've always said hello when we passed each other.
"But I'm sure our relationship will grow over these years and, to be honest, I just want to learn from him to begin with and help me develop because for me personally, I also see this as a long journey.
"I want to be fighting for victories and championships for the next five, 10, 15 years to come and it's important to keep developing."
PlanetF1 verdict
Rosberg repeat with Hamilton/Russell dynamic?
What will the dynamic be at Mercedes next year now that they have signed George Russell?