George Russell predicts when, not if, Max Verstappen will lead at Monza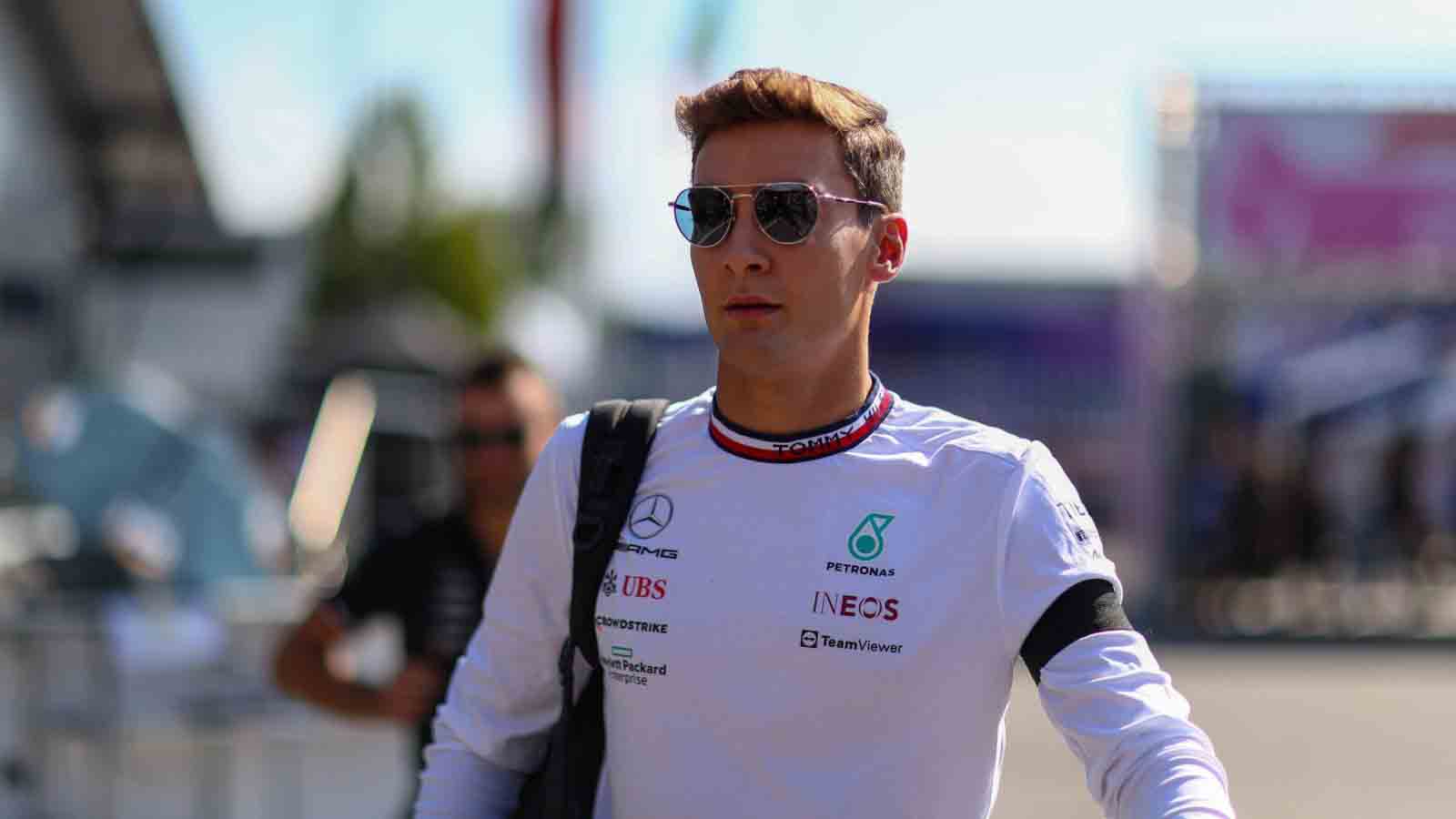 George Russell said a podium finish is a "minimum" target for him in the Italian Grand Prix, but that Max Verstappen's pace should take him into the lead of the race in around 15 laps.
Verstappen qualified second fastest behind Charles Leclerc as the Ferrari driver gave the tifosi what they wanted in taking pole at the team's home race, but the Red Bull driver will take a five-place grid penalty.
But with eight other drivers taking grid drops in various parts of the grid, Russell's qualifying position of sixth will actually see him promoted to the front row alongside Leclerc.
The grid is still yet to be fully set at the time of writing, as interpretations vary based on the order in which penalties are applied.
In broad terms, the FIA Sporting Regulations state that the qualifying order dictates the order in which penalties are taken. This means Verstappen's penalty should be applied first, dropping him to P7, before the drops for Carlos Sainz, Sergio Perez and Lewis Hamilton would promote Verstappen back up to fourth.
How the grid will take shape is still unclear, but whatever happens Russell is not expecting the runaway World Championship leader to be behind those in front for too long.
"I don't really understand how all of that [penalty system] works really, but we are not really too focused on him because it doesn't matter what he does," Russell admitted to Sky F1.
"And what they do, they will finish ahead of us ultimately, but he'll probably be in the lead after 15 laps maybe.
"I don't think it's quite as easy to overtake here as it was at Spa, but with the pace they've got they will be slicing through."
Russell's promotion will take him up to the front row, presenting another good chance for Mercedes to have a positive weekend.
But rather than place his attention on where Verstappen goes, he wants Mercedes to prioritise their own race and take the battle to Ferrari at the very least.
And it's POLE for Charles Leclerc at Monza! The tifosi go wild! #ItalianGP 🇮🇹 #F1 pic.twitter.com/3X2eAVfU7U

— PlanetF1 (@Planet_F1) September 10, 2022
"I think we need to focus on ourselves, to be honest," Russell said.
"I think we've seen probably last week and in Budapest that when we are trying to fight with cars that are ultimately faster than us, we end up just compromising our overall results.
"I'd like to think we could fight with Charles. I think fighting with Max will be no chance, they are far quicker than us – trying to stay ahead of Checo and Carlos who are obviously coming from the back of the field.
"The podium will be a minimum for us, but I hope we can have a clean start and at least put up a bit of a fight."