George Russell shares thoughts on Mercedes allowing him and Lewis Hamilton to race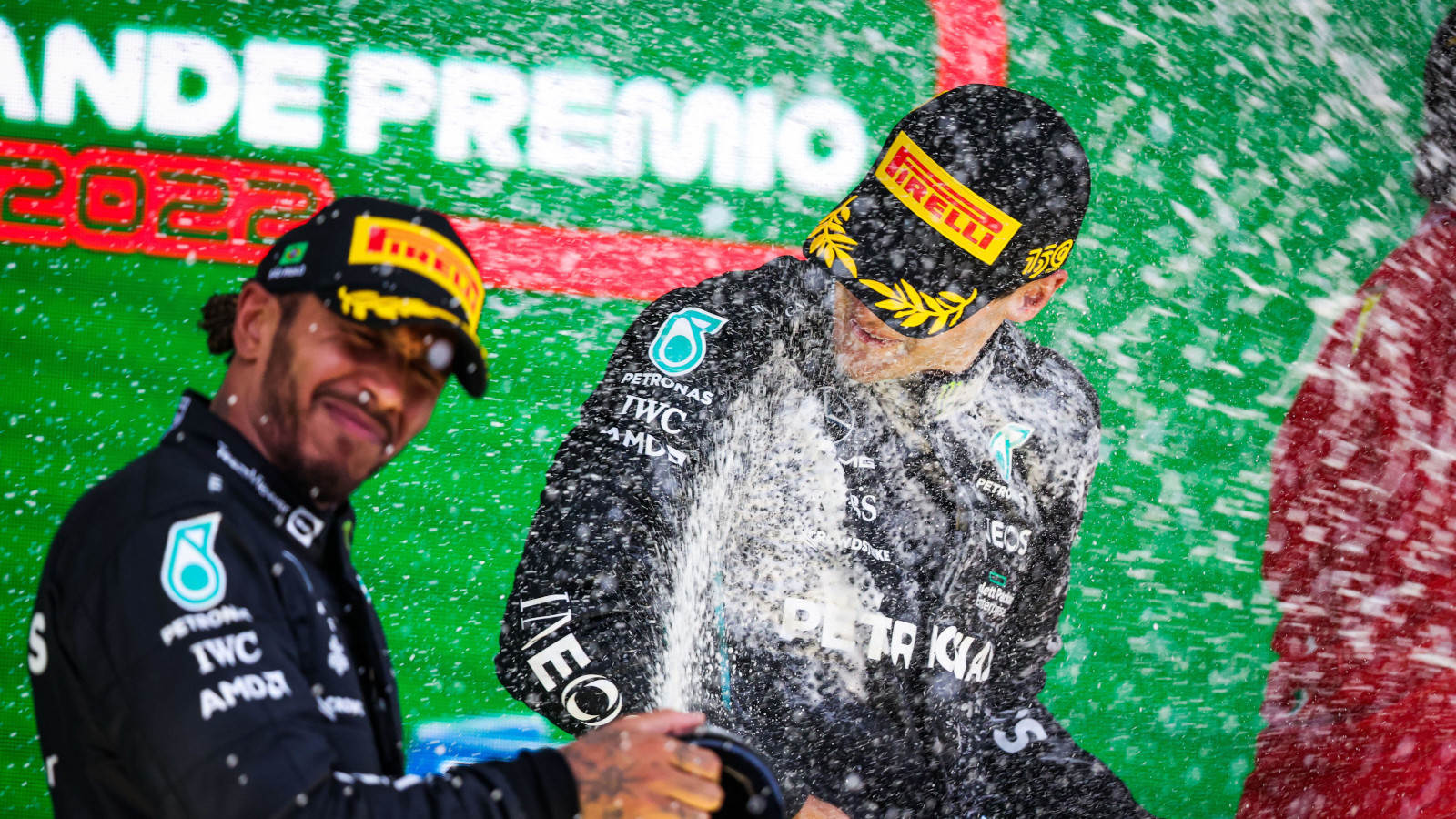 George Russell admits he was surprised Mercedes gave he and Lewis Hamilton the go-ahead to race one another late in the Sao Paulo Grand Prix.
But, then again, he always wasn't as they'd been told they would be free to race.
Russell lined up on pole position at the Interlagos circuit, the Briton having secured P1 with his sprint race victory on the Saturday, while Hamilton was second in Mercedes' first front row lock-out of the championship.
The two were told from the get-go they'd be free to race, the onus on Russell to keep his team-mate behind him. He did just that, given a helping hand by Max Verstappen who collided with Hamilton and cost him positions.
However, heading into the final stint of the race after Lando Norris' McLaren broke down, it was all to play for with Russell leading the grand prix and Hamilton having recovered to second.
Russell asked his race engineer: "So what are we doing, are we racing or are we protecting the one-two?"
The reply came: "No, you are allowed to race."
They did just that, Russell holding the advantage to take the victory by 1.5s over his team-mate.
Russell was asked in the post-race press conference if he'd been surprised by Mercedes' decision for them to have at it given that in years gone by Mercedes usually kept positions after the final pit stop of the day.
"Yes, and no," he said. "because we've always said that we're free to race.
"Toto and the team have put a lot of faith and trust in Lewis and I and we've obviously had a few side-by-side moments throughout this year and has always been respectful and I think we've got a huge amount of respect for one another.
"I just wanted to understand the position, because if we weren't…
"I knew how important that one-two was for the team so if we weren't racing, it was kind of like, 'bring the car home'. If we were racing, it was a qualy lap every single lap and you're risking every corner because the laps just had to be perfect.
"So yeah, obviously happy to have won it that way."
The victory marked Russell's first in his Formula 1 career.
Mercedes' chief race engineer Andrew Shovlin told Auto Motor und Sport he had every confidence Russell and Hamilton would keep it clean.
"They know what they're doing," he said, "so we let them race free and they do what they've worked their whole life for; win races."
Russell put in a flawless display at the Interlagos circuit, the former Williams driver leading off the line and holding onto it after the restarts.
"Definitely tricky, for sure," he said. "But you just have to go through the process and treat it as if it's any other.
"There was a sort of a moment in the race where I was looking a lot at my mirrors, seeing Lewis there, but I sort of realised I just need to look forward now.
"And the only way I'm going to win this race, is by looking ahead, driving as fast as I can, making no mistakes.
"And you know, my engineer was on the radio, giving me the gaps, probably four times a lap. And it was always between 1.1 and 1.3, 1.1, 1.4, 1.1. I just wanted that little extra half a second buffer.
"It was only when I came into Sector 3 on the last lap that I knew we'd got it."
Read more: Conclusions from George Russell's 'changing-of-the-guard' win at the Sao Paulo Grand Prix