George Russell names key element top of Mercedes F1 2024 car wishlist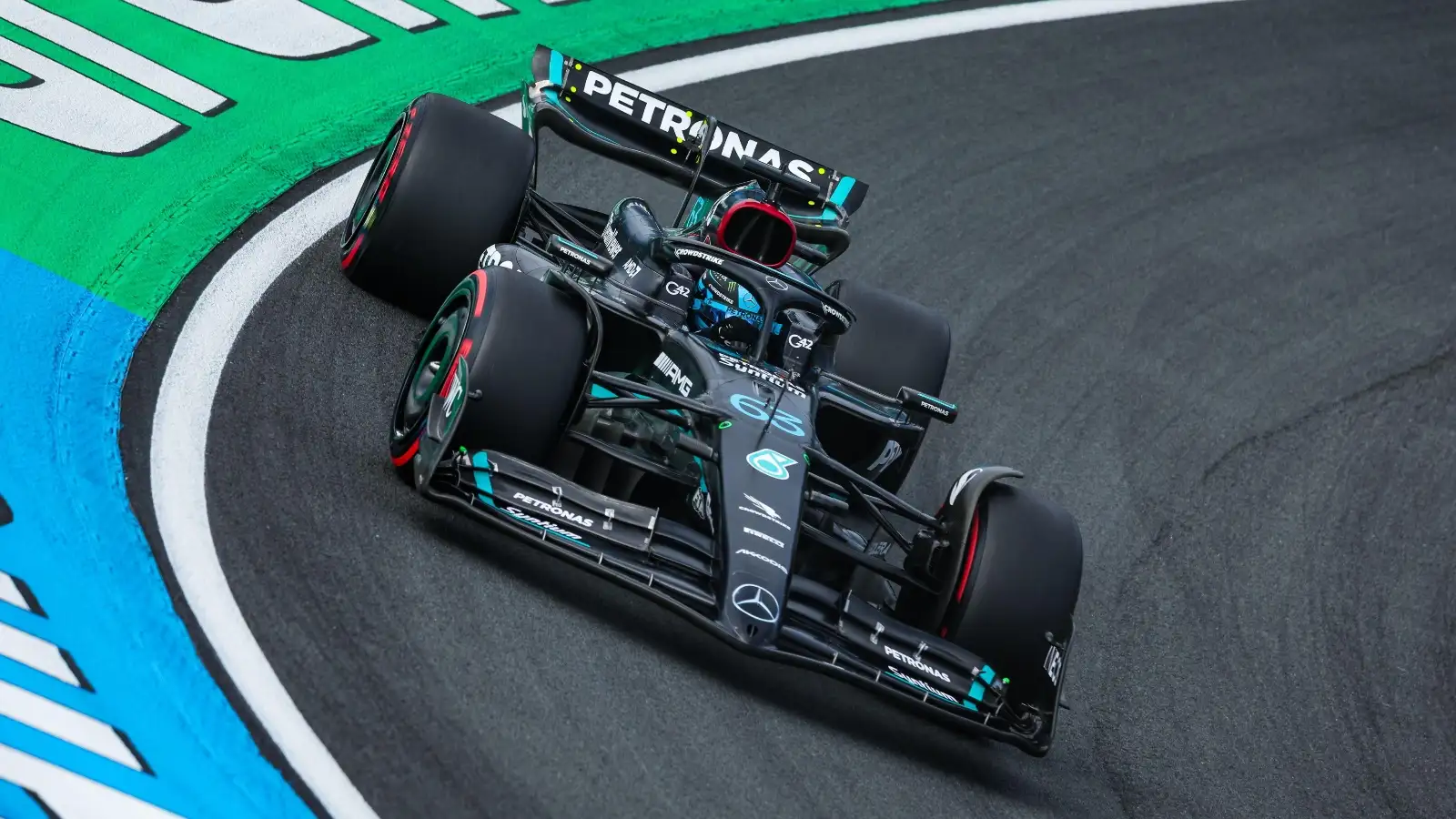 George Russell has said corner balance is the one element highest on his wish list for Mercedes' 2024 car.
The revised W14 has certainly been an improvement on the W13 and indeed the car first unveiled by Mercedes this year but, with no win so far this season, it is still not the car Russell would have hoped for.
As teams start to look ahead to 2024, Russell detailed what element he most wants improved for the W14.
Corner balance a priority says George Russell
The W14 has improved race on race this season but like many teams, Mercedes are finding their success is very much track dependent.
Russell himself has stood on the podium just one so far this year in Barcelona but has highlighted the part of next year's car that needs changing for their fortunes to improve.
"I think something we've been trying to improve a lot is just the through corner balance of the car," he told PlanetF1.com and other select media outlets. "I think both Lewis [Hamilton] and I are searching for a bit more confidence and rear end in the car so that we can hit the ground running during a race weekend.
"I think that's something that Red Bull have done a really great job of. Allowing their drivers lap one of the weekend to go out push to the limit and in little fear of crashing the car or spinning out.
"So that's something where we're targeting, just improving that balance. But there's always marginal gains in many areas. If you can find half a tenth here, half a tenth there, suddenly, you can add that up to a large chunk of lap time. That's just what we're working for at the moment."
Team boss Toto Wolff revealed earlier this year that "fundamental" changes were coming to next year's car but expressed the difficulty of doing so in a cost cap era.
PlanetF1.com recommends
F1 records: The drivers with the longest points-scoring streaks in history
Fastest F1 pit stops: Red Bull toppled at Monza with two teams faster in the pits
"We have set up a huge organisation in our financial department of 46 people, that monitors the cost cap down to the last screw," Wolff said."We look at that trend of our spend during all of the year and what we've done is basically allocate resource to various projects.
"We've stayed below that line all year last year, and we're still below that line this year and that is considering a normal development switch for next year. This is still pretty much on track.
"The good thing is that we are constantly learning about what the car is doing. There are going to be some fundamental design changes for next year, but it's not that we're building stuff. It's more like what are we simulating? That is not measured in money, or teraflops or wind tunnel hours."
Read more: George Russell provides a timeline on Sebastian Vettel's GPDA future