Russell bemoans 'missed opportunity' after Perez damage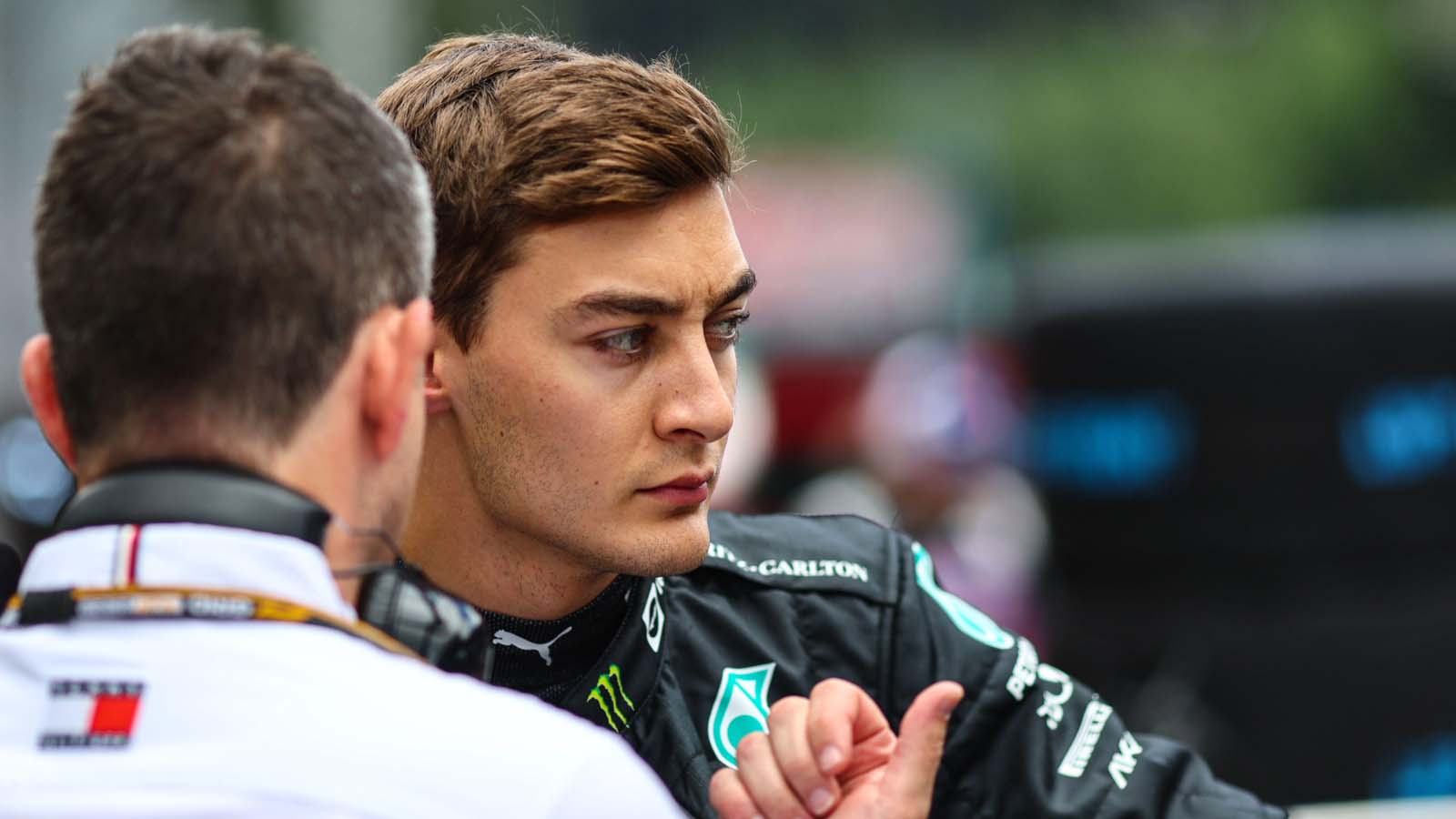 George Russell believes he lost more than 30 seconds of race time through damage and penalties in Austria, after his first-lap collision with Sergio Perez.
Russell was awarded a five-second penalty after being found to have caused the collision with the Red Bull driver, when they tagged wheels as Perez tried to pass the Mercedes around the outside at Turn 4.
The incident was reminiscent of Alex Albon's collision with Lewis Hamilton at the Red Bull Ring two years ago, with team boss Christian Horner quipping that "I don't think Mercedes like our cars going round the outside at Turn 4″ after the race.
Russell had to fight his way back through the field, but with the retirements of Perez and Carlos Sainz, he was able to take a creditable fourth place in the race, behind Mercedes team-mate Hamilton.
But Russell could foresee his collision with Perez before it had happened – and felt the wing damage he suffered cost him a big chunk of time.
"With how the race panned out? Yeah, it's a missed opportunity," Russell told Sky F1 after the race.
George Russell has a five-second penalty for causing a collision with Sergio Perez. #AustrianGP #F1 pic.twitter.com/jxhhF93Oro

— PlanetF1 (@Planet_F1) July 10, 2022
"From my side, obviously very frustrating to have the first lap incident you know, I braked later, braked hard, and then obviously Checo had the clean line, and as soon as he started to turn in, I knew we were going to make contact.
"I was already on my limit on my car, I was braking as hard as I could, turning as hard as I could, but he just had more grip on the racing line.
"Contact's one thing, a penalty is one thing, but then to get the damage as well, you know, it probably cost me 10 seconds in race time in the first stint, and then having a 20-second pit stop, coming out in P17 and having to overtake all of these cars.
"Yeah, I guess retrospectively, it was okay, but I just felt like I expected more."
He was able to have a new front wing fitted when he pitted, but suffered from having his penalty to serve alongside his wing change, and while the rewards were there with the pace advantage he then had, Russell believes he made the most of the situation he had in front of him.
"There was just a lot more downforce and the balance of the car was much better," he said of his new wing. "I think it probably cost me a second a lap at the beginning, but I still didn't feel as fast as I was expecting at the at the end.
"But to be honest, when I look at the data – I just had a quick look before coming here – I think we were probably the same pace as Lewis and, bearing in mind we came through all the traffic and damaged the tyres quite a lot and in doing so, I think that was pretty reasonable.
"So as a team, we're still further behind them [Red Bull and Ferrari] than we want."