Russell almost doing a 'wheelie' in Monaco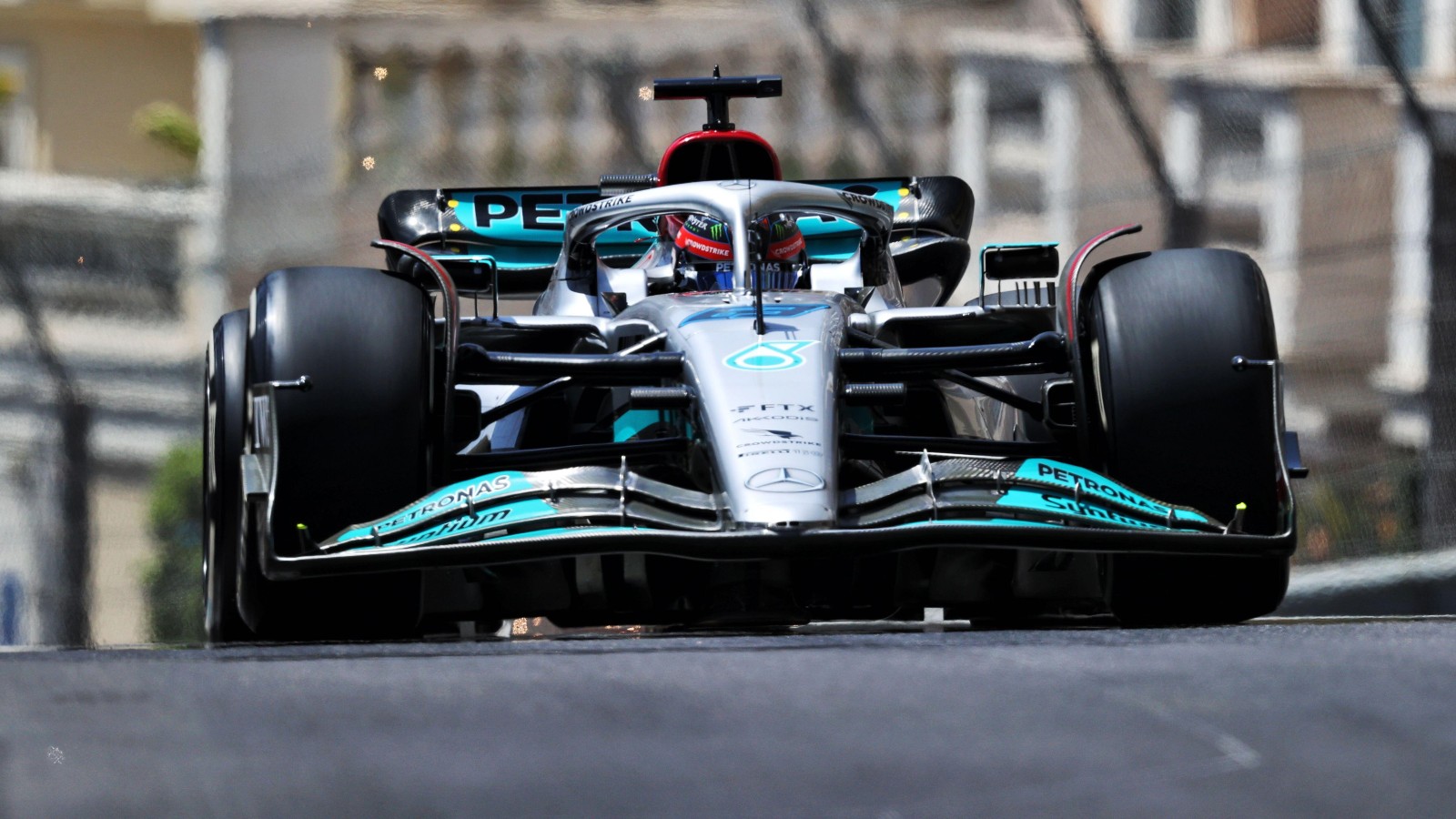 Such is the stiffness of the 2022 cars, George Russell said a lap of Monaco in practice regularly involved wheels leaving the track.
The tight, twisting Monaco street circuit has always been the ultimate test of a driver, but a different feel was expected when Formula 1 arrived in the Principality for 2022 with the heavier, bulky new challengers.
Over at Mercedes, the W13 was proving quite a handful, Russell's team-mate Lewis Hamilton describing Monaco now as the "bumpiest track I've ever driven" after FP2.
The stern suspension of the W13 played a large part in the bumpy ride, as opposed to the porpoising phenomenon which has largely been to blame at previous rounds this season.
Russell would explain just how profound the experience was, the Brit often forced to abandon the four-wheel approach.
"Really tricky. To be honest, the stiffness of these cars are stiff, very, very stiff, around a bumpy street circuit," Russell told reporters.
"It's not easy to put it on the limit and I think that's one of the biggest difficulties.
"You have got to give it a bit more respect than you would do ordinarily, because the car is constantly just smashed against the floor. We've experienced a lot of that this year but this is a very different philosophy and reasoning for the bouncing.
"There are sections where both of the tyres are off the ground, like Turn 5, front right up in the air and that is so stiff, even the front left is popping up off the ground as well. So you know, it's points you are almost like doing a wheelie because you haven't got front wheels on the ground. So yes, tricky.
"I don't know what more we can do to car, we did everything we can to try and make it a bit easier for us and to give us a bit more confidence. But you know, the guys and gals are gonna work hard overnight and see what we can do for tomorrow."
No place like it. 🇲🇨👌 pic.twitter.com/qnnXWWGJiy

— George Russell (@GeorgeRussell63) May 27, 2022
Ferrari were the pacesetters in Monaco on Friday, Charles Leclerc topping FP1 and FP2, Leclerc over three-tenths clear of lead Red Bull Sergio Perez come the end of FP2.
Russell ended that session 0.75s adrift of Leclerc, explaining that Ferrari are much better at riding the kerbs, so he fears it may well be difficult to reduce the deficit.
"I think we're seeing Ferrari flourish again," Russell suggested.
"We've seen how good they've been over kerb, we saw in Imola, they were just smashing over them with relative ease and it's obviously playing into their hand at the moment. So we've got a lot of work to do overnight, I'm not too sure we can really close that gap."
Russell is not lacking confidence though, rather he simply sees Mercedes as battling for best of the rest, with McLaren looking to be their main competition at this stage.
Asked if he has confidence here in Monaco, Russell replied: "Generally speaking, yeah. I don't feel too bad after today. I think I could be feeling better. It was a relatively good day.
"But we're not where we want to be, P6 with a McLaren in front of us. We want to be best to the rest. I think that's going be a fair result this weekend, in the sense of behind Ferrari and Red Bull but we need to make sure that we don't have cheeky little Lando [Norris] popping in there."
Will the 2022 cars struggle around Monaco?
The Monte Carlo track is set to provide a stern test for the 2022 cars.