Russell: No 'substantial' upgrades coming for Mercedes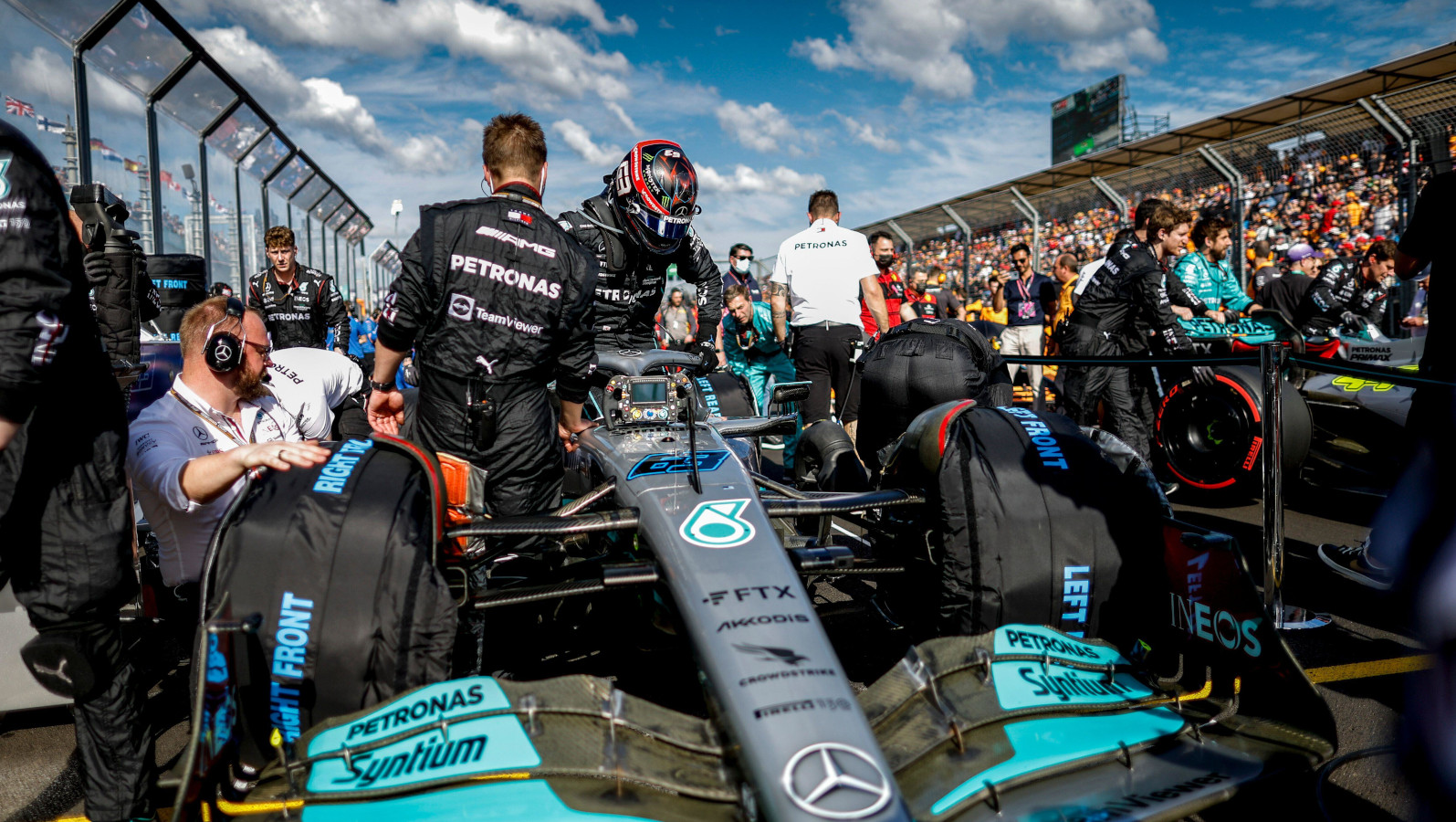 Trailing Ferrari and Red Bull on the track, George Russell has revealed Mercedes do not have any "substantial" upgrades in the pipeline that could help their cause.
The start of this year's championship has been a painful one for Mercedes, the Brackley squad's W13 lagging behind both the Ferrari and the Red Bull, and some reports suggest only the fifth fastest car.
It is a marked difference in form for the team that is used to dominating grand prix weekends, arriving on this year's grid having won the last eight Constructors' Championships and seven of the last eight Drivers' titles.
Now they are fighting points, and picking up podiums when those ahead – notably Red Bull – fail to finish.
That put Russell onto the podium at the Australian Grand Prix, the Briton P3 on the day.
The 15 points meant the former Williams driver jumped up to second in the Drivers' Championship, a surprise given Mercedes' deficit on the track to Ferrari and also Red Bull.
Russell fears that deficit may continue to grow in the coming races.
"unfortunately there's nothing substantial in the pipeline anytime soon," he said when asked if Mercedes had any upgrades coming for Imola. "It's not going to happen overnight, it's going to take a number of races.
"I think there'll be little things, there'll be incremental steps but we recognise that our rivals are going to be doing the same so it may not be clear to the outside world that we've made progress because Ferrari and Red Bull are going to be making progress as well."
First podium with @MercedesAMGF1! Strong team result today and P2 in both Championships. Big shout-out to everyone at Brackley & Brixworth. Let's keep pushing. 👊 pic.twitter.com/VyeTe5tzhS

— George Russell (@GeorgeRussell63) April 10, 2022
Russell's podium at the Albert Park circuit was the second for Mercedes this season, Lewis Hamilton third at the Bahrain Grand Prix.
P3 is by no means what Mercedes are striving for with Russell conceding they are still a long way off the pace of the Ferrari and Red Bull.
"I'd love to say we've made a lot of progress," he said, "but I think we've got to look at the lap times and we haven't closed the gap at all to these guys.
"We know we've got a lot of work to do but I have faith that we can get there. We know the potential is in the car. And we've got a lot of work to do to extract that performance.
"It won't happen overnight; it won't happen in the next race, but I do think in time we will get there. So, for the time being, if we keep picking up these results, it's keeping us in the mix."
As for his P2 in the Drivers' standings, the Briton trailing Leclerc by 34 points, Russell says credit goes to everyone at Mercedes two factories as they have produced a reliable car, even if it does have other problems.
"I think it's credit to the team back at Brackley and Brixworth because obviously we want more performance and we are a step behind Ferrari and Red Bull in terms of pace," he said, "but you've got to be there at the end if you want to pick up the points, and that's what we've done on a number of occasions now.
"And I mean, this weekend we were the fifth fastest team behind these two guys and obviously McLaren and Alpine. And currently standing P3 on the podium and P2 in the championship is pretty crazy."
No significant upgrades coming from Mercedes' side
George Russell has revealed that Mercedes has no "substantial upgrades in the pipeline".