Russell 'not scared to make mistakes' thanks to P8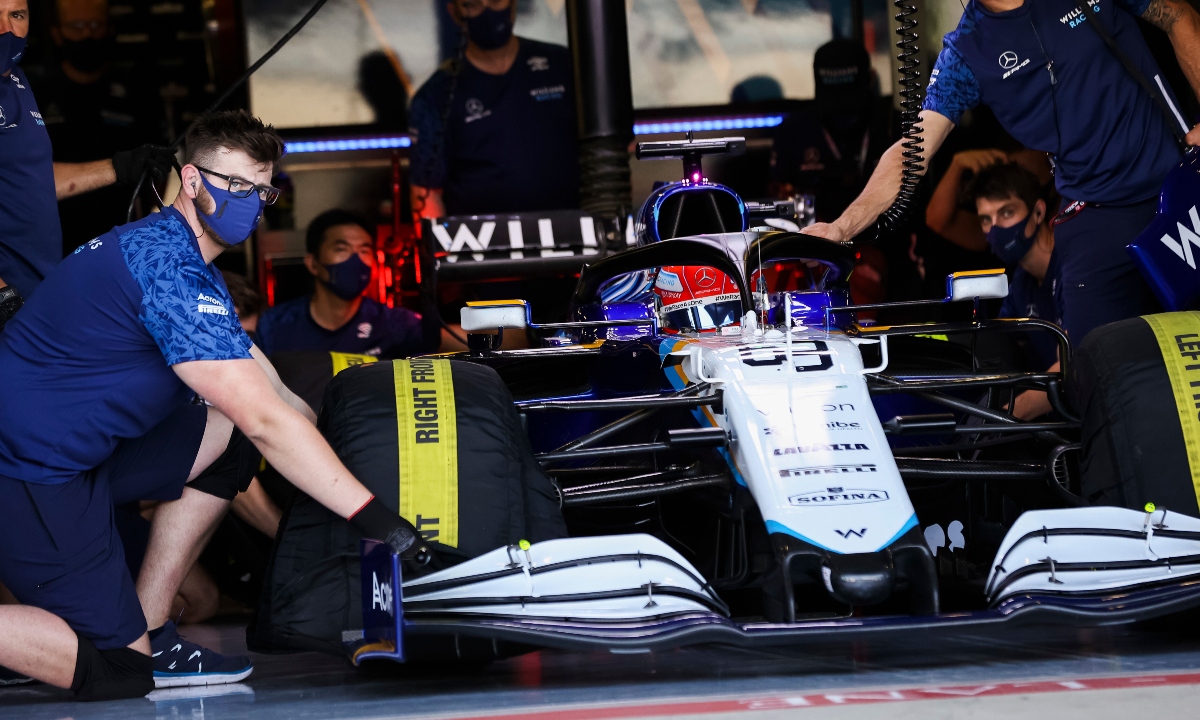 George Russell feels Williams' P8 in the standings has lifted a lot of the pressure of his shoulders, allowing him to really go for it.
However not too much as then, he reckons, "sometimes you only go slower".
Two and a half years into his Williams career, Russell finally scored his first points for the Grove team when he finished P8 at the Hungarian Grand Prix.
And the top ten results kept coming, the Brit P2 at the Belgian Grand Prix while also scoring in Italy and Russia.
He wasn't able to add his tally at the United States Grand Prix despite a flying start as he raced from 20th on the grid, the result of an engine penalty, to 14th on the opening lap.
That though is where his progress stopped, the Williams driver P14 on the day.
Despite failing to score, Russell feels he has been learning a lot as, now without any pressure to bag to his first points, he is able to push harder.
But that in itself has been a lesson in when not to.
"The pressure's been lifted off my shoulders for a while now for these first laps and I'm more confident to really attack it and go for it," he said as per The Race. "P20 to P14 was a strong start.
"In this position now where we are in this championship, we've got this small buffer that's allowing me to go out there and really push the limits. And I'm quite enjoying it to be honest.
Mega crowd this weekend. Really enjoyed being in Austin, as always. See you next time. 🇺🇸✌️ pic.twitter.com/q0KcgFUY7l

— George Russell (@GeorgeRussell63) October 24, 2021
He added: "I'm not a driver who usually makes a huge amount of mistakes, but I've wanted to push myself and that's why we saw [the spin in the esses] in FP3, and we saw a little off in qualifying at Zandvoort.
"I'm just trying to really push the limit just to see if there is more in there in these last few races.
"But I think I've sort of reaffirmed my global strategy of 'you don't need to be driving at 100 percent to get the most out of the car'. Sometimes you only go slower."
The Brit reiterated that having broken his duck with Williams, and helping elevate the team to P8 in the Constructors' Championship, meant he was a lot more relaxed out on track.
Williams have scored 23 points, 16 more than Alfa Romeo and, based on current form, it seems only a disaster would see them lose P8 in the standings.
"Less pressure," he said. "Just the fact that we are in the position of relative comfort in the Constructors' Championship.
"Also, on a personal level, with everything confirmed for next year, I'm in a very stable position personally and I'm just able to go out there and try new things and not be afraid to make some mistakes.
"I can go out there and just try new things, try and build that toolbox to improve.
"Being in that position where I'm not scared to make mistakes is a satisfying position."
PlanetF1 Verdict
Russell's smart new approach at Williams
George Russell has a new race approach in his final races for Williams.