Russell revels in 'absolutely mental' Silverstone qualy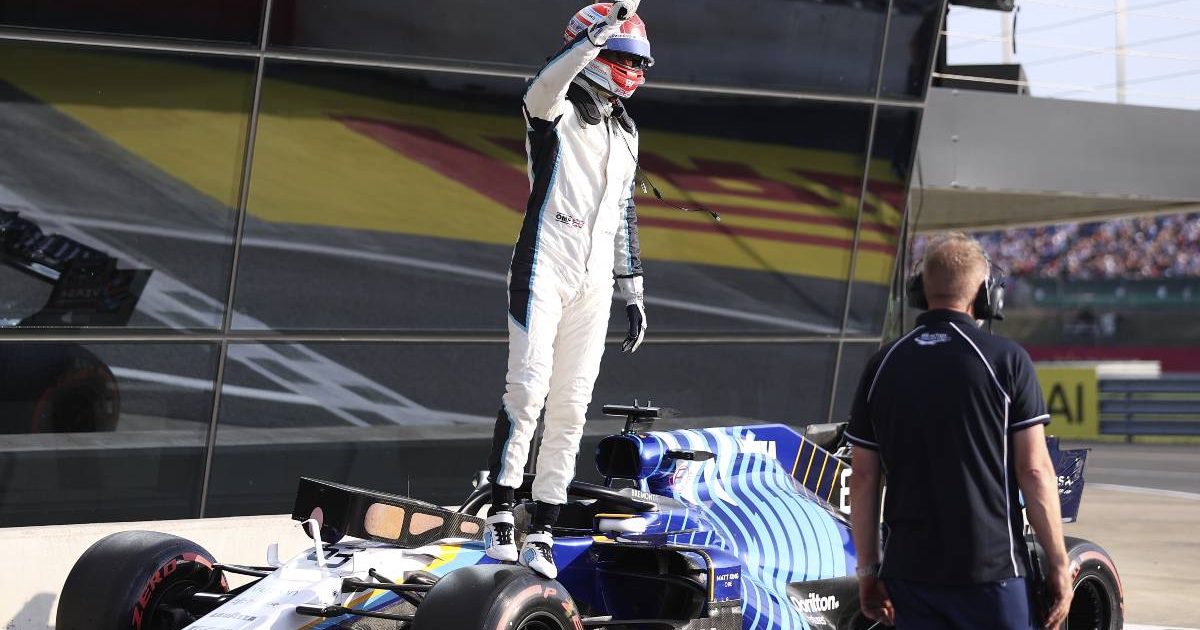 George Russell was thrilled with his stunning performance to secure P8 on the grid for sprint qualifying at Silverstone.
The 23-year-old made history in his career at the Austrian GP by making Q3 for the first time as a Williams driver, but in front of his home crowd he pushed the bar even higher by earning P8 once the chequered flag fell on qualifying at Silverstone.
This is of course a different weekend as Formula 1 trials Friday qualifying, with this traditional format now determining the grid for sprint qualifying on Saturday, but it would seem that 'Mr. Saturday' Russell is perfectly happy being 'Mr. Friday'.
In fact, Russell said it was his best qualifying performance yet in a Williams.
"That was, of all the qualifyings I've had with Williams, that was definitely the best one by far," he told Sky F1.
We all know that Lewis Hamilton has an army of fans who come out in force at his home race at Silverstone, but Russell earned the loudest cheers of the day as he mastered the circuit to complete that lap.
"I saw it, in the corner of my eyes through every corner with everybody cheering, such a mega feeling, I missed it so much," he said of the fan reaction.
"And obviously doing it in front of my home crowd, best qualifying result we've ever had, I just realised we were one-and-a-half tenths from P4 which is absolutely mental.
"This morning in FP1 I had no confidence, I was nowhere with the car, I was struggling last, dead slowest, didn't even think I'd get out of Q1 and here we are P8.
"I went out in qualifying and I just had that confidence, it was so joyful, pushing an F1 car to its limits on this track."
This brand new format rolls on into Saturday now though, and Russell remains "open-minded" about the sprint qualifying concept.
In particular he is intrigued to find out how it will feel to race in an F1 car with a low fuel load from the start.
"Open-minded, it's going to be interesting," he said.
"And another thing that is going to be new is that every single race we do in an F1 car, we are usually maximum fuel capacity, and now you have only got a third of the fuel in the car, so it's going to be a really different feeling on those opening laps.
"I've now had 40-odd races in an F1 car, this is now another race effectively, but in a completely different scenario."
What a feeling… your support was something else today!

We did that together. Thank you. 🇬🇧❤️

— George Russell (@GeorgeRussell63) July 16, 2021
You can follow all the action from the brand-new sprint race weekend via F1 TV Pro! Subscribe here for the ultimate F1 viewing experience.
F1 TV Access, meanwhile, is available in over 30 territories and the full list of eligible countries can be found here.
This 100km sprint race is to decide the pole-sitter for the British Grand Prix, and will set the remaining grid positions behind P1.
Many drivers are expected to play it safe to ensure that they do not compromise their grid slot, but not Russell, he is going to attack.
"I'm just going to go for it," he said when asked what his mindset will be.
"I think that [cautious approach] will be everybody else's mindset, but it's not going to be my mindset because if everybody is a bit conservative then that opens an opportunity.
"We don't find ourselves in this position often, we find that when we do it's because we put absolutely everything on the table, we are not leaving a single thing to chance, and we are just going for it.
"So we keep that mentality up and it's so rewarding when we pull it off."
Follow us on Twitter @Planet_F1, like our Facebook page and join us on Instagram!