'Russell should have been punished for Perez incident'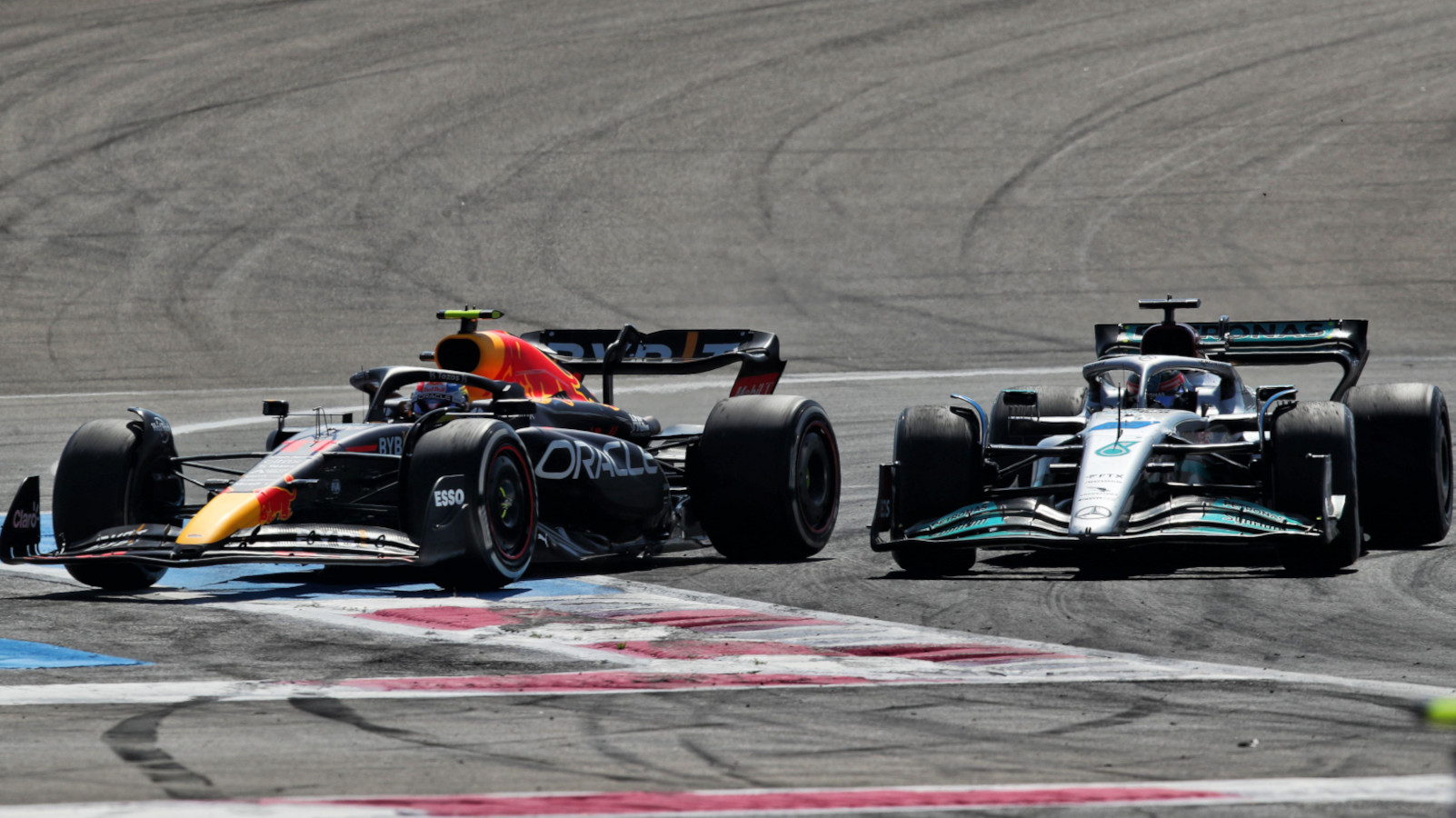 George Russell should have been penalised by the French Grand Prix stewards for pushing Sergio Perez off the track, that's according to Olav Mol.
Fighting with Perez for the final podium position at the Paul Ricard circuit, Russell lunged up the inside of the Red Bull into Turn 8.
Hitting the RB18, Perez was pushed off the circuit and cut the corner, returning to the track in third place ahead of Russell.
The Briton was furious, believing Perez should have given him the position.
"Come on, guys. We need to do something. He went straight on," he told the Mercedes pit wall.
His race engineer disagreed, telling his driver he was "not ahead", and as Russell continued to rail against what he saw as a bad call, Wolff's voice came over the radio.
"George, keep your head down, you can hunt him down," said the Mercedes motorsport boss.
Mol reckons never mind Perez, Russell was lucky to escape without a penalty.
The moment of contact between Sergio Perez and George Russell! 💥#FrenchGP #F1 pic.twitter.com/wNtGn73cK9

— Formula 1 (@F1) July 24, 2022
"That was a mistake by Russell that he should have punished," Motorsport.com quotes the Dutch commentator as having told Grand Prix Radio.
"And he kept on nagging until Toto Wolff yelled, 'Friend, take it easy and drive on.' George lingered in the moment and in his own right for a little too long."
Russell eventually overtook Perez for third, doing so at the end of a VSC period following Zhou Guanyu's track-side retirement.
The 60-year-old also weighed in on the Carlos Sainz confusion, Ferrari pitting their driver as he took third place off Perez a few laps before the Perez versus Russell drama.
While most pundits and fans were left perplexed by the decision, adding it to the growing list of Ferrari transgressions, Mol says they did the right thing.
"I don't think they made a mistake with Sainz," said the 60-year-old.
"The only weird thing is, before the stop Sainz says he couldn't overtake and they had to bring him in.
"Once he got in, 'Why did you send me to brought in, because I could have driven away those 5 seconds!' I think they were just talking about that."
As for Leclerc, who crashed out of the lead, Mol says he needs to go away somewhere quiet and gather his thoughts.
"If I were Charles Leclerc, I would go on a retreat for a few days," he said. "To sit down somewhere nice and zen, away as far as possible from an F1 driver.
"I also think it was wise that he immediately stated: 'It is my driver's fault. If I miss the World Championship, I threw it away in Emilia-Romagna and this race'…
"And then the rest of the season is yet to come."
Highlights from the French Grand Prix
Did Max Verstappen win the French Grand Prix, or did Ferrari and Charles Leclerc throw it away? Probably a bit of both.