George Russell makes race engineer substitution for 2023 season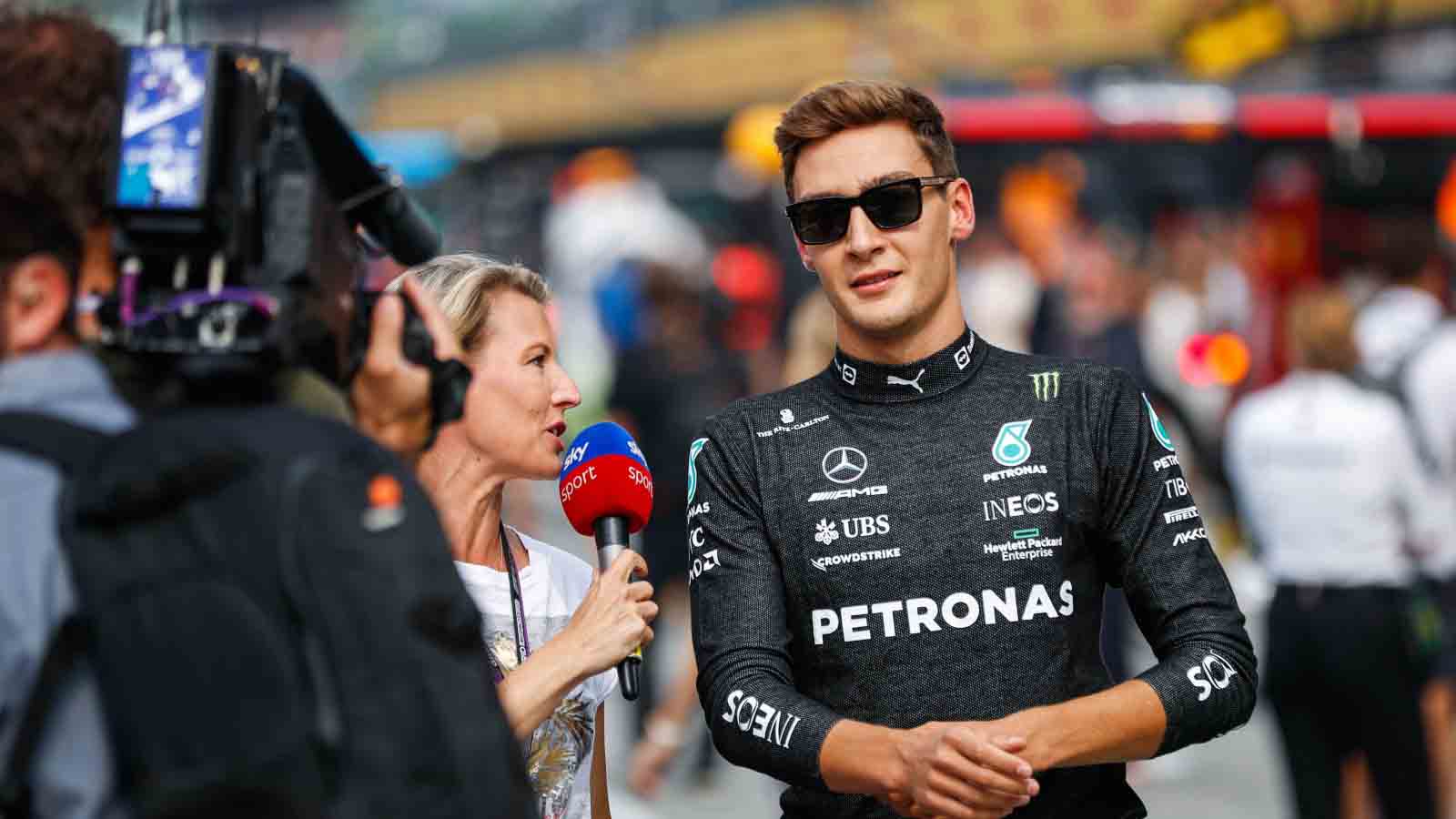 George Russell will hear advice from a different voice on team radio this season, as Mercedes line up a new race engineer for the Brit.
The 23-year-old was guided through his Mercedes debut by Riccardo Musconi to great effect. Despite the W13 representing the slowest Silver Arrow since 2012, Russell out-scored Lewis Hamilton and earned his first GP victory in Brazil.
Musconi was thoroughly soaked in champagne by Russell, Hamilton and Carlos Sainz on the Interlagos podium, toasting the team's only victory last year.
The Italian engineer had previously worked with Valtteri Bottas in the same role, guiding the Finn through his final two seasons at Mercedes.
But despite Musconi's experience, Russell will confer with a new voice on the radio this year.
Marcus Dudley will be Russell's new race engineer, following in Musconi's tracks having worked as a performance engineer before becoming the younger Mercedes driver's point of contact in the garage.
Dudley, who stepped onto the podium to receive the Constructors' honours at the 2015 Monaco Grand Prix won by Nico Rosberg and in China after Hamilton's 2019 victory, has previous experience in the role.
He stepped in for Pete "Bono" Bonnington as Hamilton's race engineer last year at the Red Bull Ring and the 2019 Mexican Grand Prix, which the World Champion went on to win.
For 2023, though, he'll be helping out on the other side of the garage, as Russell aims to upstage Hamilton for a second successive season. The 38-year-old has never been beaten by a team-mate in back-to-back seasons.
However, perhaps of greater concern less than a week out from the Bahrain Grand Prix is a perceived pace deficit to Red Bull and Ferrari.
Red Bull looked ominously comfortable during the three-day testing block in Bahrain, topping the time-sheets on Day 1 and 3 with a RB19 that looked glued to the Sakhir track.
PlanetF1 recommends
Ranked: How well did every team perform at F1 2023 pre-season testing in Bahrain?
F1 2023 pre-season testing: All the key stats and facts from Bahrain
F1 2023 driver title odds: Huge move for 'dark horse' Alonso as Aston Martin hype hots up
Ferrari also enjoyed a solid winter test, although the Scuderia were likely holding back much of their pace. For Mercedes, it wasn't such smooth sailing.
Day 2 ended with the German outfit in a form of crisis, as Toto Wolff held an emergency meeting of the team's big hitters to decipher a sudden desertion of downforce.
On the same day, Russell only managed 26 laps during the afternoon session, his Mercedes causing a red flag and parking up after a hydraulics failure at Turn 4 – his W14 never to be seen again that day.
Saturday was a much better showing for Mercedes, who brought out the soft compound tyres – finishing P2 after the morning and evening sessions. Wolff also hinted that they, like Ferrari, weren't showing all their cards.
Following Friday's difficulties, Russell said: "You definitely head into a season believing.
"Every point of my career, I've always gone in believing, but you need to take a rational view once you get to the track you learn.
"I think we definitely believe eventually we will have a car capable of getting in that fight, whether we're going to have that next weekend in Bahrain, I think may be a bit of a stretch.
"They look very strong, they look very stable, the car is looking really strong and obviously Max is performing really well, so I think realistically it will be a stretch for next week, but there's no reason why eventually we can't get there at some point this year."