George Russell enjoying fighting up front after 'three years spent looking in my mirrors'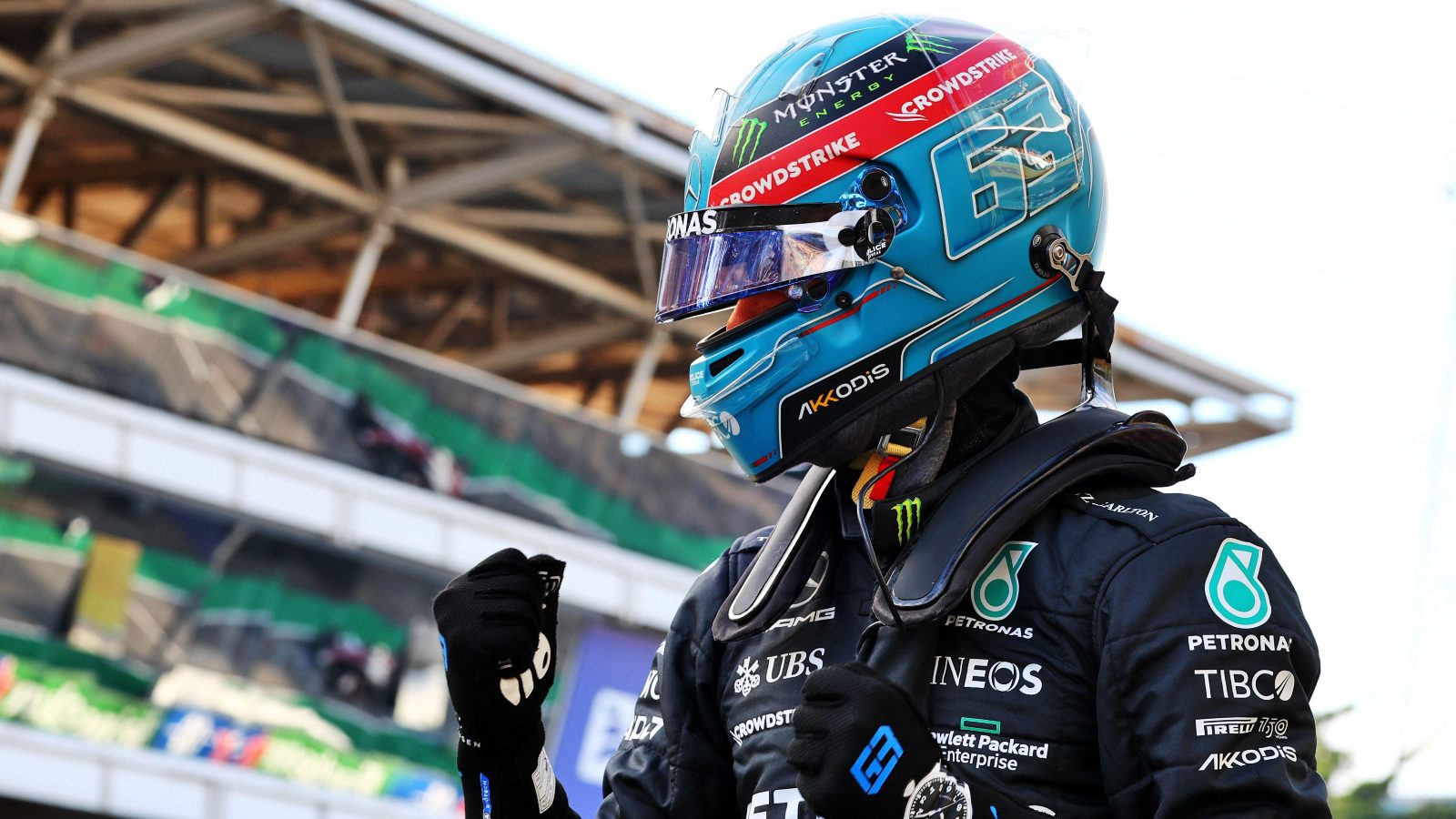 George Russell is relishing fighting with the sport's best after he took his maiden Formula 1 victory in the Sao Paulo sprint.
The Mercedes man has not secured that coveted grand prix win just yet but did move a step closer after securing the sprint victory following a battle with Max Verstappen.
With Russell on the softs compared to Verstappen's mediums, a tyre which proved to have worse performance than expected, the Mercedes was quickly in a battle with the Red Bull for the lead after both had despatched pole-sitter Kevin Magnussen.
Verstappen got his elbows out and defended well, but soon the Mercedes' pace, along with the tyre difference and DRS advantage, allowed Russell to breeze past him and build an unassailable lead.
Having joined Mercedes at a time when their car was the worst it has been in recent memory, Russell, who had spent three years at backmarkers Williams previously, was relishing the opportunity to fight up front.
"I remember racing Max back in 2011 in go-karting and equally with Charles [Leclerc]," he told Sky Sports F1. "This, for me, is what Formula 1 is about.
"I've spent three years at the back end of the grid and didn't have too many battles, often looking in my mirrors, getting overtaken by faster cars.
"So to go up against a Red Bull and make the move stick and have a pretty fair and clean battle and get the victory was pretty nice."
Russell will start P1 in Sunday's race for only the second time in his career, but is wary Red Bull will not be the same wounded beast they were on Saturday.
"Their loss today will be their gain tomorrow with that soft [tyre] that was clearly the best tyre," he said.
"It's strange why [the medium] was so off the pace. I don't think anybody was really expecting that.
"We were 50-50 on the medium so we have to have a think tomorrow how we approach that, because we will have to use the mediums at some point and it doesn't look like it will be a pleasant experience."
The sprint victory marked a significant moment in Mercedes' recovery with Russell describing it as a "morale-booster" going into the off-season.
"Definitely sweet feelings as I crossed that line in my position and obviously making the move on Max," the 24-year-old said.
"It wasn't as straightforward as I would have liked it and I knew he would defend pretty aggressively, but [it's] so great to see the progress we are making as a team.
"We are so proud of the work everybody's been on and it's such a morale-booster going into the winter regardless of the outcome tomorrow. This is a huge result for us."