George Russell's shock pick to be his F1 team-mate after Lewis Hamilton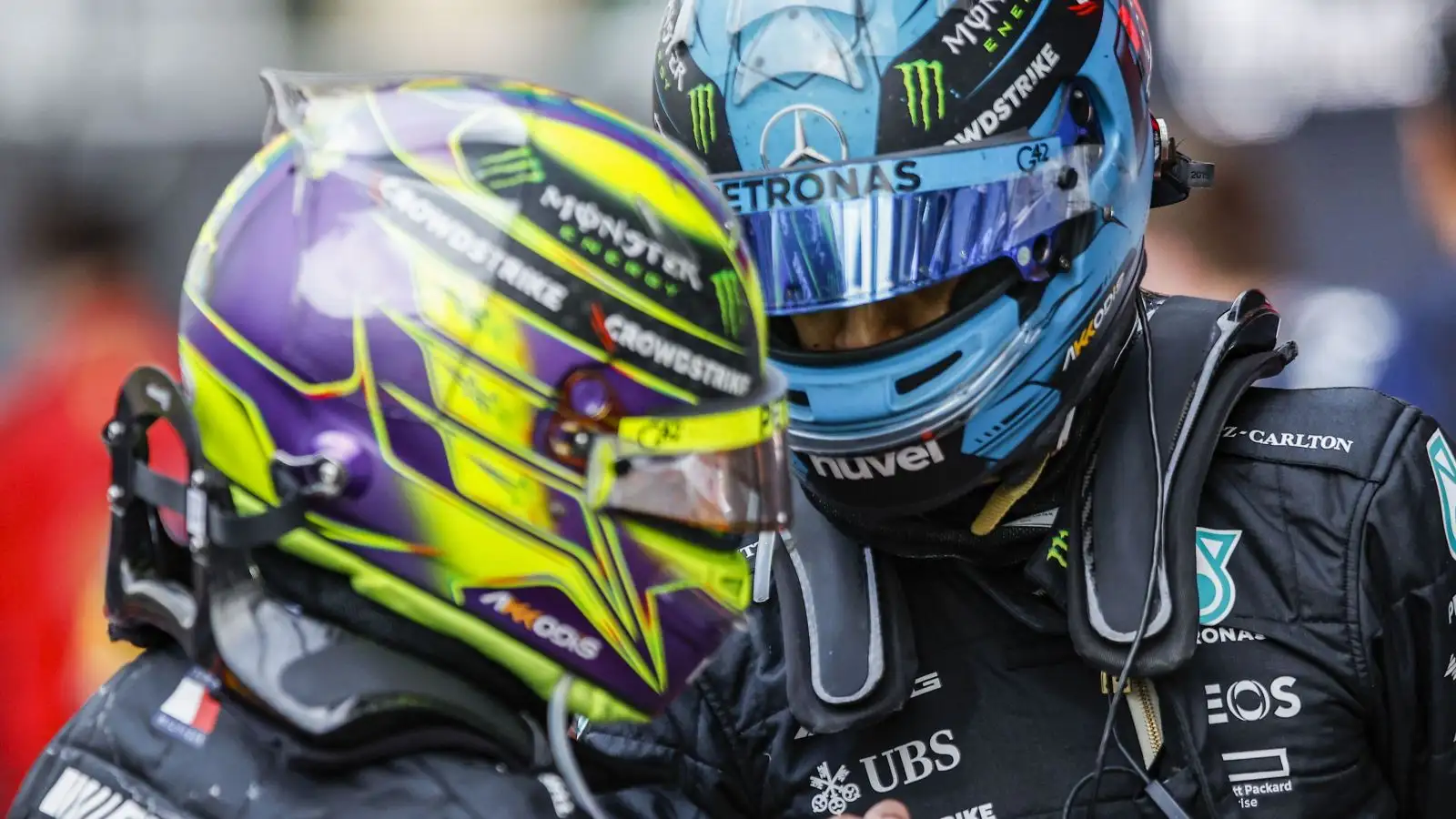 George Russell says he would like to test himself against Max Verstappen as his next team-mate when Lewis Hamilton eventually retires from F1.
Russell joined Mercedes as Hamilton's team-mate at the start of 2022, just weeks after his fellow Brit lost the title to Verstappen in highly controversial circumstances in Abu Dhabi.
Hamilton remains without a win since the penultimate round of the 2021 season in Saudi Arabia, with Russell pipping the seven-time World Champion to Mercedes' only victory of last year in Brazil.
George Russell keen to test himself against Max Verstappen when Lewis Hamilton leaves
Verstappen has emerged as the dominant driver of his era, winning 36 of the last 57 grands prix for the dominant Red Bull team.
A 10th straight victory at this weekend's Italian Grand Prix would see the Dutchman take the record for the most consecutive wins by a single driver, having equalled Sebastian Vettel's 2013 tally at his home race at Zandvoort.
Despite Verstappen's fearsome form, Russell says he would embrace the chance to go up against the two-time World Champion in equal machinery having relished his time alongside a driver of Hamilton's calibre at Mercedes.
Earlier this season PlanetF1.com sources revealed that Russell will remain a "long-term" member of the Mercedes family after a contract extension had been triggered. Verstappen is contracted to Red Bull until the end of the 2028 campaign.
Russell and Verstappen were involved in a heated row following the Baku sprint race in April, with the Red Bull driver calling his Mercedes rival a "d**khead" after a collision on the opening lap.
Asked in an interview with French television station Canal+ who he'd like as his next F1 team-mate, Russell said: "I'd pick Max, because when I joined Mercedes to be team-mates with Lewis, Lewis was and is regarded as the best driver of all time.
"You want to go against the best, test yourself against the best, learn from the best.
"For me, having these 18 months alongside Lewis has been really, really great to push my boundaries, to learn more about myself as a driver and as an individual.
"And obviously Max is at the top of his game, right now. Destroying Formula 1. So we'd all want to go against Max, and see how we get on."
PlanetF1.com recommends
F1 2023: Head-to-head qualifying and race stats between team-mates
F1 driver contracts: What is the current contract status of every driver on the 2023 grid?
Having shone in his first year as a Mercedes driver in 2022, Russell has struggled more alongside Hamilton this season and has just a single podium finish, achieved from 12th on the grid in Spain, from the first 13 races.
Having joined his team-mate on the podium in Barcelona, Hamilton has three further podiums to his name in Australia, Canada and Britain.
Russell trails Hamilton 57 points in the Drivers' standings with nine rounds remaining, having failed to reach the chequered flag in Melbourne, Montreal and the Netherlands.
Read next: Exclusive: What Daniel Ricciardo told Liam Lawson ahead of shock F1 debut