Russell: Williams went downhill after first FP1 run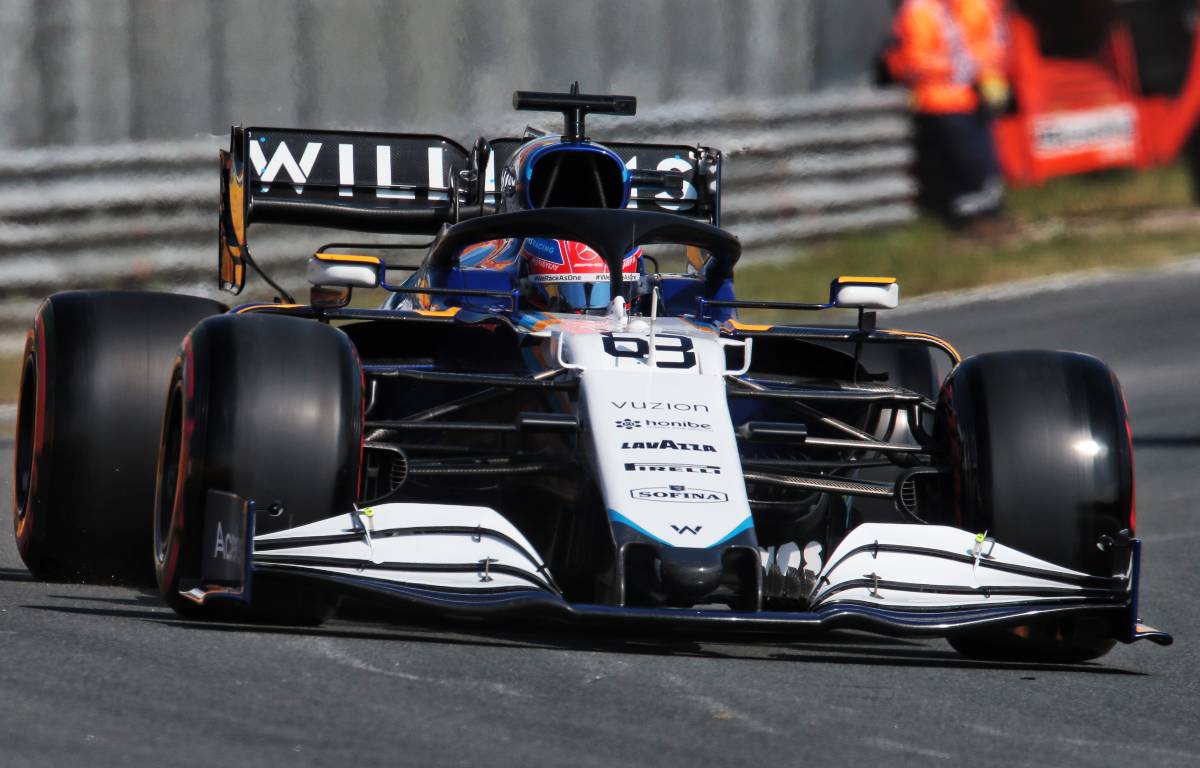 George Russell said his opening run of Friday practice at the Dutch Grand Prix was as good as the day got for himself.
The Briton and Williams came into the race weekend on a wave of momentum, with a first podium finish in Formula 1 for Russell at the Belgian GP following a points-finish at the prior round in Hungary.
But the fall from grace was extreme at Zandvoort, with Russell propping up the standings come the end of FP2.
Russell remains hopeful though that Williams can discover some performance before qualifying on Saturday.
"It was not easy to be honest, probably the best it felt was in the very first run of the day," he told reporters when asked what the feeling was like in his FW43B.
"We were struggling on the soft tyres, but it was a very interrupted day with all the red flags, so there's not a huge amount to take away.
"The pace is not quite as fast as we would like, but I think a few improvements overnight and we will be able to find some good steps."
This is Formula 1's first visit to Zandvoort since 1985, though it is a far different track now with the introduction of banking at Turn 3 and the last corner.
And Russell described it as a track which features everything that a racing driver wants.
"I think it was a great experience driving this circuit, I think it's a driver's favourite," he said.
"It's very undulating, obviously all this new banking is a very new experience, fast, flowing, can't really put a wheel wrong, so I think that is what we all want from race tracks."
As one of the shorter laps on the calendar, it understandably meant that the lap times converged somewhat between the front and back of the grid.
And so Russell said that a grid slot between P10 and P13 would represent a successful qualifying for him, though navigating the Q1 traffic will be the first major hurdle.
"The traffic is really, really difficult with this short lap," Russell explained.
"That is going to be key, especially in Q1, just being able to get a clear run.
"I think Q2, anywhere between tenth and 13th will be a good result."
However, while qualifying around Zandvoort is set to play a vital role in the race result, Russell said Sunday is Williams' focus for how they set up the car.
"We have got to set the car up for Sunday even though overtaking is historically pretty difficult around here," Russell stated.
"We don't know how the tyres are going to react, and we only got that one high-fuel run in Q2, we didn't manage to do it in FP1 due to the red flags.
"So nobody knows if the tyres…if you are going to be able to make 72 laps on a one-stop, or if you're going to be doing the two-stop, so I think that is going to make it interesting.
"So even though it's a qualifying track, that's why we are putting the emphasis on the race."
Great to see all of these amazing fans out in orange today. pic.twitter.com/4s9DYienYW

— George Russell (@GeorgeRussell63) September 3, 2021
Show your support for Williams with their latest official merchandise collection
Nicholas Latifi said some changes were made to his car between FP1 and FP2, which ultimately were probably the wrong call, though he did finish that afternoon session in P17.
"I think there were some changes we made from FP1 to FP2 which I think maybe in hindsight was not the right direction to go," he admitted.
"But again it's a new track, not quite sure where the track evolution was going to go to, also putting the qualifying tyres on with better track conditions just wasn't what we expected.
"So I think we can revert on a few things and maybe take it in a different direction."