Russell unsure where Mercedes' speed gains came from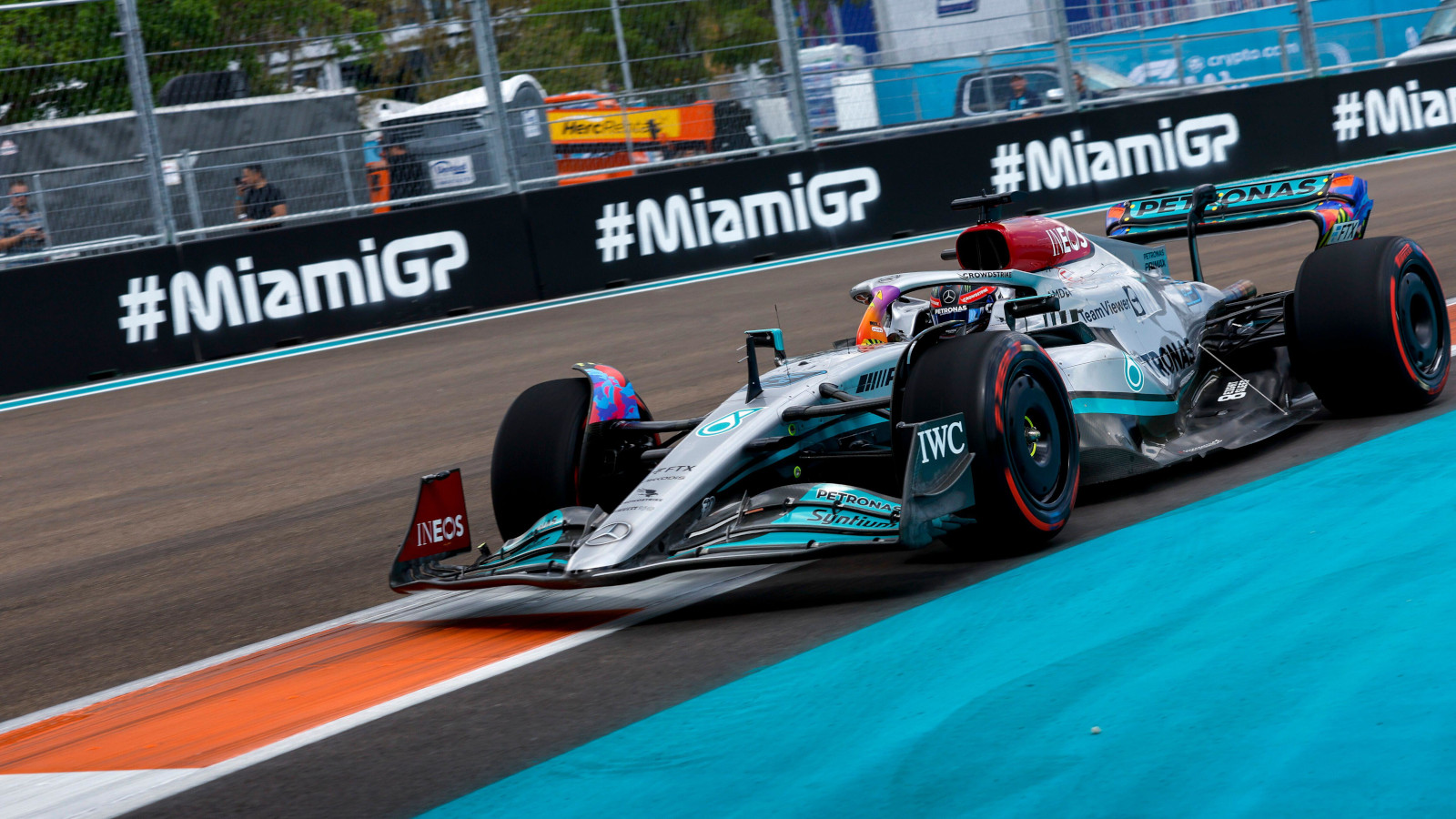 Setting the pace in Friday's second practice, George Russell says Mercedes "don't really understand" why they have pace in Miami.
Mercedes arrived at the Florida circuit on the back foot, their W13 suffering with extreme porpoising which is said to be costing them around a second a lap.
In a bid to eradicate that and unlock performance from the car, the team introduced a raft of aero upgrades including a new front and rear wing.
Russell went quickest.
The Briton clocked a 1:29.938 to edge championship leader Charles Leclerc by 0.106s while Lewis Hamilton was up in fourth place.
The problem for Mercedes in all that is that they can't say why they are suddenly quickest.
"We don't really understand it to be honest, why we sort of hit the ground running," Russell told the official F1 website.
"We always knew ahead of this weekend that the conditions should suit us better, because we've been struggling a lot with tyre warm-up, even in Bahrain when the track was really rough, but this is the first real hot race of the season, so for sure that's played a big factor… but it's only Friday, not getting too carried away."
Mercedes have described the wing upgrades they have brought to the Miami Grand Prix.https://t.co/OEaVWrao42 #F1 #MiamiGP pic.twitter.com/2Y3SJLVvRi

— PlanetF1 (@Planet_F1) May 6, 2022
As for the team's upgrades, the 24-year-old said: "I'm not too sure to be honest because when I got out of FP1, I was straight into the stewards' office because of the pit lane incident with [Esteban] Ocon and then straight into FP2, I was just working with my engineers to maximise my set-up and leaving it to the boffins to work out if this was the direction to go.
"But I think it's definitely been a really productive day for us and probably the most productive Friday we've had."
But alas what Friday did not do was fix the team's porpoising problems, although Russell says it is better.
"We know that it will always be there but maybe it is working at a lower range compared to where we were previously," he added.
He wasn't the only Mercedes confused about the team's improved pace.
"It feels the similar to me, to be honest," said Hamilton. "We definitely still have a balance issue. We haven't cured it.
"But looking at the times it seems we have improved, so I'm not quite sure where that is.
"I'm still struggling with car. George looked great out there, but we're trying different things, so I guess we'll converge."
Mercedes hoping for a better weekend in Miami
Mercedes boss Toto Wolff has said the team has "several directions" for W13 improvements.