Russell vows to 'absolutely go for it' after shock pole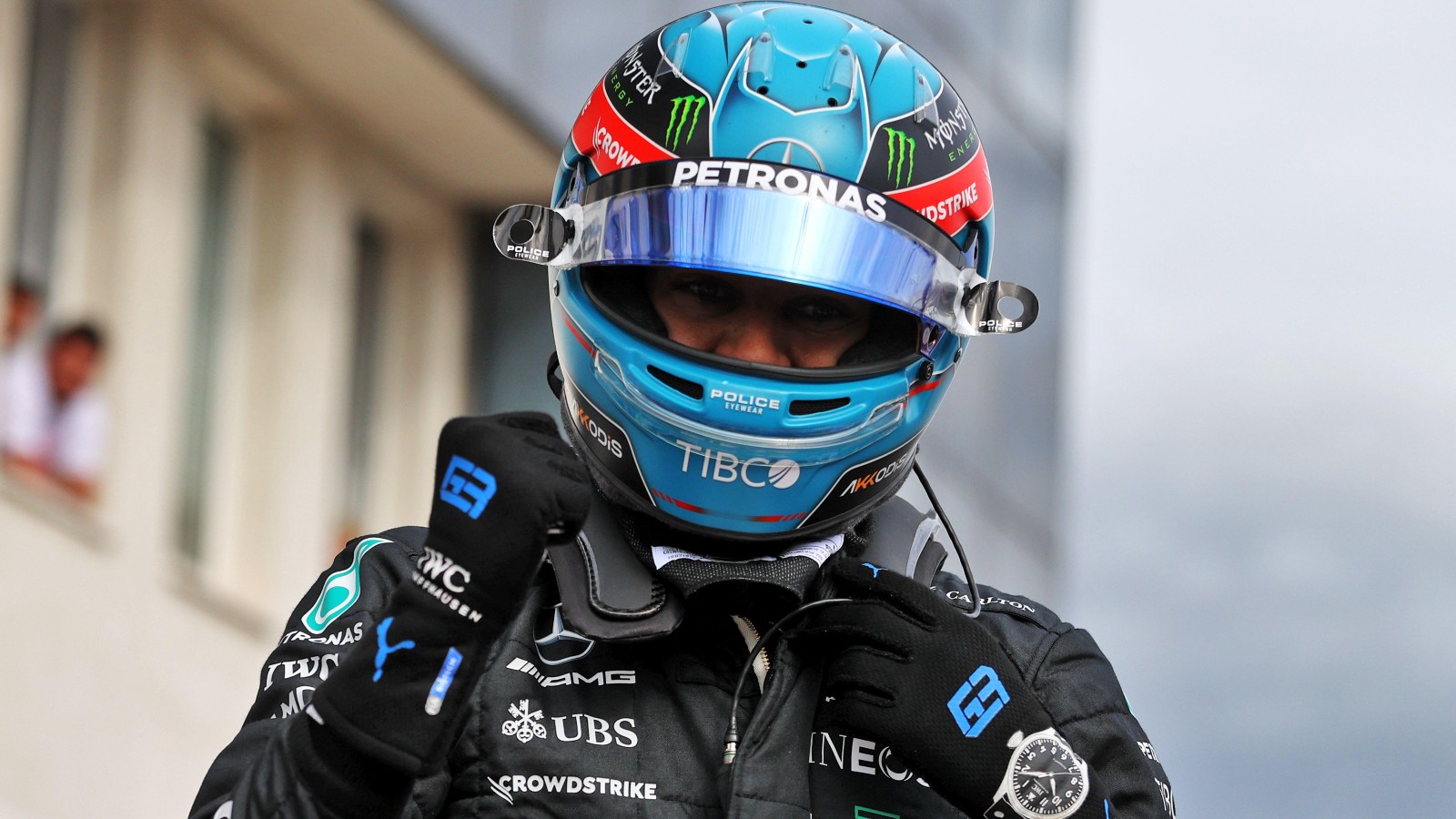 After claiming a shock maiden pole position of his Formula 1 career, George Russell will give the Hungarian Grand Prix maximum attack.
The Mercedes W13, which had at no stage so far in 2022 been a leading car, was looking potentially not up to the task of making Q3 in Hungary, both Russell and Lewis Hamilton struggling for grip in the wet conditions of FP3.
But as the track dried up for qualifying, Mercedes clawed their way back into the game. Still, nobody expected Russell to use his final Q3 lap to snatch pole. But that is exactly what he did.
"Over the moon, I'm absolutely buzzing!" he said on track.
"Yesterday was probably our worst Friday of the season and everybody last night was working so hard. We didn't really know what direction to go in.
"And then that last lap, got around Turn 1, mega Turn 1, went round Turn 2, Turn 2 was mega and the lap time just kept on coming and kept on coming.
"And I came across the line, looked at the screen and saw that we went P1 and that was an incredible feeling."
"COME ONNNNN!!! WOOOOO!"pic.twitter.com/JbMbuN7cL6

— Mercedes-AMG PETRONAS F1 Team (@MercedesAMGF1) July 30, 2022
So, does this mean that the reigning eight-time Constructors' champions are back?
Russell is not sure at this stage, but he plans to give it everything in the race as he leads away the pack in Formula 1 for the first time.
"I don't know, to be honest," he said when asked if this is the rebirth of Mercedes as a leading team?
"We need to look into it and understand where that came from today. There's a few ideas we have.
"At the end of the day, there's no points for qualifying. We generally have good race pace, but the Ferraris looked very fast on Friday, but we're going to be absolutely going for it.
"But either way that was a pretty special day. No doubt."
It was potentially a huge qualifying for Charles Leclerc in the context of his title hopes, as a power issue meant that Championship leader Max Verstappen could manage only P10 on the grid.
Leclerc though says he focuses only on himself, explaining that from this perspective, it was not a good qualifying for him as he prepares to line-up P3.
"Mostly we are focusing on ourselves, so today it's not been a great day," Leclerc told Sky Sports F1.
"I've been struggling massively with the tyres and just had a lot of inconsistency to put the tyres in the right window with those conditions, so I struggled to put a lap together, but we'll look into it."
Nonetheless, Leclerc is confident that he will have the car underneath him to perform well in the race.
"I'm pretty sure we've got the pace in the car to come back a bit more at the front tomorrow," he said.
"So, we'll focus on that and hopefully we have a better Sunday."
Between Russell and Leclerc will be Carlos Sainz in the other Ferrari, the Spaniard denied a second career pole by Russell's heroics, an achievement which he felt was within reach.
Sainz though said he is continuously growing more comfortable with the F1-75 and looks forward to an exciting race against an unknown quantity in Mercedes.
He is also confident that Ferrari has the pace to challenge for the win.
"Feeling better and better every race and every qualifying session," Sainz explained to Sky Sports F1.
"Today, I felt like I had the pace to do pole position, it went away from us there in the last sector with a few snaps through that but yeah, congratulations to George because he must have done a pretty good lap there in the Merc. And yeah, we will race from P2 tomorrow.
"We have the pace, obviously your start and the tyre management will be a key role like always. The Mercedes' pace is a bit of an unknown and we will have to see how the race plays out tomorrow. And if we can get them at the start then better, but I think it will be an exciting race."