Russell 'probably wouldn't have appreciated' Sakhir win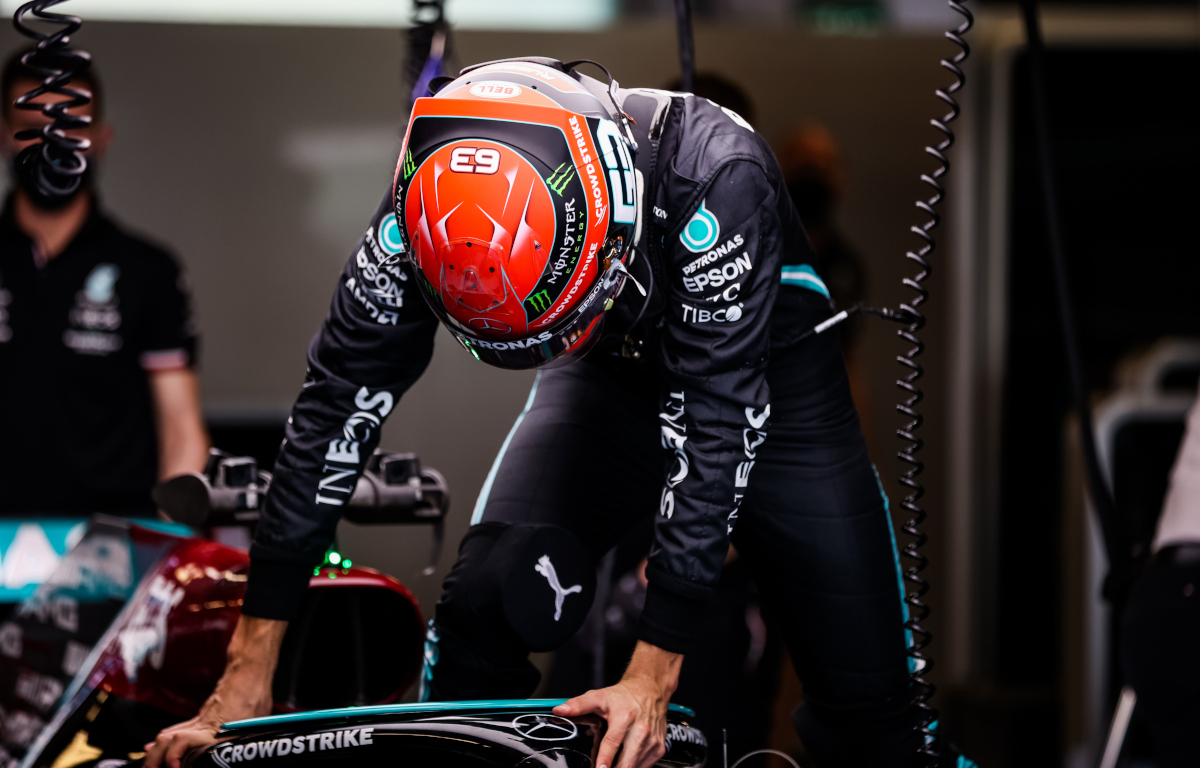 Looking back, George Russell says had he won on his Mercedes debut at the 2020 Sakhir GP it would have been "too much of a fairytale".
Russell made a one-off appearance for Mercedes in 2020, called up replace Lewis Hamilton when the World Champion tested positive for Covid 19.
It was a huge leap forward for Russell, going from the very back of the grid to the very front, but he did it in style.
He qualified P2 on the grid, his first-ever front row position, and immediately took the lead off regular Mercedes driver Valtteri Bottas.
Russell though was ultimately robbed of a maiden grand prix win by Mercedes, who had a nightmare day in the pits.
He finished P9 on the day, bagging an extra point for setting the fastest lap of the grand prix.
He says his trials have "absolutely" made him a better driver.
🗣"I've had races where I've had victories taken away from me, but twice?"

A heartbroken @GeorgeRussell63 reflects on his #SakhirGP, after a Mercedes pit stop error and late puncture cost him a near certain victory.

Report from Sakhir GP: https://t.co/E3L3V31O3W pic.twitter.com/5BhkfScSdO

— Sky Sports (@SkySports) December 6, 2020
"I think people who have it easy throughout their career, throughout their life, when they do face these disappointments, they struggle to deal with it, and probably aren't able to bounce back as quickly," he told Crash.net.
"And that's why I'm grateful that I've been in this position on a number of occasions, to make me more resilient. I would have loved to have won that race [Sakhir 2020], but that's not what I want my career to be remembered by.
"I want to be the most complete driver possible and I want to look back in 20 years time and say 'that was an incredibly strong career, every single outcome had a reason behind it and that made me a stronger driver'. I believe that race in Bahrain, losing that victory, will make me a stronger driver.
"In a way, it would have been too much of a fairytale to have won and I probably wouldn't have appreciated the achievement if that had happened."
That, however, was by no means the only difficult moment Russell has had to endure in Formula 1.
In his debut campaign he was P11 at a German GP where only 13 drivers finished and he was 1.5s away from the points, a year later he crashed behind the Safety Car at Imola, and the year after that he was running P8 when his car suffered reliability problems at the Styrian Grand Prix.
He eventually scored his first points for Williams at the 2021 Hungarian Grand Prix, and followed that up with a maiden podium at the very next race at Spa.
Two further top ten finishes saw him bring his tally to 16 points, P15 in the Drivers' Championship.
"It wasn't just the Mercedes experience," Russell added, "there were other experiences as well, and dealing with and bouncing back from disappointment is part of life and part of competitive sport.
"You know a championship isn't won or lost in one race, it's won over the course of a season.
"You will always have disappointing race weekends, you'll have failures, you'll have success. But if you don't bounce back from those disappointments, you are only going to compromise yourself and your team for the remaining races.
"So accepting those disappointments, learning from it, and equally just moving on and going from there."
PlanetF1 Verdict
2020 Sakhir win would have been 'too much of a fairytale' for Russell
George Russell believes if he had won in Sakhir in 2020, it would have been 'too much of a fairytale'.