Antonio Giovinazzi has said that he has noticed a "dramatic improvement" in the Ferrari car after setting a blistering pace in Hungary testing.
Giovinazzi was top of the timesheet for much of the opening day at the Hungaroring and set an unofficial track record in the process – a 1:15.648 on the hypersoft tyres.
The Italian, who last got behind the wheel of the SF71H at the Circuit de Catalunya back in May, revealed in the Hungary paddock that the Ferrari car has come on leaps and bounds since then.
"I had tried the car in the Barcelona test rookie, and I must say it has improved dramatically," said Giovinazzi.
"It's a big step, last time was in May and now we're in the end of July.
"It was a big step, it's really good to see this improvement from the car. It showed the team and drivers are doing a fantastic job to improve the car.
"My main programme, we did a few long runs in the morning and a quali run in the afternoon.
"The rain was coming and we delayed the end of the programme with a lot of long runs.
"It was a good day, positive for me and for the team and this is really important."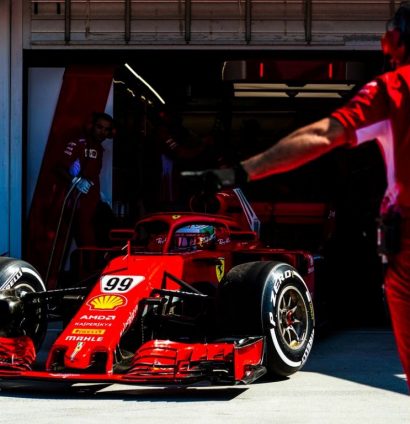 Giovinazzi is once again aiming to join the Formula 1 grid in 2019 after missing out on a Sauber this season.
And all he is trying to do is to give a good account of himself.
He added: "The goal was to do well and try to confirm that you are up to the task.
"But I do not feel under pressure, it has been a positive test and I'm satisfied."
Giovinazzi is swapping Ferrari overalls for Sauber ones on Wednesday, the final day of testing in Budapest before the summer break officially kicks in.
Follow us on Twitter @Planet_F1 and like our Facebook page