FIA presidential candidate would 'align' with Hamilton activism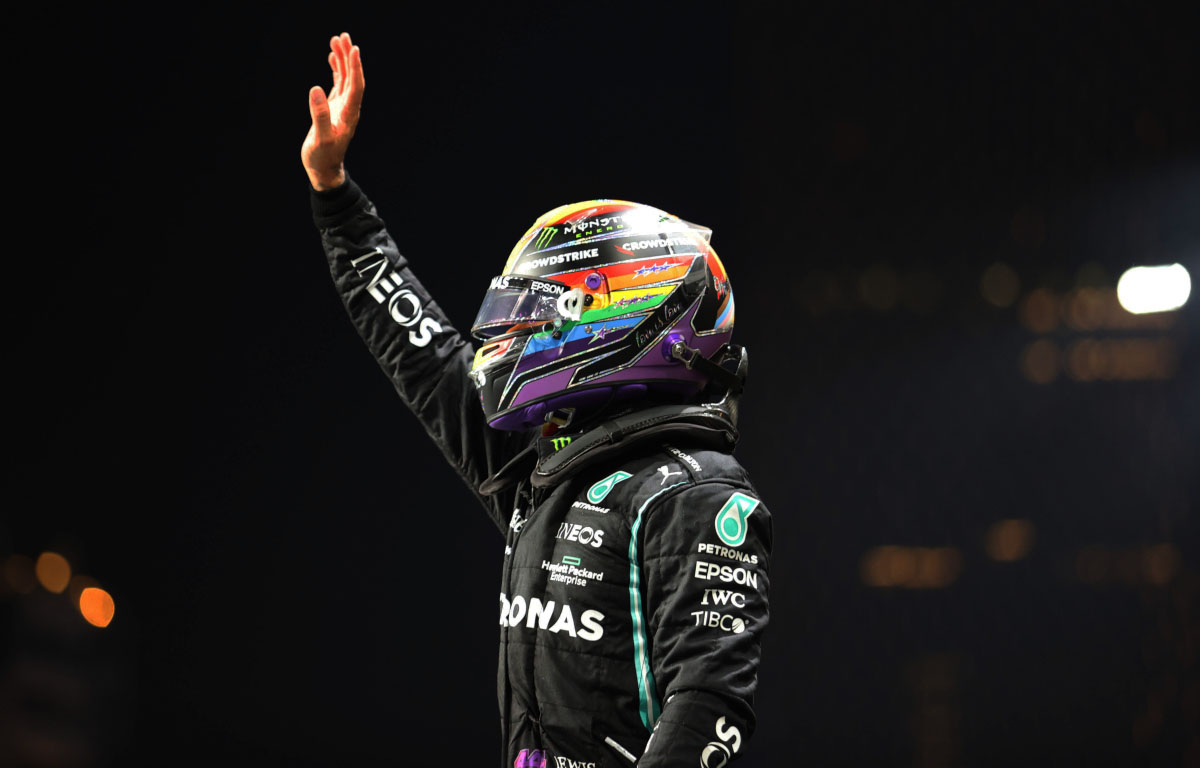 FIA presidential candidate Graham Stoker says he wants the organisation to "align" with Lewis Hamilton and help make Formula 1 more inclusive.
Hamilton has been campaigning for changes within the sport, and has been a vocal supporter of the Black Lives Matter movement – with Mercedes changing their traditional silver livery to black in 2020 and 2021 to reflect this – LGBTQ+ rights and human rights issues around the world.
He donned a rainbow helmet for the final races of the season in Qatar, Saudi Arabia and Abu Dhabi, and spoke out against anti-LGBTQ+ laws implemented in Hungary.
Stoker, currently the deputy president and second most senior member of the FIA's World Motor Sport Council, is campaigning against former rally driver and FIA vice-president Mohammed bin Sulayem to take over the presidency from Jean Todt when he retires at the end of his term.
The election will take place on Friday and, if elected, Stoker said he would use his platform to implement initiatives which would make Formula 1 more diverse, following the example set by the Mercedes driver in recent years.
"I want to align [with Hamilton], actually," he said to Sky Sports.
"We are doing work with our friends at FOM (Formula One Management) at the moment on inclusivity.
"I've given a pledge in my election campaign to setting up a commission dealing with that. I want to align with what Lewis is doing.
"He's absolutely right and the time is right, and I think we need to tackle that head-on.
"I've also always been behind the Women in Motorsport projects, [I] took them on from Susie Wolff.
"So, again, that's something we are working hard on. We are one of the few sports, along with sailing and eventing in horse riding, where men and women compete together. So inclusivity, diversity, we've got to do that."
Away from the track, the seven-time former World Champion established the Hamilton Commission, which partnered with the Royal Academy of Engineering to help engage young black people in pursuing STEM [science, technology, engineering and maths] courses which could lead to future careers in motorsport.
And the FIA presidential candidate wants to see the sport unite and not pull in different directions in the future.
"No, we need to align. And actually, if we do that, from the public relations point of view and the message, we are so strong," said Stoker.
"And I want to see that dialogue across not only our friends in FOM but the teams, the drivers – we should speak with one voice."
Hamilton was officially given a Knighthood by the Prince of Wales on Wednesday in recognition of his services to motorsport.
Bernie Ecclestone happy Hamilton didn't win
Bernie Ecclestone has said he is happy Lewis Hamilton didn't win to protect Michael Schumacher's records.