Guenther Steiner weighs in on Antonio Giovinazzi crash: It 'wasn't fantastic'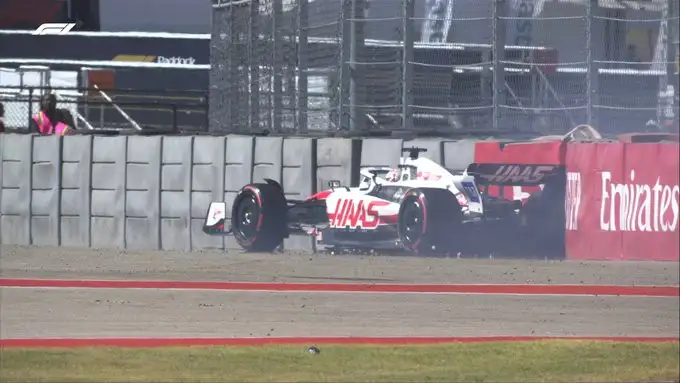 Guenther Steiner wasn't best pleased after Antonio Giovinazzi crashed his Haas early on in the first practice session at COTA.
The Italian racer, who drove for Alfa Romeo between 2019 and the end of 2021, took over Kevin Magnussen's Haas for the first practice session at the United States Grand Prix – one of five replacement drivers in the session, as four teams ran junior drivers.
But, while the four junior drivers completed the session without incident, the far more experienced Giovinazzi ended his practice almost immediately as he spun off in the first sector and hit the barriers – bringing out the red flags in the process.
While he managed to extricate the car and limp back to the pits with some apparently minor damage, his session was over as Haas confirmed the clutch on the car was burned out and the gearbox needs changing before Magnussen resumes the cockpit for second practice on Friday afternoon.
Guenther Steiner outlines the damage Antonio Giovinazzi caused
Needless to say, team boss Guenther Steiner wasn't best pleased to have a damaged car from so early on in the weekend as he spoke to the media after the session.
"I feel OK because the car will be ready again for FP2," he told Sky F1 when asked about Giovinazzi's crash at Turn 6.
"Getting out of the barriers, he burned the clutch out, the clutch overheated, and we cannot take the risk not to change it.
"Because, if you have a failure, we cannot do FP2, and we didn't do FP1 with that car. So we'll get the car fixed and get going – it's the front wing and the sidepod [that were damaged].
"But obviously, on your third lap, to put it in the wall – it's not fantastic, to say the least."
Antonio Giovinazzi's practice session in Texas didn't last long 😞#USGP #F1 pic.twitter.com/2vFraNE76G

— Formula 1 (@F1) October 21, 2022
Asked if Giovinazzi had explained why he crashed his VF-22, Steiner said he could only make a guess as to the cause for the moment.
"I haven't spoken with Antonio – I guess he got caught out by a gust of wind or something," he said.
"That's what I guess because the first lap was OK.
"It is what it is, but we can get out in FP2. We have the experimental prototype tyres (Pirelli test), so it's a little bit not ideal but we'll get out of it."
Steiner also confirmed there are no plans to run the Italian in another session before the season ends, with reserve driver Pietro Fittipaldi conducting their junior driver testing in Mexico and Abu Dhabi.
While Steiner didn't criticise Giovinazzi for the error, former F1 racers Jenson Button and Anthony Davidson said it was an unnecessary incident and that the Italian hadn't put his best foot forward in his audition for a 2023 race seat.
"That's one of the last places that I would start pushing around a circuit, personally," Button said, as Davidson replied: "So early on as well, in a free practice session!
"You can bed yourself in and get yourself into the groove and understand these new cars that are so hard to drive – the track was green and look how it's evolved as the sessions gone on. [He's] missing out on all of that running. It's easy to say now with hindsight, but it's one of those lessons that, I think, as a more experienced driver like he is, he should really know that."
Guenther Steiner: Mistakes like this don't help the team
Haas are yet to confirm their second driver for 2023, with Steiner explaining that there's no pressure on the team to confirm who will be lining up alongside Magnussen.
The fight for the seat seems to be between incumbent Mick Schumacher and a possible return of Nico Hulkenberg, while Giovinazzi seemed to have an outside opportunity had he impressed in practice.
With Giovinazzi crashing in practice, and Schumacher crashing after the chequered flag in practice at the Japanese Grand Prix last time out, Steiner was asked about how individual incidents impact upon the driver selection process.
"The big picture is made out of small pictures," he said.
"We need to see what we want for the future. We cannot have always these little mistakes, falling back all the time because then you never make any progress.
"We need to be consistent, not only being consistent but also moving up. Like now we've got this failure in FP1, you know that this doesn't develop the team really, so we need to think of the bigger picture to move forward with the team.
"Obviously, in the driver category, we need to make a step forward. We need to be consistent to take the rest of the team along and, obviously, the car always can be better and needs to be better but nothing is excluded."
Read More: FP1: Carlos Sainz goes fastest as five drivers swap seats in Austin