Steiner: K-Mag 'pretty insecure' when joining Haas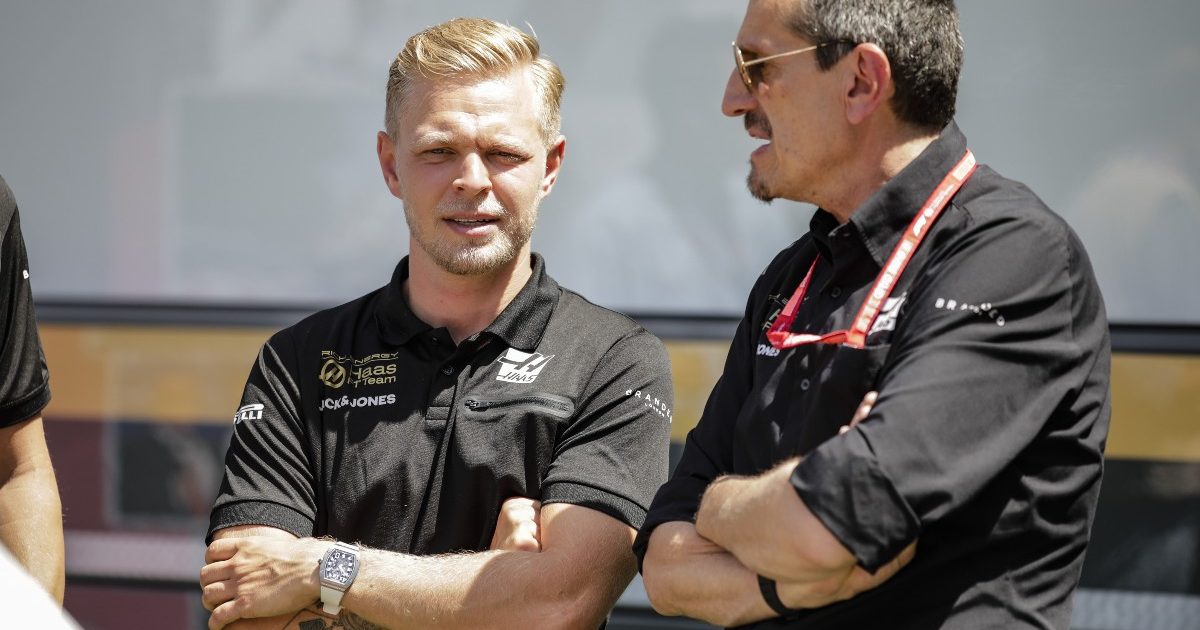 Guenther Steiner wants to help his rookie drivers like he helped Kevin Magnussen, who he says was "pretty insecure" when he joined Haas.
The American team has a hugely inexperienced driver line-up this season with Mick Schumacher and Nikita Mazepin spending their first years in the sport.
It's the opposite of their previous pairing of Romain Grosjean and Magnussen who both joined the team with multiple seasons under their belt.
However, Steiner says despite that, the Dane was still insecure and lacked confidence when they began to work together, and wants to help his rookies in the same way that he helped him.
"For me, at the moment the biggest challenge is to give them the confidence so that they're confident in what they're doing," Steiner told the In The Fast Lane podcast.
"When you're a 21, 22-year-old guy coming into Formula 1 and all the pressure is in you, it's not easy, just in your head, to deal with it, never mind to race one of these cars… So it's just trying to fill in where I can see weaknesses, where they struggle most.
"Kevin, the first year when he came to us, I would say even if he had done already two years in F1, he was pretty insecure and not believing in himself, so he also needed to be helped. But he picked up very quickly once he saw that the team was behind him and that we were supporting him.
"That is what I'll try to do with Mick and Nikita, to just tell them 'we are here for you guys, we are your first helpers, you need to trust us, we are doing the best we can to help you, you just need to keep your head down, focus, work hard and concentrate."
Check all the latest 2021 teamwear via the official Formula 1 store
Season 3 of The Guenther Steiner Show, also known as Drive to Survive, is out on Netflix tomorrow! 🙌 #F1 pic.twitter.com/48OcKzlLo2

— Planet F1 (@Planet_F1) March 18, 2021
Steiner and Magnussen memorably clashed in the second season of Drive to Survive, and the Italian-born boss has become one of the better know team principals on the grid thanks to his appearances in the Netflix show.
He hasn't watched it himself, but thinks that people like him in it as he's authentic, even if a little embarrassing to his daughter.
"I haven't seen it and I'm not going to watch it, as much as people don't believe me," the Haas boss said.
"But I think people see this and – I'm just doing my job, I'm not acting, I'm not making a show, and maybe in other shows, there is a lot of acting. People seem to like it.
"Oh yeah, you are right there," he added when asked if his daughter was embarrassed.
"I think the parodies are not bad, they're jokes, but for 12-year olds, everything is embarrassing so that does happen but what can you do?"
The show and the sport as a whole have been accused of exploiting Romain Grosjean's crash in Bahrain for the sake of entertainment, with Daniel Ricciardo being particularly outspoken, but Steiner says that they're just doing their job.
He responded: "I would say so, but I think in general the world has changed," he said when asked if they sensationalise crashes.
"The sensationalist thing, it's more and more – I won't call it important but people use it more, it's the same for social media. You need to have a big hit so that people actually listen or watch you because there is so much [competition].
"So my opinion is what F1 is doing, yeah they make it more sensational but it's part of their job because if you don't do that nobody is watching it and then there will be critique of why you don't do anything and we lose all the viewership and all the interest in it.
"It's a fine line to walk on but for me, the most important thing is that they don't show when somebody is hurt. If in the end, the result is good in that there is no physical injury to anybody, it's okay."
Follow us on Twitter @Planet_F1, like our Facebook page and join us on Instagram!