Guenther Steiner bites back at Toto Wolff over Mick Schumacher criticism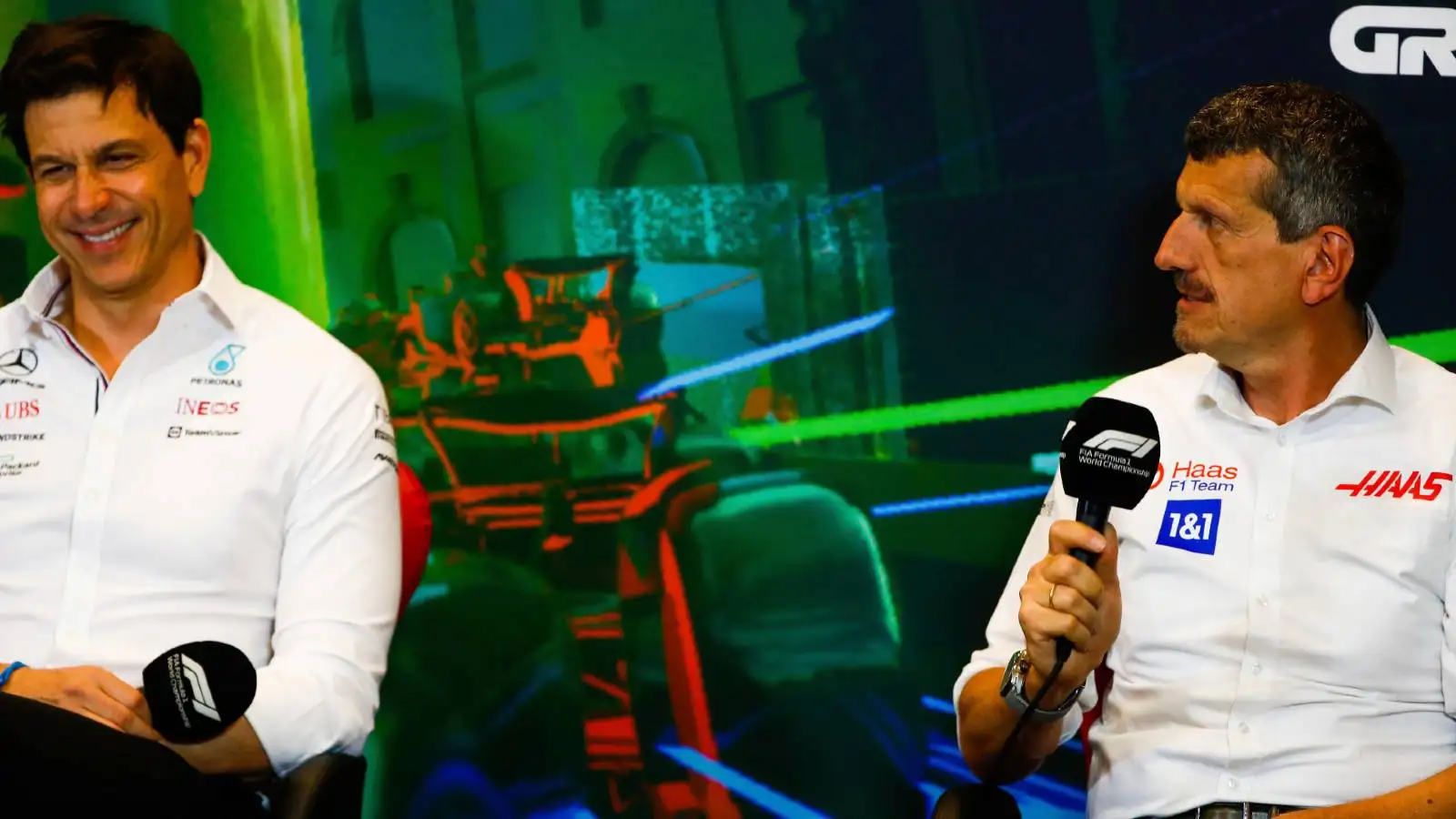 Guenther Steiner has hit back at Toto Wolff's claim that he wouldn't have "dared" treat Mick Schumacher as he did at Haas if father and seven-time World Champion, Michael, had been by his side regularly when he was at the team.
Schumacher's contract was not renewed by Haas after two seasons with the team, with Steiner opting for experience in choosing Nico Hulkenberg to partner Kevin Magnussen for 2023 – claiming he was "done with rookies" after a succession of big crashes last season proved costly.
Mercedes team principal Wolff acted quickly to bring Schumacher to the Silver Arrows as reserve driver behind Lewis Hamilton and George Russell to keep him in the Formula 1 paddock, but the move to leave the young German without a drive for this season was a divisive one by Haas – with opinion split on whether or not he should have kept his seat with the team.
In bringing Schumacher to Mercedes, Wolff said to Swiss publication Blick that he is "looking after" him this season as he looks for a way back onto the grid for 2024, while adding a swipe at the Haas team boss, saying that "if Michael had accompanied his son during the two Haas years, Steiner would not have dared to treat Mick like that!"
But when he was asked about Wolff's comments by Sky Sports and offered a chance to respond, the Haas team principal countered: "What I have to say is, if my father would have been around Toto wouldn't have said the things he said."
Elaborating further on the outside pressure on Schumacher in his time with Haas, Steiner believes he was always fair with him from within the garage and that others looked to "divide" them last season.
From the point of view of the team, Steiner believes he and Haas always gave Schumacher and Magnussen equal treatment where possible last season – explaining where upgrades needed to be shared when necessary, and that he would never want to "sabotage" anyone driving for the team, not least because it is not in his or the team's interest to do so.
"I think they tried to put pressure on to keep Mick and blame all the team and I don't think that was good for Mick," Steiner explained on the Sky Sports F1 Podcast.
"In the end, they didn't actively try to divide us but that's what they did. I think he didn't feel good when he heard the things talked about me and I didn't feel good coming from their side. In the end, they tried to divide us.
"This is not good for Mick, even if they try to do this because in the end the team decides who is going to drive the car and not the driver which car he is driving. There is no point to upset a team about a driver because you want to say 'Guenther didn't take care enough of Mick and how I do things'.
PlanetF1.com recommends
Guenther Steiner recalls the day Toto Wolff 'almost had a foking heart attack'
A five-step guide to being the ideal F1 wingman: Lessons from Perez, Bottas, more
The five drivers that should be on Audi's F1 2026 shortlist
"In the end, he scored points. Nobody says 'that's because Guenther managed Mick like this', nobody came with that and I don't expect that like I don't expect to be blamed if he crashes. The driver has to do that himself to get the points and not to crash.
"The responsibility of the team is to give the driver the best car they can, and we always did that, and be fair to both drivers that they both get the same level of car, we always did that.
"And if we didn't do that then we explained, for example, that an upgrade, only one part was available and you share it. We were very open about it, we never hid anything or gave an advantage to one or the other driver because that is a principle of my life – you need to treat people fairly to get the best out of it.
"In the end, who wants the drivers to perform at their best? Me and the team so why would I try to sabotage any of our drivers?
"In the end, this is part of a team principal life that some people don't like what you're doing. I don't really care if somebody doesn't like what I do. Just say it – it doesn't do anything, I will not change because I don't feel I need to change because of somebody who has not walked in the team."