Haas reveal their 2022 'design and livery'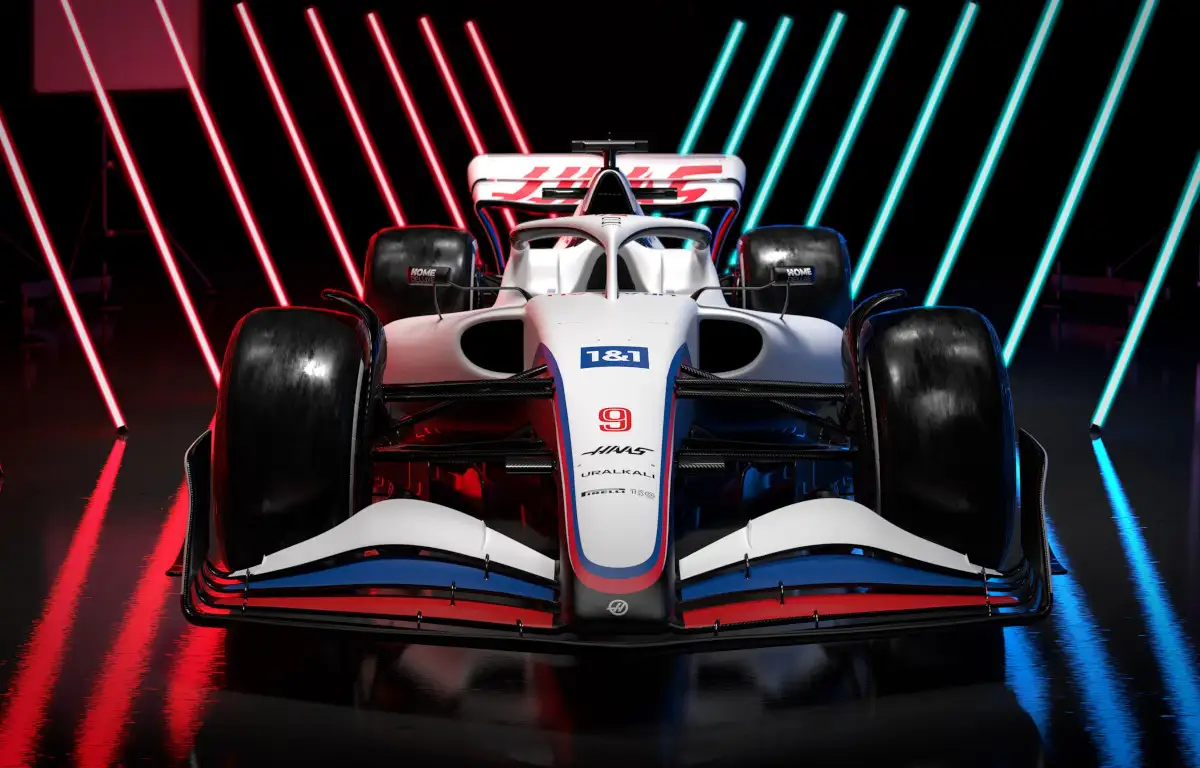 Haas won't know for several weeks yet if they've got the jump on their rivals with their all-new cars but they did it for launch season, the first team to unveil their 2022 livery.
Although team boss Guenther Steiner hinted earlier this week that Haas could unveil their colours before anyone else, they surprised many when the American team announced on Thursday that they would be doing showing off their new look on Friday.
And so Formula 1 was given its first glimpse into the make-up of the 2022 grid.
The team though did not take the covers off their new car, rather showing the "the design and livery" of the VF-22, the car that will be raced by Mick Schumacher and Nikita Mazepin.
Once again backed by Uralkali, the car's livery is very similar to last year's in that it is predominantly white with blue-and-red accents.
As for the design, the render that Haas released looks very much like the FIA concept car.
Launching the new era of Formula 1 cars 🙌

Proudly presenting the #VF22 #HaasF1 #FWD2022 pic.twitter.com/JvK9YoJjbb

— Haas F1 Team (@HaasF1Team) February 4, 2022
With its simple front and rear wing, the car features a pushrod front suspension while the bodywork around the sidepods is tightly packaged.
The rear bodywork is also compact around the gearbox, which should allow for more high-speed airflow.
"It's that time of year where you're naturally optimistic that the hard work and effort of everyone will translate to a competitive entry on track," said owner Gene Haas.
"We made the decision back in 2020 to really channel time and resources into the VF-22, foregoing anything track-related for 2021 – which wasn't easy to watch.
"Hopefully that decision bears fruit and we return to challenging for points and taking something from the weekends."
Haas' 2022 car will not be seen on track until pre-season testing-not-testing begins on 23 February at the Circuit de Catalunya.
That will be a three-day shakedown for all the teams, which will take place behind closed doors, before the one and only official pre-season test in Bahrain starts on 10 March.
This season will be Haas' seventh campaign in F1 since its debut in 2016, with the team achieving its best results in 2018 when it finished fifth in the Constructors' Championship.
Last year the team slumped to 10th, its worst showing ever with neither Schumacher nor Mazepin able to score a single point.
The season though was a write-off from the get-go, Steiner making it clear in January 2021 already that they would not be upgrading the car at all, instead focusing on developing the rookie drivers with an eye on 2022 and its all new cars.
That decision also meant Haas could spend its budget solely on designing this year's car, potentially getting the jump on the midfield at the start of the new ground effect aerodynamic era.
"My wish is that we can play in midfield," Steiner recently said. "That our boys can fight, and we see how good our boys are now.
"We don't know how good they are compared to the others. My wish is that we as a team can pick up where we left off in 2019. That we can move forward again."
Haas kick-off F1 2022 launch season
Car launch season indicates the start of F1's return, and Haas have got us underway.