Haas' double points finish 'all went up in smoke'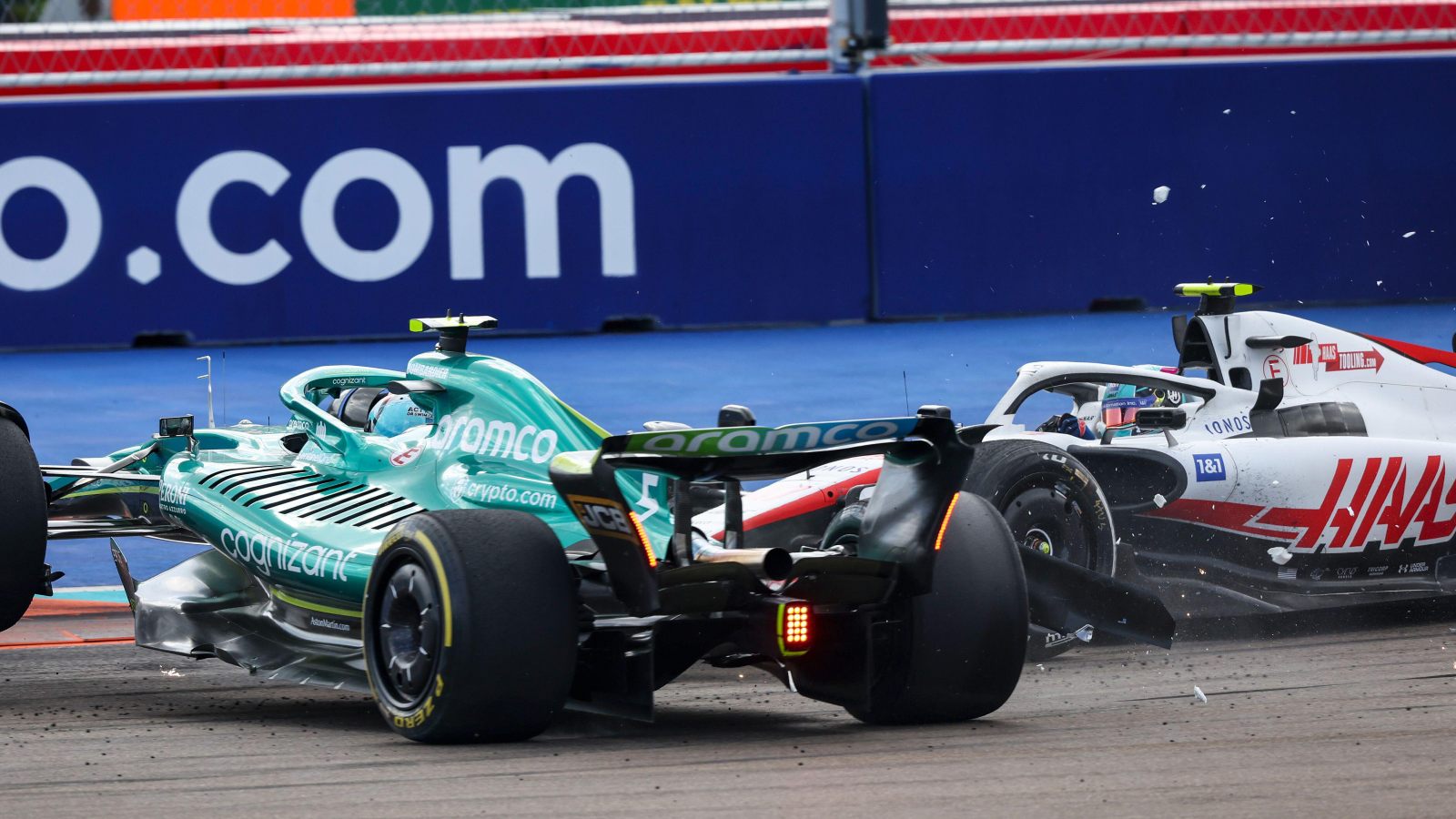 From an almost double points-haul to two late-race crashes, Guenther Steiner says Haas aren't leaving Miami with nothing, "we're leaving with broken parts".
Mick Schumacher and Kevin Magnussen lined up 15th and 16th on the Miami Grand Prix grid but both found themselves inside the top-ten when the Safety Car was deployed for Lando Norris' crash.
While Schumacher stayed out, restarting P9, Magnussen pitted for a new set of mediums that dropped him out of the points-paying positions.
The Dane set about chasing down the Aston Martin of Lance Stroll while Schumacher found himself fighting the other AMR22 of Sebastian Vettel.
That ended in disappointment when the two crashed as Schumacher, having just been passed by Vettel, tried to retake the position only for the door to be shut at the last moment.
Schumacher, who had to pit for a new nose cone, finished last while Magnussen retired on the penultimate lap after he collided with Stroll at Turn 11.
Haas went from a possible double points-haul to another repair bill.
Vettel almost went from the pit lane to points and Mick Schumacher was set for his first points in F1. Why did it have to be these two 😭#F1 | #MiamiGP | #MiamiGrandPrix

— DNye 🏎 (@DNyeTV) May 8, 2022
"We were in a bad place [after qualifying]," Steiner told Motorsport.com . "I think everyone pulled together, we got back into a good position and then, with ten laps to go, it all went up in smoke.
"Who wouldn't be disappointed after a weekend like this? I think we have no one to blame but ourselves.
"We were back in the points, it was possible to put both cars in the points, and we lost everything at the restart.
"It's very disappointing because I think the guys had pulled themselves together very well. We made a few mistakes and we're leaving with nothing."
"Well," he added, "not with nothing, we're leaving with broken parts."
The result meant Haas stay P8 in the Constructors' Championship with Steiner rueing their "wasted" opportunity to score points.
"It's positive but you have to use your potential," he said. "With a car like this one it is wasted opportunities. I'm very disappointed with this race.
"We have to go back to square one and see what we will do in Spain and Monte Carlo. We have to do better than that because we have the car for it.
"The whole team is leaving empty-handed. For me, the team is the most important thing. We can't keep saying that there will be another race because, all of a sudden, we are coming to the end of the year, we are waiting for the 24th race, and it won't happen."